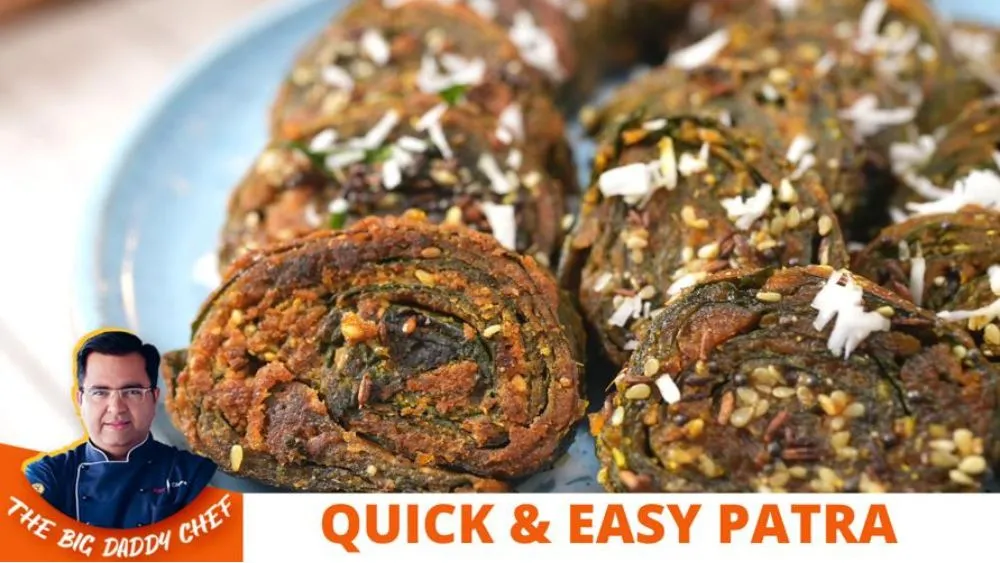 Patra Recipe

25 Mins

6-7 people

10 Mins
Patra Recipe
---
Ingredients 
Colocasia (arbi) leaves 5-6 pcs
Tamarind pulp ¼ cup
Jaggery melted ¼ cup
Green chilli, Ginger & Garlic paste 1 tbsp
Hing 1 ½ tsp
Ajwain 1 tsp
Salt ½ tbsp
Turmeric powder 1 tsp
Red chilli powder ½ tbsp
Coriander powder ½ tbsp
Baking soda a pinch
Besan 1 ½ cup
Sesame seeds ½ tbsp ½ tbsp
Garam masala 1 tsp
Water as required 
Oil 2 tbsp 3 tbsp
Jeera ½ tbsp
Mustard seeds ½ tbsp
Curry leaves 8-10 leaves
Sugar 1 tbsp
Method 
Wash and clean arbi leaves. Dry it with a cloth, cut the excess stem and try to make it flat.
In a bowl add tamarind pulp, green chilli-ginger-garlic paste, hing, ajwain, salt, turmeric powder, red chilli powder, coriander powder, baking soda and mix it.
Then add besan, some water and make a thick paste.
Heat oil in a pan, add this hot oil to the besan mixture and mix it.
On a flat surface, place the arbi leaf, apply a layer of besan mixture and then place another leaf on it.
Again apply the mixture and repeat this process for 3-4 times.
Once done, fold the edges, roll it to a cylindrical shape and seal the edges by filling the besan paste.
Heat a steamer, place the rolled arbi leaves in it and steam it for 10-12 mins.
Then remove and let it cool. Slice them and set aside.
Heat oil in a pan, place the slices and shallow fry them. 
Heat oil in a pan, add jeera, mustard seeds, sesame seeds, curry leaves and let it crackle.
Then add some water, sugar, salt and mix it.
Now, gently toss the slices and remove it on a plate.
2 variations of Patra are ready to serve.
---