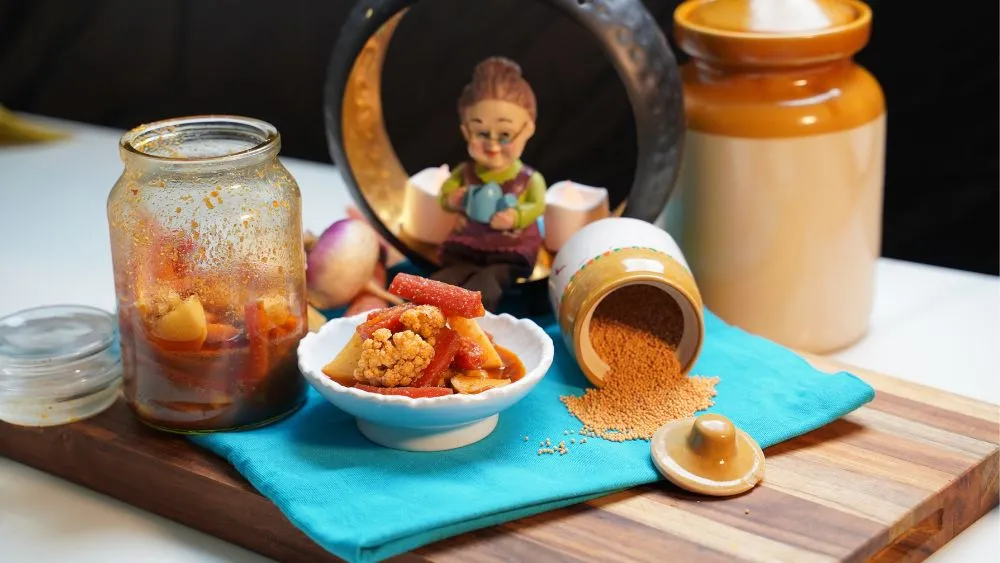 Gobi Gajar Shalgam Ka Achar Recipe

00 mins

2-3 people

10 mins
---
Ingredients:
Carrot – 2 bowls
Cauliflower – 1 bowl
Shalgam – 1 bowl
Jaggery – 2 tbsp
Vinegar – 1 cup
For masala:
Mustard oil – 100 ml
Ginger garlic paste – 3 tbsp
Deggi mirch powder – 3 tsp
Garam masala – 3 tsp
Salt – 1 tsp
Yellow mustard seeds powder – 2 tsp
Mixture of jaggery and vinegar – 1 bowl
Method:
In a pan boil water to boil vegetables and add salt.
Boil carrot, cauliflower, shalgam for 1 minute and drain water completely
Keep vegetables on dry cloth and keep for at least 3-4 hours to dry completely.
In small bowl mix jaggery and vinegar together and keep it aside.
For masala:
In a pan heat mustard oil and roast ginger garlic paste and add deggi mirch powder, garam masala, salt, yellow mustard seeds powder and cook it all together for 2-3 minute
Add mixture of jaggery and vinegar and cook it for more 2-3 minute.For finishing :
Add dried vegetable in masala mixture and cook it for another 2-3 minute
Add salt, and once it cools down, pour it into a glass jar and keep for one night at least and your pickle is ready to serve.
---