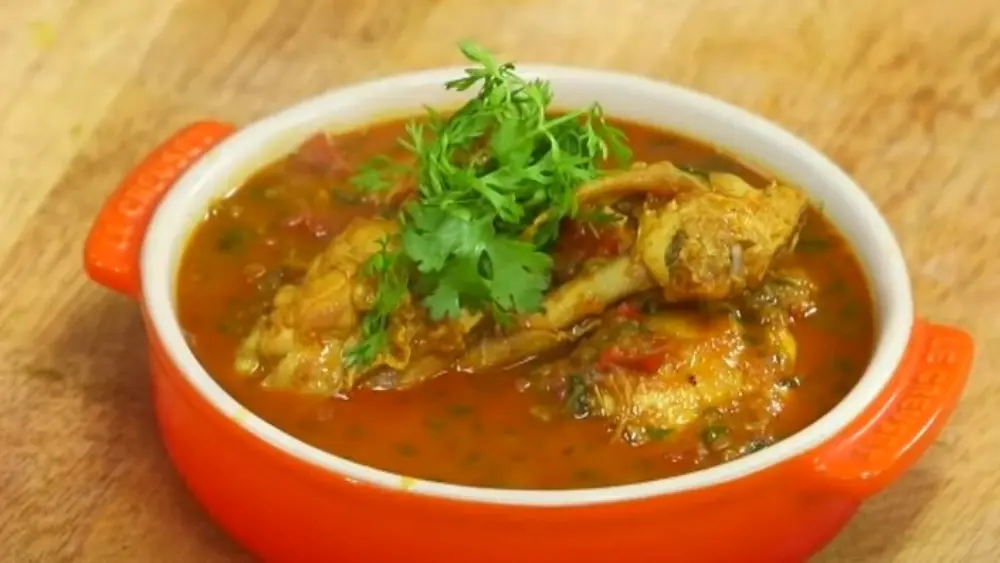 Chicken Tariwala Recipe

45 min

2-3 People

15 min
Ingredients
---
1-2 tbsp Mustard Oil.
2 nos. Cinnamon.
2 no. Black Cardamoms.
4-5 no. Green Cardamoms.
4-5 no. Cloves.
3-4 no. Peppercorns.
3-4 no. Bay leaves.
1 medium bowl chopped Onions.
1 bowl Chicken.
1 tsp Turmeric.
1 tsp Red Chilli powder.
1 tsp Coriander powder.
1 no. Green Chilli.
Salt to taste.
2 tsp Ginger-Garlic paste
1 bowl chopped Tomatoes.
2 tsp dried Fenugreek powder.
1 pinch Garam Masala.
1/2 tsp finely chopped Ginger.
Handful freshly chopped Coriander
Method
Heat mustard oil in a thick bottom pan.
 Then add 2 Cinnamon sticks, 2 black Cardamoms, 4-5 Green Cardamoms, 4-5 Cloves, 3-4 Peppercorns, and 3-4 Bay leaves.
Allow it to crackle.
 Then add 1 medium bowl of chopped Onions and saute it well it turns brown.
 Now add chicken and cook together with onion till it turns brown you may add little water to control cooking.
 Then add 1 tsp turmeric powder to the chicken and mix  nicely.
Then add 1 tsp Red Chilli powder, 1 tsp Coriander powder, and 1 green chilli to it.
 Stir it nicely.
 Now cook the chicken on medium flame for a while.
add some salt and stir the chicken.
Now dilute 2 tsp of Ginger-Garlic paste with water and then add it to the Chicken.
 Mix it and give it a nice stir.
When the oil starts oozing out from it add chopped Tomatoes.
 Now let it cook on medium flame so that tomatoes get cooked.
 Then add some chopped coriander leaves to the chicken.
And then add some water to it and cover it with a lid and let it cook.for a while
After it starts boiling add 2 tsp of Kasuri methi powder to it.
For finishing add a pinch of Garam Masala, 1/2 tsp finely chopped ginger, and a handful of freshly chopped Coriander for garnishing
 Plate the awesome Chicken Curry and serve it.
---