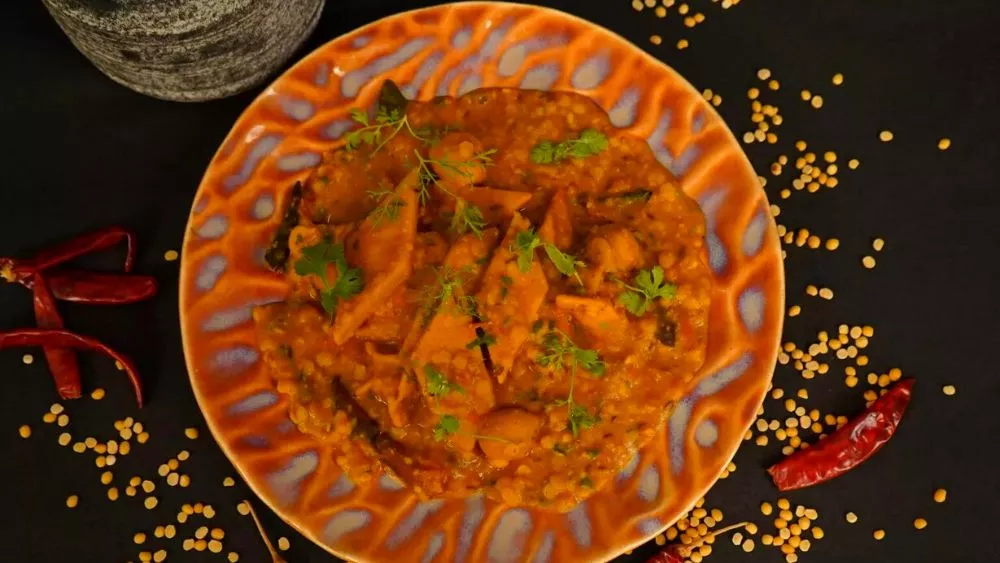 Dal Dhokli Recipe

20 min

2-3 People

15 min
Dal Dhokli
---
Ingredients
For Dal tur dal
1 cup turmeriC
1 tsp salt to taste
For Dhokli
wheat flour 1 cup turmeric powder
1/2 tsp red chilly powder
1/2 tsp oil
1 tsp water as required
For Tadka
oil
1 tbsp jeera
1 tsp heeng
1 tsp pinch curry leaves
10 pcs dry red chilly
2 nos peanuts
1 tbsp pounded green chilly and ginger
1 tbsp chopped tomato
2 nos red chilly powder
1 tsp coriander powder
1 tsp salt to taste jaggery
1 tsp gujrati garam masala
1 tsp chopped coriander for garnish
Method
For Dhokli:
• To make the dough in a bowl add wheat flour salt, turmeric, red chili powder, oil, and rub the dough.
• knead the dough using water.
• Roll the dough like a thick chapati and cut into diamond shapes For dal
• Boil dal with salt and turmeric.
• for tadka heat, oil add jeera and allow it to crackle
• then add dry red chili, hing, pounded ginger, and green chili.
• then add chopped tomato, curry leaves, crushed peanuts, salt, red chili powder, turmeric coriander powder, Gujarati garam masala, and cook till tomato becomes soft.
• pour dal and add jaggery boiled for 2-3 minutes
• add Dhokli and boil till Dhokli cooks.
• finish with chopped coriander.
---