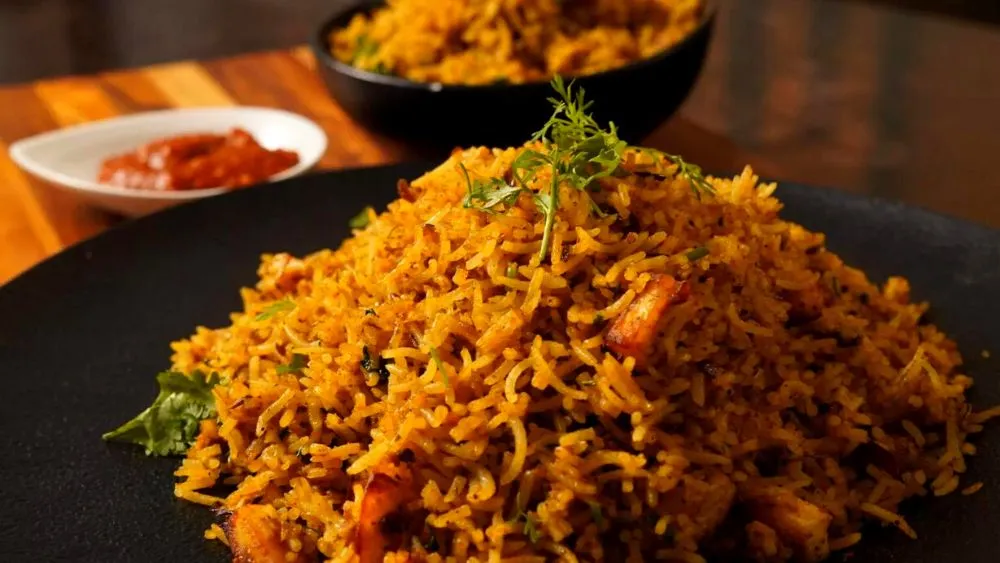 Paneer Fried Rice Recipe

15 min

2-3 People

15 min
Paneer Fried Rice 
---
Paneer Fried Rice is a delightful and satisfying dish that brings together the goodness of paneer and aromatic spices with the nutty and fragrant basmati rice. This easy-to-make recipe is perfect for a quick lunch or dinner and is loved by people of all ages.
Portions serving: 2-3 pax
Preparation time: 15 mins
Cooking time: 15  mins
Calories: 476 cal per portion
Ingredients:
1 tablespoon Oil
1 tablespoon Cumin Seeds
1 cup Chopped Onion
1 teaspoon Chopped Garlic
1 teaspoon Chopped Ginger
1 teaspoon Chopped Green Chilies
1 teaspoon Red Chilli Powder
1 teaspoon Turmeric Powder
1 teaspoon Kitchen King Masala
1 teaspoon Garam Masala
Salt to taste
Black Pepper Powder
1 teaspoon Kasuri Methi
1/2 cup Tomato Puree
1 tablespoon Ginger Garlic Paste
1 teaspoon Cumin Powder
1/4 cup Crumbled Paneer
1 cup Fried Paneer Cubes
4 cups Cooked Basmati Rice
1 teaspoon Chopped Coriander
Method:
Heating the Wok: Begin by heating oil in a wok or a large frying pan. The oil should be hot but not smoking. Using a wok or a deep frying pan ensures that the ingredients are evenly cooked and well-mixed.
Tempering with Jeera: Add jeera (cumin seeds) to the hot oil and let them sizzle. The jeera adds a lovely earthy and nutty flavor to the dish and creates a delightful base for the fried rice.
Sautéing the Aromatics: Add chopped onion, garlic, ginger, and green chilies to the wok. Sauté them for a minute until they turn fragrant and lightly golden. The combination of these aromatics creates a flavorful and aromatic base for the fried rice.
Adding Spices: Now, add red chili powder, turmeric powder, coriander powder, garam masala powder, kitchen king masala, black pepper powder, kasuri methi, and jeera powder. These spices not only add a burst of flavors but also lend a vibrant color to the dish.
Blending with Tomato Puree: Pour in the tomato puree to the wok and cook further. The tomato puree adds a tangy and slightly sweet element to the dish, balancing the heat of the spices and creating a harmonious flavor profile.
Introducing Paneer: Add crumbled paneer to the wok, along with fried paneer cubes, and toss them thoroughly with the spices. The paneer adds a creamy and rich texture to the fried rice, making it more wholesome and delightful.
Tossing with Basmati Rice: Now, add the cooked basmati rice to the wok and gently toss it with the paneer and spices. Make sure that the rice is well-coated with the flavorful mixture. The basmati rice, with its distinct aroma and long grains, adds a distinct character to the dish.
Garnishing and Serving: Sprinkle some chopped coriander over the Paneer Fried Rice for a fresh and herby touch. The coriander not only enhances the presentation but also adds a burst of freshness to the dish. Serve the Paneer Fried Rice hot with a side of raita or plain yogurt for a complete and wholesome meal.
Conclusion:
Paneer Fried Rice is a delightful and aromatic dish that celebrates the richness of paneer and the fragrant basmati rice. The combination of spices and aromatics elevates the dish, making it a favorite among families and food lovers alike.
---