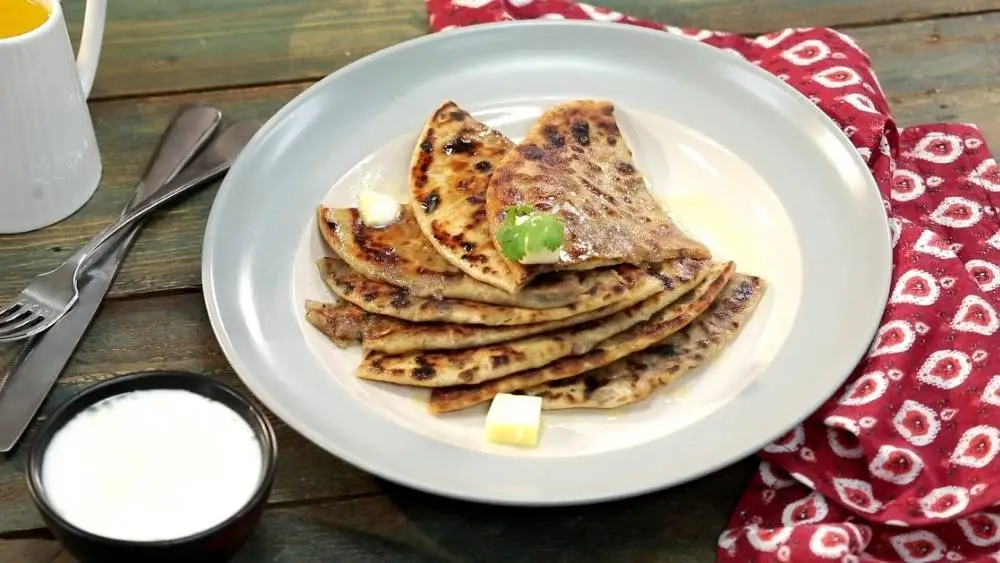 Dhaba Style Aloo Pyaaz Paratha Recipe

10 min

2-3 People

15 min
Dhaba Style Aloo Pyaaz Paratha by Chef Ajay Chopra
---
Ingredients:
For Dough:
1 cup Wheat Flour
Salt to Taste
1 tsp Ajwain / Carom seeds
Water
1 tsp Ghee / Clarified Butter
For Stuffing:
2 pcs Mashed Potatoes
1pc chopped Onions
1 tbsp chopped Green Chillies
1 tbsp dried Pomegranate Seeds Powder
1 tsp Garam Masala Powder
1 tspn chopped Ginger
2 tbsp chopped Coriander Leaves
1 tbsp Amchur Powder
Salt to Taste
1 tspn Red Chilli Powder
1 tsp roasted Cumin Powder
For Frying:
Ghee
Method:
Dough Making:
Take a bowl. Put all the ingredients one after another and mix everything together. Once the soft dough is ready, brush some ghee on its surface to keep it soft and moist.
Stuffing Making:
Take a bowl. Put mashed potatoes, then add all the ingredients one by one and mix everything thoroughly. Your relishing awesome aloo stuffing is ready.
Aloo Pyaaz Paratha Making:
Take a small portion of the dough. Make it round and flat in shape from the edges keeping the middle portion thick. Put a generous amount of the potato stuffing in the middle section of the flat dough and then wrap it from the edges so that all the potato stuffing should be inside the dough of the paratha. Now make a nice ball shape and sprinkle some flour dust on it and then roll out the dough into a nice flat bread just like roti or Indian bread. Now take a tawa and put it on the flame. Let it hot for some time. Then add the flat bread onto the tawa. Once it is cooked from one side flip it to another side. Put some ghee on the cooked side and then repeat this again on the other side. Your regular style paratha is ready. For the tandoori style paratha, you have to cook the paratha on the tawa without any oil or ghee. Once it is almost cooked, then take the bread with the help of a tong and roast for few minutes on open flame so that it becomes crispy from outside and soft from inside. Now put it in a serving plate and put a spoonful of white butter on top of it and serve. Your regular style and tandoor style aloo pyaaz paratha is ready. Serve it along with curd or pickle or anything as per your choice. Enjoy!
---