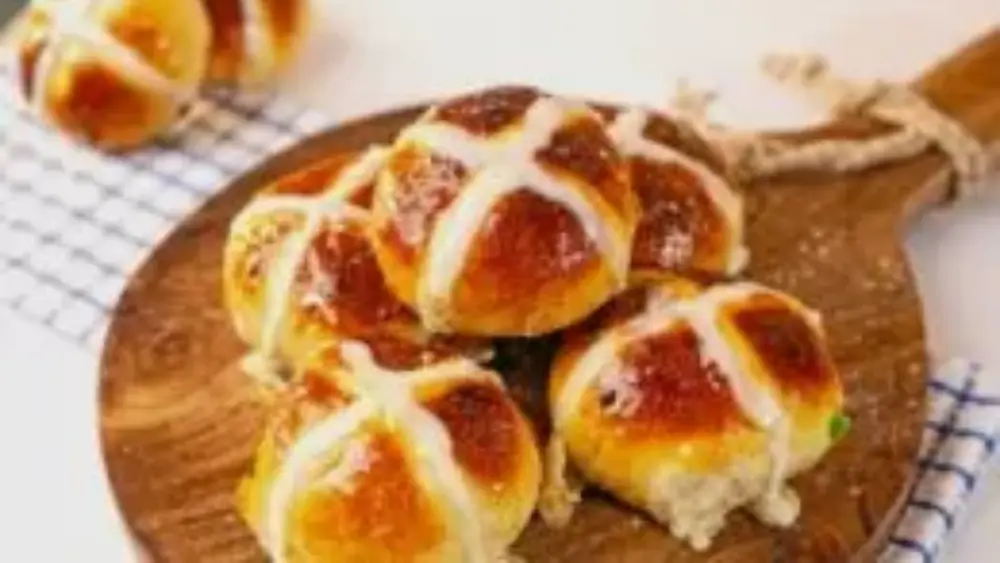 Hot Cross Bun Recipe

50 min

2-3 People

30 min
Hot Cross Bun
---
Ingredients
For dough
485gm Maida
55gm Castor sugar
6gm salt
2 pinch Allspice(cinnamon,clove,nutmeg)
1pinch nutmeg powder
8gm dry yeast
240gm milk
1 egg
70gm butter
75gm black raisins
40gm orange candy
40gm tutti fruity
1 Egg wash
For maida paste
¼cup milk
¼cup maida
For sugar paste
¼ cup milk
¼ cup icing sugar
¼ cup apricot jam
METHOD
For dough
1. In a milk bowl add dry yeast and sugar and leave for fermentation.
2. In a mixing bowl add refined flour, nutmeg powder, allspice powder, salt, castor sugar, Black raisins, tutti fruity, orange peel, mix all the ingredients.
3. In another bowl add 1egg and whisk. Then add butter and whisk again.
4. In dry ingredients mixing bowl add a mixture of egg and butter and fermented yeast mixture mix all the ingredients and make a dough.
5. Knead the dough like bread dough for the formation of gluten.
6. Round the dough and Rest the dough for 1 hour Cover with a wet cloth.
7. After 1-hour knock back the dough and roll the dough and divide into the same portion. 8. Make a round ball.
9. In a baking tray put butter paper and place all the round ball. Then apply water on top. 10. Again rest the round ball for 1 hour.
11. After 1 hour apply egg wash on top of the round ball. For maida mixture.
12. In a bowl add maida and milk make a paste and put it into a piping bag and make a cross the top of the bun. For baking.
13. Hot cross bun bake preheated oven 200 degrees for 20 min. For sugar mixture.
14. In a bowl add icing sugar and milk make paste put it into a piping bag and make the cross top of the bun.
15. Then apply apricot jam mixture on top of the cross bun and enjoy.
---