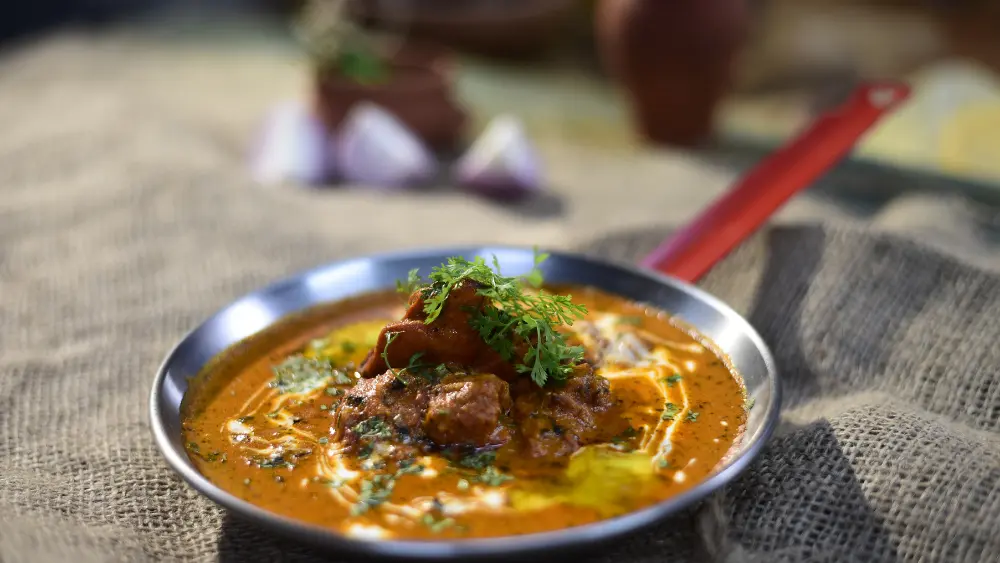 Butter Chicken Recipe

50 min

2-3 People

60 min
Ingredients
---
For Makhni Gravy:
2 cup Tomatoes cut in wedges
1 cup sliced Onions
Water
2-3 Green Chilli slit into pieces
2/3 Black Cardamom
2/3 Green Cardamom
Few cloves
1 Mace
2 Kashmiri Red Chillies
½ Bay Leaves
1 small piece Cinnamon
1 tbsp chopped Garlic
1 tbsp chopped Ginger
2/3 Coriander stems
1/2cup Cashew
For Chicken Tikka Marination:
5-6 Chicken breast pieces
1 tsp Lemon Juice
Salt to taste
1/2tsp Red Chilli Powder
1 tbsp Ginger=Garlic Paste
For Yogurt Mixture:
2 tbsp Mustard Oil
1 tsp Turmeric Powder
1 tsp Red Chilli Powder
2 tsp Coriander powder
1/2tsp Garam Masala Powder
1 tsp Cumin Powder
1 tsp Kasuri Methi Powder
Salt to taste
3-4 tbsp Hung Yogurt
For Butter Chicken Gravy:
1 tbsp Oil
1 tbsp Ginger-Garlic Paste
1 tsp Degi Red Chilli Powder
Makhni Gravy
1/2cup Butter
Salt to taste
Ginger Juliennes
2 tbsp Cream
Tikka Chicken Pieces
2 tbsp Chopped Coriander leaves
2 tsp Kasuri Methi Powder
A pinch of Garam Masala Powder
1 tsp Honey
To garnish:
Cream
Coriander Leaves
Butter
Method:
For Makhni Mixture:
Take a pan. Put some water and add all the ingredients one by one and then cover the lid. Allow them to
cook in low flame till they are soft in texture. Once the tomatoes are half done put some cashew in the
gravy and let it boil for some time. Once it is boiled and cooked nicely, take the whole spices out and
blend the mixture with the help of a hand blender. Now strain the mixture in a bowl with the help of a
sieve.
For Chicken Marination:
Now in the chicken bowl add all the marination mixture allow the chicken to marinate for at least 1
hour. Now in another bowl and prepare the yogurt mixture for the tikka.
For Chicken Tikka Yogurt Marination:
Take a pan and add some mustard oil. Once it is hot take it out and pour in the masala mixture. Add all
the other masalas along with hung yogurt. Combine everything well. Your yogurt marination for the
tikka chicken is ready. Now after 1 hour take the marinated chicken and put it in this yogurt mixture and
mixture them thoroughly. The chicken pieces should be evenly covered with the yogurt mixture. Now
take an oven pan and rub some oil on its base. Put the marinated chicken and cook in the oven for 13-15
minutes on 180 degree Celsius.
For Butter Chicken Gravy:
Now take a pan. Add some oil. Put some Ginger Garlic Paste and Red chilli powder. A quick mix and then add the strained Makhni gravy in to it and mix them well. Put butter and again mix them. Then add salt, few juliennes of ginger, cream, and chicken and combine them well. Put some coriander leaves, kasuri methi powder, garam masala and honey and again mix them thoroughly. Stir nicely and boil for few minutes. Serve the yummy butter chicken hot and enjoy!
---