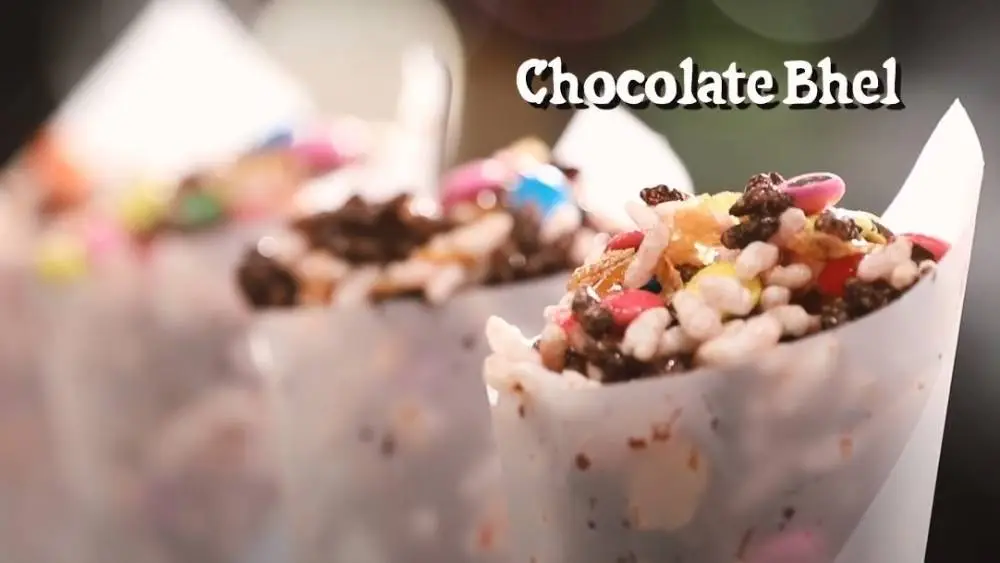 Chocolate Bhel Recipe

5 min

2-3 People

15 min
Chocolate Bhel by Chef Ajay Chopra
---
Ingredients
Murmura - 200 grams
White chocolate - 100 grams
Dark chocolate - 100 grams
Corn flakes - 100 grams
Cashew nuts - 20 grams
Raisins - 20 grams
Tutti Frutti - 10 gram
Gems - 1 small packet
Candied Orange peel chopped - 20 grams
Honey - 30 ml
Strawberry sauce - 30 ml
Peanut chikki ( crumbled) - 40 grams
Chocolate sauce (optional) - 30 ml
Method
For chocolate coating:
1. Melt both the chocolate separately on a double boiler or microwave oven
2. Divide murmura into two batch and allow it to chill in freezer
3. Quickly toss one batch of murmura with dark chocolate and another with white chocolate till it coats evenly.
4. Then allow it to cool completely
5.In a bowl add some chopped candied orange, some chikki and some cornflakes, some gems and tutti frutti.
6. Then in this add the white chocolate and dark chocolate murmura and mix it well.
7.Finally toss it with some strawberry sauce and honey and serve it in a paper cone.
---