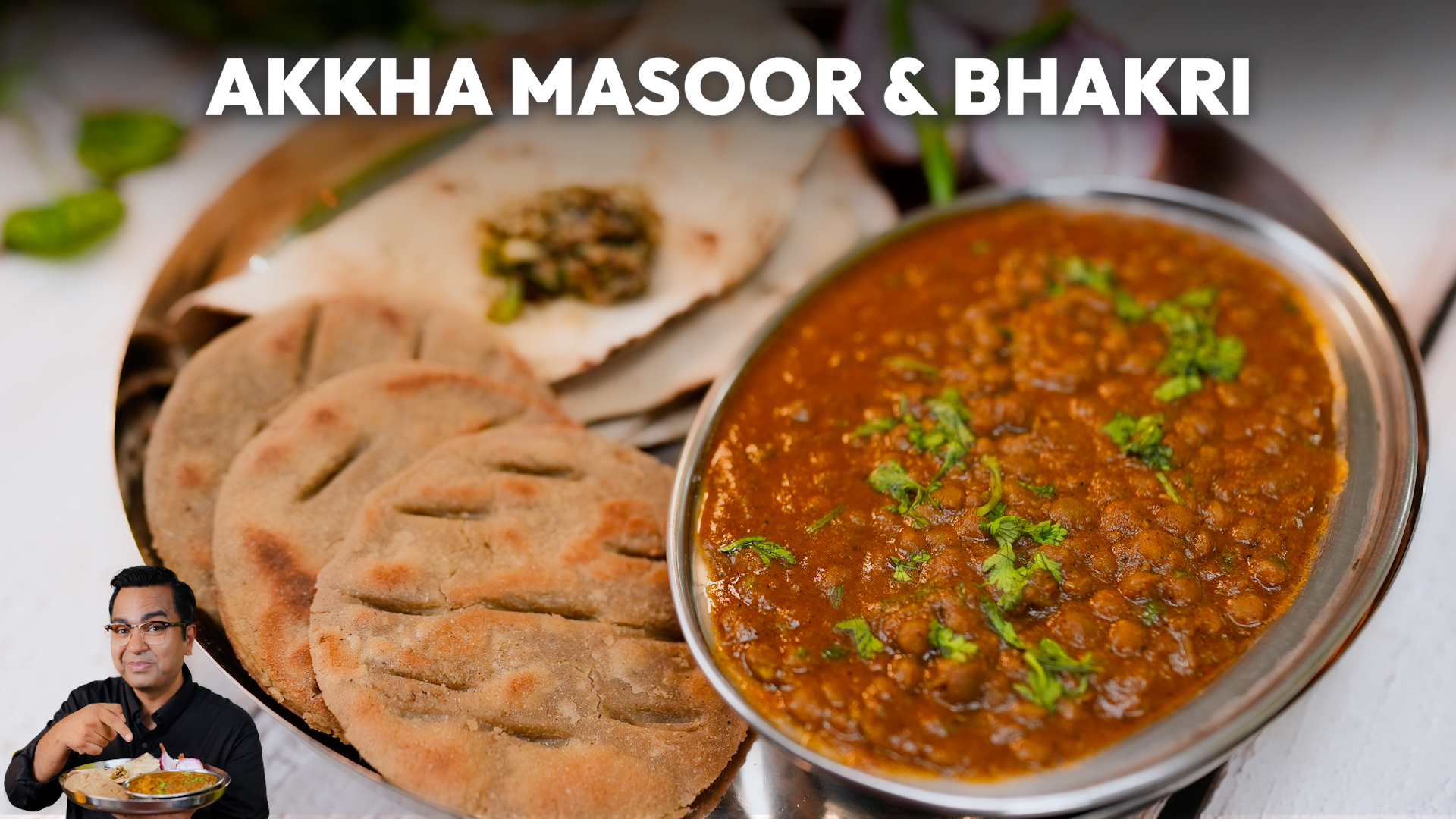 Akkha masoor & Bhakri Recipe

45 Mins

4-5 people

2 Hrs
Akkha masoor & Bhakri
Akkha masoor sabji and bhakri make a delightful and nutritious combination. The spicy lentil curry goes wonderfully well with the wholesome and earthy flavour of bhakri. 

Ingredients:
Akkha masoor sabji:
Akkha masoor soaked 2 cups
Water as required
Salt ½ tbsp
Turmeric powder ½ tsp
Onion peeled 2 pcs
Tomato 1 pc
Green chilli 3 pcs
Garlic 7-8 cloves
Ginger 1 inch
Coconut 2 tbsp
Coriander a handful
Cinnamon 1 inch
Star anise 3 pcs
Peanut oil ¼ cup
Kanda lasun masala 1 tbsp
Turmeric powder ½ tbsp
Salt ½ tbsp
Lavangi mirchi powder 1 tsp
Coriander chopped 1 tbsp
Thecha: 
Green chilli 5-6 pcs
Garlic 12-15 cloves
Peanut oil 1 tbsp 
Jeera 1 tsp
Salt ½ tsp
Bhakari:
Bajra flour ½ cup
Jowar flour ½ cup
Salt ½ tsp
Warm water as required
Ghee 1 tbsp
Method:
For Thecha:
Heat a pan and dry roast the green chillies and garlic until they get charred marks.
Add some peanut oil and jeera to the pan and cook for a while.
Finally, add salt and mix everything together.
Let it cool down, then transfer the mixture to a mortar and pestle.
Pound the mixture to a coarse texture.
Thecha is ready to serve. It can be enjoyed as a spicy condiment with various dishes.
For Bhakri:
Take equal quantities of bajra and jowar flour in a plate.
Add some salt and warm water to the flours and mix them to form a smooth, soft dough.
Divide the dough into portions and keep them covered.
Take one portion, dust it with flour, and dust some flour over the surface.
Using your fingertips, flatten and shape the dough into a circle (flatbread).
Heat an iron pan and transfer the bhakri onto it.
Apply a layer of water on the bhakri and roast it from both sides.
Finally, roast the bhakri on a direct flame to give it a distinct flavor.
Bhakri is ready to serve. It complements well with various curries, chutneys, or vegetables.
For Akkha Masoor Sabji:
In a pressure cooker, add soaked akkha masoor, salt, turmeric powder, and some water. Cook for 2 whistles.
Roast peeled onion and tomato on a direct flame until they get charred marks.
In a separate pan, dry roast green chillies, garlic, ginger, and coconut.
Transfer all the roasted items to a mixer jar, add some water, cinnamon, and star anise, and grind them into a smooth paste.
Heat a pan, add peanut oil, and the paste. Cook it for 3-4 mins on medium flame, stirring at intervals.
Add turmeric powder, kanda lasun masala, salt, lavangi mirchi powder, and cook until the oil is released.
Add the cooked akkha masoor and some water, and cook until it boils.
Finally, add chopped coriander, and the akkha masoor sabji is ready to serve.
Serve the akkha masoor sabji with bhakri, thecha, and onions for a complete and delicious meal.