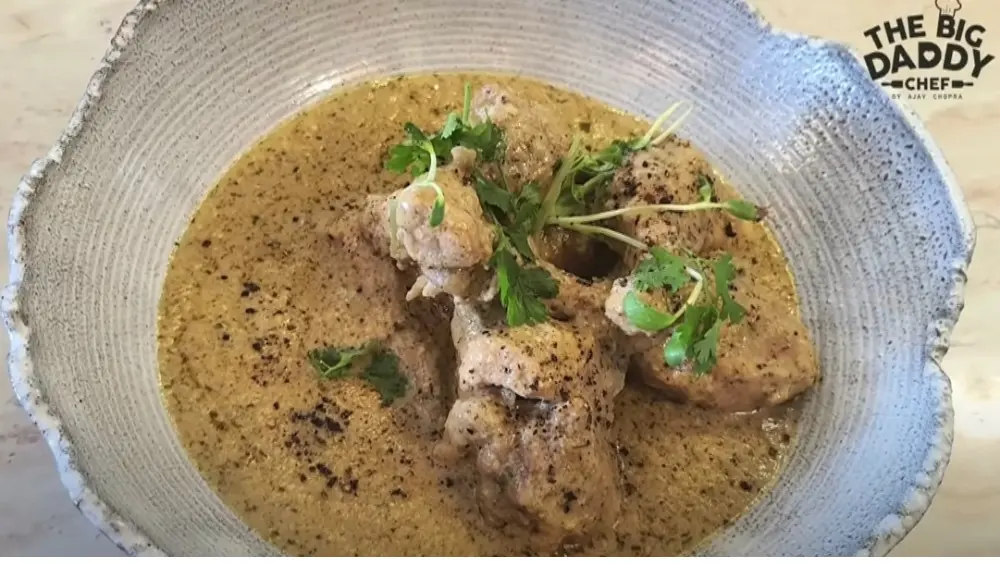 Chicken Kali Mirch Recipe

60 min

2-3 People

20 min
Chicken Kali Mirch
Chicken Kali Mirch, also known as Black Pepper Chicken, is a tantalizing dish that boasts a perfect balance of fiery black pepper and creamy goodness. This Indian delicacy is a celebration of flavors and textures, making it a favorite among spice lovers. In this 500-word article, we will explore the delightful recipe and step-by-step method to create this mouthwatering Chicken Kali Mirch.
Portions serving: 2-3 pax
Preparation time: 20 mins
Cooking time: 60 mins
Calories:218 cal per portion
Ingredients:
For Gravy Puree:
3 onions, roughly chopped
1/2-inch cinnamon stick
2-3 green cardamom pods
4-5 black peppercorns
1 black cardamom pod
2-4 cloves
For Gravy:
2 tablespoons oil
2 tablespoons ghee
2 black cardamom pods
3-4 cloves
4-5 black peppercorns
1 stick cinnamon
1 cup onion puree
2 tablespoons ginger-garlic paste
1 tablespoon green chili paste
1 cup yogurt
Marinated chicken
1 cup cashew paste
1 1/2 tablespoons kitchen king masala
1 tablespoon black pepper powder
1 tablespoon kasuri methi
1 cup cream
For Chicken Marination:
1 cup chicken, cut into bite-sized pieces
Salt, to taste
1 tablespoon black pepper powder
1 1/2 tablespoons kitchen king masala
2 tablespoons lemon juice
2 tablespoons ginger-garlic paste
Method:
In a blender or food processor, add the roughly chopped onions, cinnamon stick, green cardamom pods, black peppercorns, black cardamom pod, and cloves. Blend the ingredients until you achieve a smooth puree consistency.
In a large, heavy-bottomed pan or kadhai, heat the oil and ghee. Add the black cardamom pods, cloves, black peppercorns, and cinnamon stick.
Saute the puree over medium heat until it turns golden brown.
Add the ginger-garlic paste and green chili paste to the pan. Saute the mixture, stirring continuously, until the raw aroma of the pastes disappears, and the mixture becomes aromatic.
Pour the yogurt into the pan and mix it well with the onion and spice mixture.
Add the marinated chicken to the pan, ensuring it gets coated evenly with the gravy. The marinated chicken absorbs the flavorful spices.
Stir in the cashew paste, kitchen king masala, and black pepper powder. The cashew paste contributes to the creamy texture of the Chicken Kali Mirch, making it rich and indulgent. The kitchen king masala adds a harmonious blend of spices, elevating the dish to a whole new level of deliciousness.
Add the kasuri methi to the pan, gently crushing it between your palms before adding
Pour the cream into the pan, stirring it gently to incorporate it into the gravy.
Allow the Chicken Kali Mirch to simmer on low heat for a few minutes, allowing all the flavors to meld together. Stir occasionally to prevent sticking and ensure even cooking.
The Chicken Kali Mirch is now ready to be served.
Conclusion:
Chicken Kali Mirch is a culinary masterpiece that brings together the fiery notes of black pepper with the velvety richness of cream and cashew paste. The medley of aromatic spices and creamy goodness makes this dish a true indulgence for spice lovers. The interplay of flavors and textures is a celebration of culinary finesse, creating a dish that is sure to impress and delight your palate.