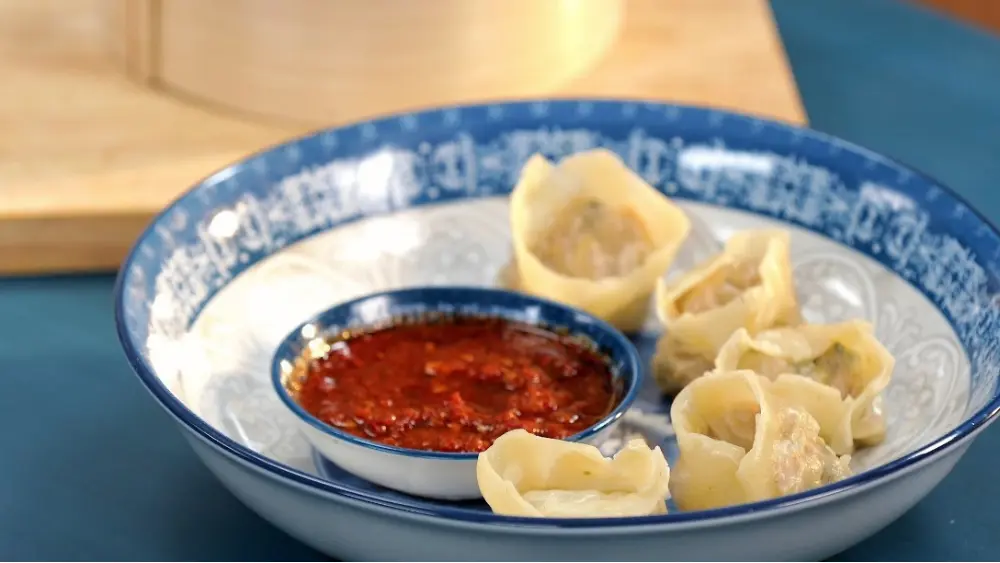 Chicken Momos Recipe

20 min

2-3 People

10 min
Ingredients
---
For Stuffing
Oil.
1 cup chopped Onions.
1 tbsp. Green Chillies (chopped).
1 tbsp. Ginger (chopped).
Boiled Chicken.
Handful chopped Carrots (optional).
Handful chopped Capsicum (optional).
Handful chopped Yellow Capsicum (optional).
Handful chopped Spring Onions (optional).
Salt to taste.
Pepper to taste.
For the dough
1 bowl Refined Flour.
1 tsp. Salt.
1 tbsp. Oil.
Method
For Stuffing
Put some oil in a hot pan and sauté 1 cup finely chopped Onions in it.
Then add 1tbsp of chopped green chilies and 1tbsp. of finely chopped Ginger saute it well.
Now add finely chopped boiled Chicken and then add a handful of finely chopped Carrots, Capsicum, Yellow Capsicum, Spring Onion to it.
Then add Salt and Pepper as per your taste and 1 tsp. ginger-garlic paste to the pan. Mix it well and let it all cook.
Add some water to keep it moist.
Let it cook for 2 minutes. Water will evaporate a bit and bring the stuffing together.
For the Dough
Take 1 bowl of Refined Flour in a big bowl.
Add 1tsp. Salt and 1tbsp Oil to it.
Knead it nicely with water.
For Momos
Cut the dough into small portions and make them into round balls.
Now roll these dough balls flat and fill them up with the stuffings.
Moist the sides with very little water and stick them onto each other, to seal it nicely.
Now apply some oil on the steamer tray and place the uncooked Momos o
 the tray and cover them.
Let it steam for 8-10 minutes.
The crust turns almost white when they are done.
Serve them hot in a basket with Chilli-Garlic Schezwan sauce.

---