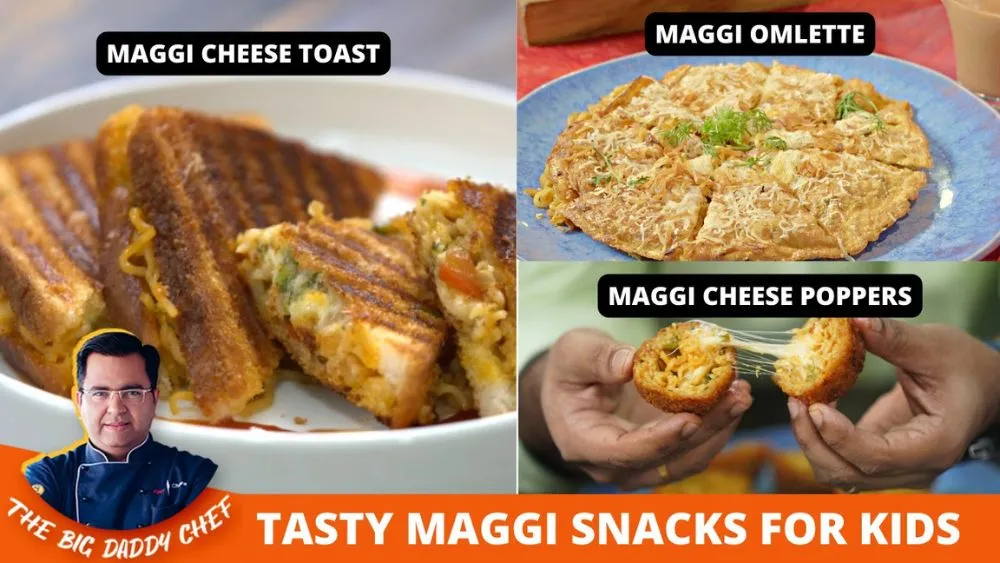 Maggi Snacks For Kids Recipe

5 Mins

2-3 people

5 Mins
Maggi Snacks For Kids Recipe
---
Ingredients
For Maggi
Oil – 2 tbsp
Chopped onion – ½ cup
Chopped garlic – 1 tbsp
Chopped ginger – 1 tsp
Chopped tomato – ½ cup
Tomato ketchup – 2 tsp
Schezwan sauce – 1 tsp
Maggi masala – 2 tsp
Maggi 2 packets
Salt – 1 tsp
Chopped coriander – 1 tsp
For Omelette
Egg – 2 nos
Salt – 1 tsp
Red chili powder – 1 tsp
Chopped coriander – 1 tsp
Oil – 1 tbsp
Cheese – 1 tbsp
For garnish
Cheese – 1 tbsp
Fried onion – 1 tsp
Coriander spring – for garnish
Method
Heat oil in a pan, add chopped onion, garlic, ginger, green chillies and saute till light brown.
Reduce the flame, add tomato ketchup, Schezwan sauce, maggi masala with little water and bring it to boil.
Add maggi and salt, and cook for a further few minutes till maggie is cooked.
Add chopped coriander and set aside.
For omelette break one egg whisk together salt, red chilli powder, chopped coriander.
Heat oil in  a non-stick pan, pour half of the whisked egg and cook till it sets.
Add a layer of maggi all around and pour remaining egg mixture.
Sprinkle grated cheese on top and flip the omelette to cook on both sides.
Grate one more layer of cheese.
Garnish with a sprig of coriander and fried onion.
Cut the omelette into wedges
Serve hot.
Maggie Cheese Poppers Recipe 
INGREDIENTS
1 TBSP OIL
1 NOS ONION CHOPPED
1 CAPSICUM CHOPPED
½ NOS CHOPPED RED CHILLY
1 TSP SALT
1 CHOPPED TOMATO
1 TBSP TOMATO KETCHUP
2 SACHET MAGGI MASALA
2 NOS.MAGGI NOODLES
1 TBSP CHOPPED CORIANDER
1 CUP CORN FLOUR
1 CUP MAIDA
2 CUP BREAD CRUMB
1 CUP MOZZARELLA GRATED CHEESE
OIL FOR DEEP FRYING
2 TBSP MAYONNAISE
2 PINCH OREGANO
1 PINCH CHILLI FLAKES
2 TBSP MAYONNAISE
METHOD
In a pan heat oil and add onion and capsicum
Add chopped chilly and cook for a while on medium heat.
And salt and chopped tomato and cook further for 5 min.
Add water and maggie masala
Add maggie noodles and allow it to boil
Add chopped coriander.
Transfer the maggie to a plate and allow it to cool.
Portion maggie into small ball size with the help of your hands and stuff grated mozzarella cheese
Store these balls in a chiller so that maggie poppers hold their shape.
Make a slurry of corn flour water and maida.
Dip these poppers in corn flour slurry and coat it with panko crumb
Deep fry these poppers till crispy brown on medium heat.
Drain it on a kitchen towel
For dipping mix together mayonnaise, ketchup,  oregano, chilly flakes and black pepper.
Serve hot poppers with yummy dip.
Crispy Maggi cheese sandwich
Ingredients
Maggi 1pkt
Onion  ½ cup
Tomato ½ cup
Green chillies 1 tbsp
Salt ½ TSP
Tomato ketchup 2 tbsp
Red chilli powder ½ tsp
Fresh coriander ½ tbsp
Bread slices  4 nos
Butter  50 gms
Cheese 40 GM's
Method
Heat a pan, add some oil, chopped onions and saute it. 
On the other side, heat water in a pan.
Add chopped green chillies, tomatoes after the onions are being translucent and cook it till mushy.
Add a little tomato ketchup and saute it.
Add hot water to the pan, maggi masala, add instant noodles and cook it.
Add chopped coriander and keep aside.
Apply butter on bread slices, top it with cooked maggi mixture, add cheese and place the other slice of bread to make a sandwich.
Apply butter on the sandwich griller and grill the sandwich.
Grill till it becomes crispy with the help of an electric sandwich griller.
Maggi cheese toast sandwich is ready to serve
---