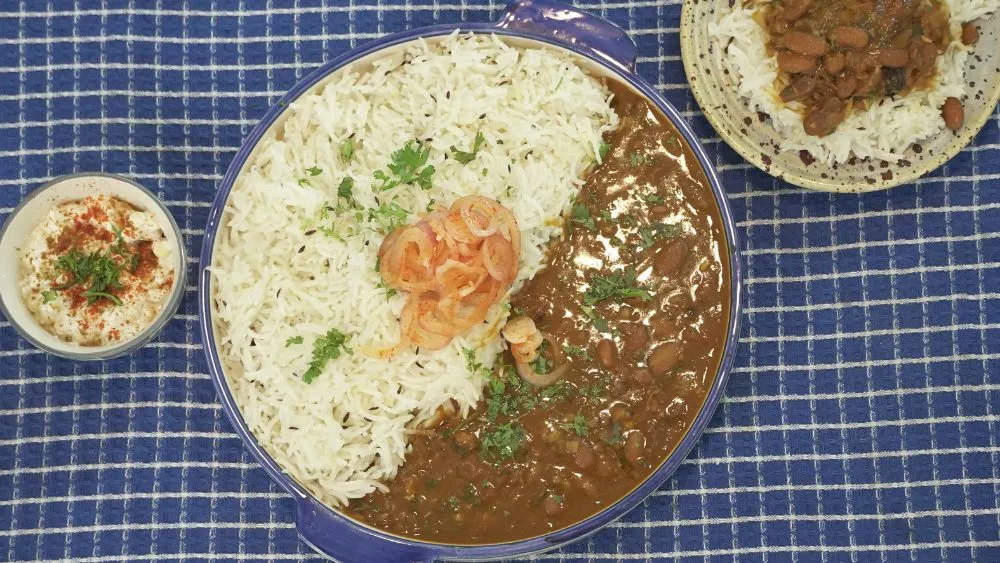 Rajma Chawal Recipe

30 mins

2-3 people

20 mins
Rajma Chawal
---
Serves 3-4
Preparation Time: 1 hr
Cooking Time: 30 mins
Calories: 286 kcal 
Ingredients:
Rajma:
- 1 cup Rajma (kidney beans), soaked overnight
- Salt to taste
- 1 tbsp mustard oil
- 1 tbsp oil
- 4 nos black cardamom
- 2 nos green cardamom
- 4 bay leaves
- 7-8 cloves
- 7-8 black pepper
- 1 cup chopped onion
- 1-inch ginger
- 1 green chilli
- 3-4 garlic cloves
- 1 tbsp ginger garlic paste
- 1 tsp turmeric powder
- 1 tsp Kashmiri chilli powder
- 1 cup chopped tomato
- 1/4 cup tomato puree
- 1 tsp kasuri methi (dried fenugreek leaves)
- 1 tsp chopped coriander leaves
For Jeera Chawal:
- 1/2 tbsp oil
- 1 tbsp jeera (cumin seeds)
- 1 bay leaf
- Basmati rice
- Salt to taste
Method:
For Rajma:
1. Drain and rinse the soaked Rajma. In a pressure cooker, add the soaked Rajma along with mustard oil, salt, black cardamom, green cardamom, bay leaves, cloves, and black pepper.
2. Pressure cook the Rajma for about 5 whistles or until they become tender and easily mashable. Once done, set the cooked Rajma aside for later use.
3. In a separate pan, heat oil and add whole garam masala (cloves, peppercorn, bay leaf, cardamom, cinnamon). Let the spices crackle to release their flavours.
4. Add chopped onions to the pan and cook them till they turn golden brown.
5. Now, add the pounded ginger, garlic, and green chilli, sautéing them until they release their aromatic essence.
6. Stir in the ginger-garlic paste, turmeric powder, and kashmiri chilli powder, cooking for a while to blend the flavours.
7. Add chopped tomatoes and tomato puree to the mixture and cook on a slow flame until the tomatoes become soft and the oil starts to separate.
8. Pour the cooked Rajma along with the water used for boiling into the tomato gravy. Add salt to taste and let it simmer on a low flame, allowing the flavours to meld.
9. Finally, finish the Rajma with kasuri methi and chopped coriander leaves, enhancing the dish with a pleasant herbaceous aroma.
10. Garnish the Rajma with ghee before serving to add richness and depth to the dish.
For Jeera Rice:
1. Wash and soak the basmati rice in water for one hour.
2. In a thick-bottomed pan, heat oil and add a bay leaf and jeera (cumin seeds). Let the cumin seeds crackle to release their nutty flavour.
3. Carefully sauté the soaked rice in the seasoned oil, ensuring the grains are coated evenly.
4. Add water and salt to the rice, cover the pan with a lid, and allow it to cook on a slow flame for about 10 minutes or until the rice is fully cooked.
5. Gently stir the rice occasionally to prevent it from burning or sticking to the pan.
To serve:
Serve the Rajma with the aromatic jeera rice, accompanied by lacha pyaaz (onion salad), boondi raita (yoghurt with fried chickpea flour droplets), and crispy papad. Enjoy this delightful and comforting Rajma Chawal with your loved ones, creating cherished memories around the dining table.
---