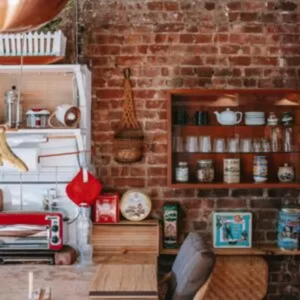 5 Kitchen Organizers, you need to maximize the space and storage
We all crave more space and decluttered kitchen, don't we? As the kitchen is the most used space in our home and the pandemic has given it different respect by all of us, from eating to cooking and baking recipes, shopping cute kitchen accessories, and that just piles up to clutter and disorganization. Therefore, here we are getting Monica vibes to help you maximize and organize your storage space.
1) Airtight Jars and Storage Set
This is a must-buy product to store all your foods ranging from cereals, spices, dry fruits, pulses to salt, sugar, snacks, etc. The Jars have an airtight seal that locks in the aroma and taste of your stored items and guess what? it is absolutely user-friendly with ribbed finished from outside maintaining a firm grip while you are pouring your favourite item from the jar.
2) Stainless Steel Ladle Hook Rail
We know your cabinets and drawers are flooded with cute cups and saucers. So, here we are giving you organization goals with this Ladle Hook Rail. It's simple to install with a drill and it's absolutely DIY. I have been using it for 2 months now and it's still sturdy since day one. It easily takes a good amount of weight and I personally use it to hang two large pans and a couple of bridles.
3) Masala Spice Rack Set
Tired of looking at your regular masala box? Then spicen up your kitchen with this 360-degree revolving Spice Rack which helps to find the desired spice more quickly. This beautiful spice rack will add beauty to your kitchen area. It has a compact design that takes only a small place in your kitchen cabinet.
4) Kitchen Storage Shelves
If you are looking for a DIY project cum organization then this is your go-to product! This Wooden Wall Mounted Shelve store is a 3-tier shelf that can store jars, spices, dishes, plates, and whatnot. It is sturdy, strong, and has massive space to keep your things organized and clean.
5) Kitchen Storage Racks
Beautify and accessorize your kitchen at the same time with this multi-functional basket storage rack, it will not only store your cups, tissues, napkins but also fruits, vegetables, and all things handy required at the time of cooking. It's absolutely lightweight and rigid at the same time making it perfect to use anywhere at home. Overall product is good and best value for money which helps to well settle our space.
You can check our shop for more information on shopping ideas and kitchen essentials you require in your day to day life. >> https://www.chefajaychopra.com/shop/