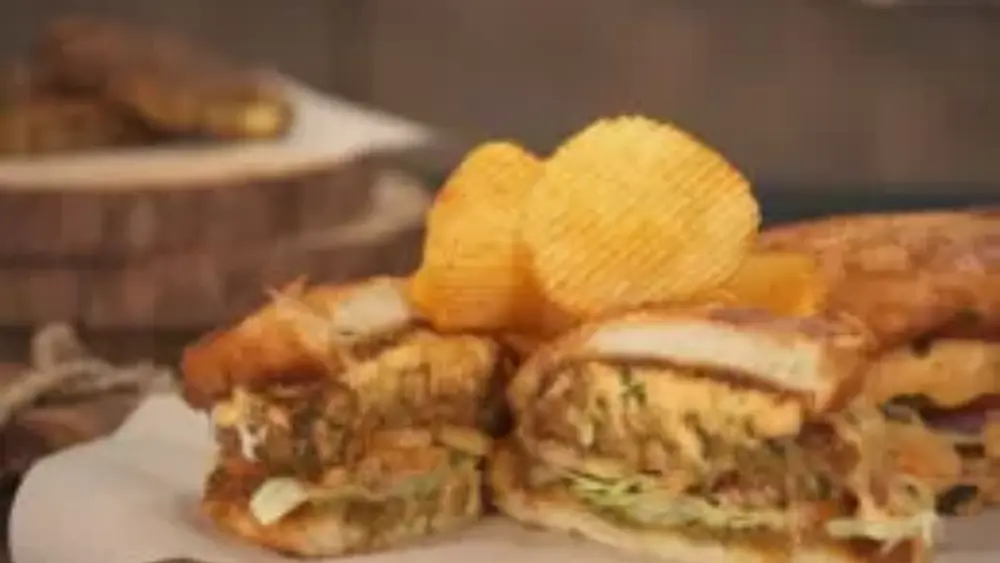 Tawa Burger Recipe

20 min

2-3 People

10 min
Tawa Burger
---
Ingredients For a Tikki masala
• 1 tbsp coriander seeds
• 1 tsp saunf
• 1 tsp black crush pepper
• 1 tsp jeera
For Tikki
• 1 tbsp oil
• 1 tsp jeera
• ½ tsp hing
• 1 tsp chopped ginger
• 1 tsp chopped green chili
• ½ cup green peas
• 1 tbsp cashew nuts
• 2 tbsp tikki masala
• 1 tsp red chili powder
• Salt to taste
• ½ tsp coriander powder
• ½ tsp garam masala
• 1 tbsp chopped coriander
• 2 nonpotato boiled and mash
• 1 tsp Kasuri methi
• ½ cup diced paneer
• 1 tsp amchoor powder
• 1 tsp chopped coriander
• 2 tbsp cornflour
• Oil for shallow frying
For tawa masala
• 2 nos burger buns
• 2 tbsp butter
• 1 TSP pav bhaji masala
• for stuffing
• 1 tbsp green chutney
• 1 tbsp tamarind chutney
• 1 tomato sliced
• 1 onion sliced
• 4-5 cabbage leaves
For dressing
• 1 tbsp mayonnaise + 1 TSP chilly sauce
• 1 TSP chaat masala
• 1 cube cheese cube
Method
For Tikki masala
• In a pan dry roast coriander, black peppers, saunf, jeera, and pound.
For a Tikki
• In a cooking pot heat oil add jeera allow it to crackle.
• Then add hing, chopped ginger, chopped green chili, and saute.
• Add green peas, cashew nuts, and cook green peas and fry cashew nuts.
• Then add Tikki masala, red chili powder, salt, coriander powder, garam masala cook masala well.
• Add chopped coriander, boiled and mashed potato and mix well.
• Finish with Kasuri methi, paneer dices, amchoor powder mix.
• Remove in a plate allow it to cool.
• Then add cornflour and make Tikki.
• Sprinkles some flour on Tikki and dust the excess flour nice and golden brown.
• Then Shallow fry Tikki and keep aside For Tawa masala
• Cut burger bun in 1 by 2
• In a pan add butter burger bun toast on both side
• Then add butter and pav bhaji masala in the same pan and toasted burger bun from inside For stuffing
• apply green chutney, tamarind chutney on a toasted bun
• place cabbage leaves, onion slices, and tomato slices.
• Then place Tikki we made before. For dressing
• In mayonnaise add chili sauce and mix well and pour in Tikki.
• Sprickels some chaat masala.
• Grate the cheese and close the bun.
• Enjoy Tikki burger.
---