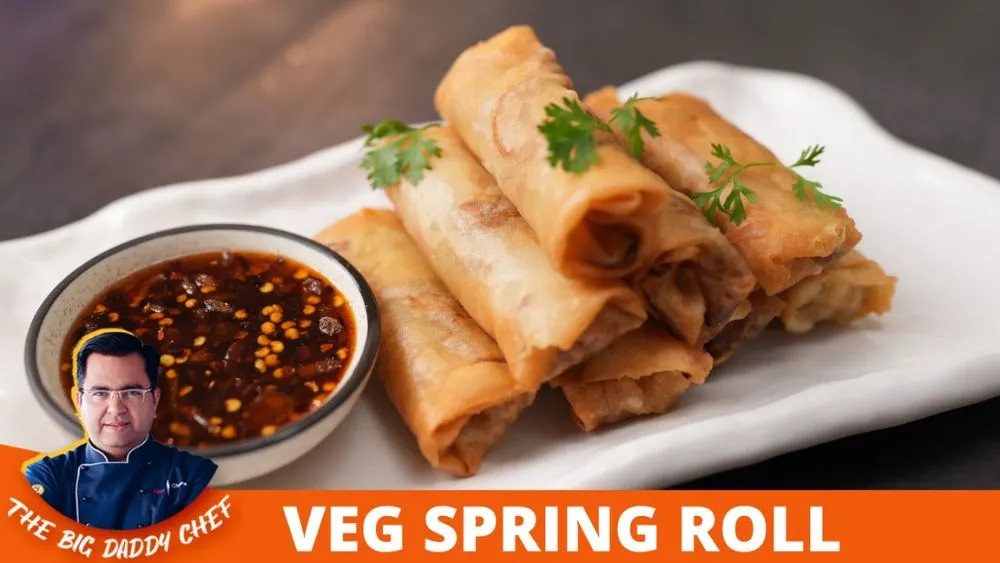 Veg Spring roll Recipe

30 Mins

5-6 people

15 Mins
How to Make Delicious Veg Spring Rolls at Home
If you're craving a delectable and crispy snack that's bursting with flavor, look no further than these Delicious Veg Spring Rolls. This classic dish is a delightful blend of crispy spring roll sheets and a mouthwatering vegetable filling. With the perfect combination of crunchy cabbage, colorful capsicum, and savory sauces, these rolls are a treat for your taste buds.
Veg Spring Rolls are not only a popular Chinese appetizer but also a versatile dish that you can enjoy as a snack, appetizer, or even a side dish for your main meal. The crispy texture of the spring roll sheets complements the tender, stir-fried vegetables, creating a delightful contrast. The magic happens when you dip these rolls into a homemade Thai sweet chili sauce, which adds a touch of sweetness and a hint of spiciness. It's a perfect harmony of flavors and textures that will leave you craving for more. Whether you're hosting a party, celebrating a special occasion, or simply looking for a delicious snack, these Veg Spring Rolls will impress your guests and satisfy your cravings.
For a step-by-step guide on how to create this culinary masterpiece, including the secret to the perfect filling and the art of rolling these delights, follow our recipe below. You won't believe how easy it is to prepare these crispy wonders in the comfort of your own kitchen.
Now, let's dive into the recipe and experience the joy of making and indulging in these Delicious Veg Spring Rolls.
Ingredients 
| | |
| --- | --- |
| Spring roll sheets | 15-16 pcs |
| Onion sliced | ½ cup |
| Capsicum julienne | ½ cup |
| Carrot julienne | ½ cup |
| Cabbage shredded | ½ cup |
| French beans | ½ cup |
| Corn kernels boiled | ½ cup |
| Oil | 2 tbsp |
| Garlic chopped | 1 tbsp |
| Ginger chopped | ½ tbsp |
| Soya sauce | ½ tbsp |
| Salt | ½ tbsp |
| Red chilli sauce | 2 tbsp |
| Tomato ketchup | 2 tbsp |
| Vinegar | 2 tbsp |
| MSG | ½ tsp (optional) |
| Sugar | ½ tbsp |
| Refined flour slurry | ¼ cup |
Thai sweet chilli sauce
| | |
| --- | --- |
| Water | ½ cup |
| Sugar | 1 cup  |
| Honey | 2 tbsp |
| Vinegar | 1 tbsp |
| Chilli flakes | ½ tbsp |
| Fried garlic chopped | 1 tbsp |
| Salt | 1 tsp |
Method 
Thai sweet chilli sauce:
Heat a pan, add water, sugar and cook until it melts.
Then add honey, chopped fried garlic, chilli flakes and cook.
Lastly add salt, mix, and set aside.
Veg Spring rolls:
Heat a pan, add oil, chopped garlic and cook until it gets golden brown.
Then add chopped ginger, chopped fried garlic and saute.
Then add all the chopped veggies and saute them high flame.
Then add soya sauce, vinegar, tomato ketchup, red chilli sauce and saute. 
Later add salt, msg, and saute on high flame.
Once done, cool it, transfer to the colander and squeeze out the extra moisture.
On the other hand, keep the thick refined flour slurry ready.
Take a spring roll sheet, add some stuffing, fold it as shown in the video, apply slurry at the edges and seal it.
Heat oil in a pan, and deep fry them until crispy.
Transfer it on a tissue and let the excess oil drain.
Serve this hot spring roll with thai sweet chilli sauce.
In conclusion, these Delicious Veg Spring Rolls offer a fantastic culinary experience with their crispy texture and flavorful filling. The combination of fresh, crunchy vegetables and a homemade Thai sweet chili sauce elevates the taste to a whole new level. By mastering this recipe, you can bring the authentic flavors of Chinese cuisine to your home.
But the journey doesn't end here. If you've enjoyed this Veg Spring Roll recipe, there's a world of other delightful dishes waiting for you. Explore more of our recipes to discover a variety of flavors and cooking techniques that will make your kitchen the hub of delicious creations.
We also offer courses and books to help you become a culinary expert in your own right. Whether you're a seasoned chef or just starting your culinary journey, our resources will enhance your skills and take your love for food to the next level. Don't miss the opportunity to expand your cooking knowledge and savor more mouthwatering recipes. Get ready to embark on a flavorful adventure!
FAQs (Frequently Asked Questions)
Q1: What are the best vegetables to use in Veg Spring Rolls?
A1: Common vegetables include cabbage, carrots, capsicum, and French beans, but you can customize the filling to your liking.
Q2: Can I make Veg Spring Rolls in advance and reheat them?
A2: Yes, you can make them in advance and reheat in an oven or air fryer to retain their crispiness.
Q3: Is there a vegetarian alternative for enhancing flavor?
A3: You can use umami-rich ingredients like nutritional yeast or a savory mushroom seasoning to boost flavor.
Q4: What's the best dipping sauce for Veg Spring Rolls?
A4: The Thai sweet chili sauce mentioned in the recipe is a fantastic choice, or you can use soy sauce, plum sauce, or peanut sauce.
Q5: Can I bake these spring rolls instead of deep-frying them?
A5: Yes, you can bake them in the oven for a healthier alternative. Brush them with a little oil and bake until golden brown.
Q6: Can I use pre-made spring roll sheets?
A6: Absolutely, store-bought spring roll sheets work well and save you time in preparation.
Q7: How can I prevent spring rolls from becoming soggy?
A7: Make sure to drain excess moisture from the filling and seal the rolls properly to prevent sogginess.
---