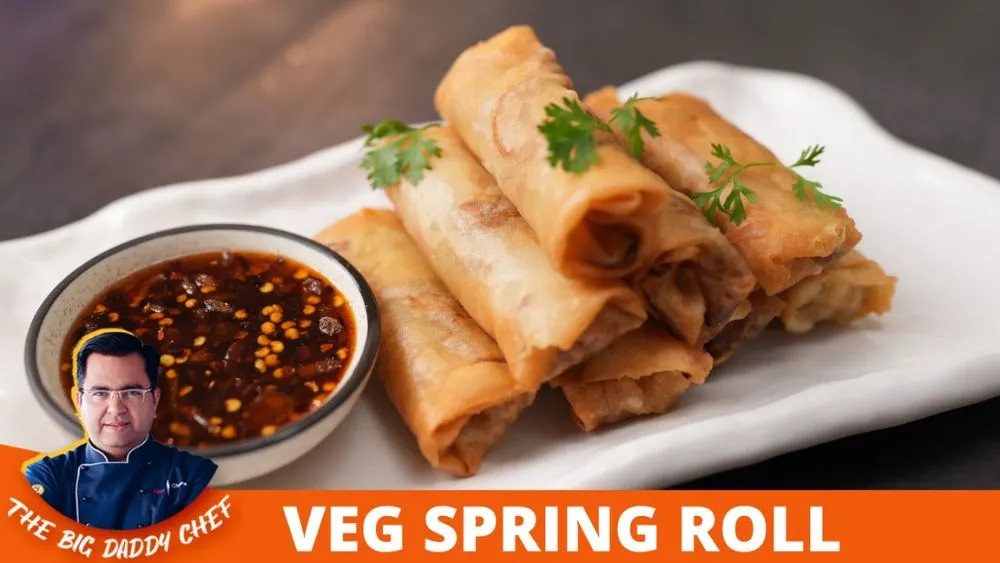 Veg Spring roll Recipe

30 Mins

5-6 people

15 Mins
Veg Spring roll Recipe
---
Ingredients 
| | |
| --- | --- |
| Spring roll sheets | 15-16 pcs |
| Onion sliced | ½ cup |
| Capsicum julienne | ½ cup |
| Carrot julienne | ½ cup |
| Cabbage shredded | ½ cup |
| French beans | ½ cup |
| Corn kernels boiled | ½ cup |
| Oil | 2 tbsp |
| Garlic chopped | 1 tbsp |
| Ginger chopped | ½ tbsp |
| Soya sauce | ½ tbsp |
| Salt | ½ tbsp |
| Red chilli sauce | 2 tbsp |
| Tomato ketchup | 2 tbsp |
| Vinegar | 2 tbsp |
| MSG | ½ tsp (optional) |
| Sugar | ½ tbsp |
| Refined flour slurry | ¼ cup |
Thai sweet chilli sauce
| | |
| --- | --- |
| Water | ½ cup |
| Sugar | 1 cup  |
| Honey | 2 tbsp |
| Vinegar | 1 tbsp |
| Chilli flakes | ½ tbsp |
| Fried garlic chopped | 1 tbsp |
| Salt | 1 tsp |
Method 
Thai sweet chilli sauce:
Heat a pan, add water, sugar and cook until it melts.
Then add honey, chopped fried garlic, chilli flakes and cook.
Lastly add salt, mix, and set aside.
Veg Spring rolls:
Heat a pan, add oil, chopped garlic and cook until it gets golden brown.
Then add chopped ginger, chopped fried garlic and saute.
Then add all the chopped veggies and saute them high flame.
Then add soya sauce, vinegar, tomato ketchup, red chilli sauce and saute. 
Later add salt, msg, and saute on high flame.
Once done, cool it, transfer to the colander and squeeze out the extra moisture.
On the other hand, keep the thick refined flour slurry ready.
Take a spring roll sheet, add some stuffing, fold it as shown in the video, apply slurry at the edges and seal it.
Heat oil in a pan, and deep fry them until crispy.
Transfer it on a tissue and let the excess oil drain.
Serve this hot spring roll with thai sweet chilli sauce.
---