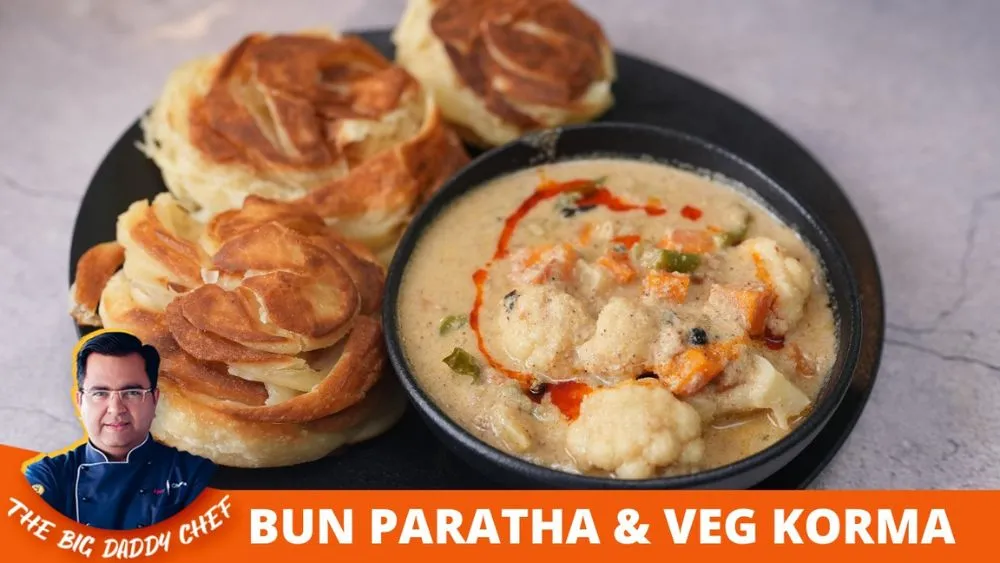 Bun Paratha Recipe

50 Mins

5-6 people

10 Mins
The Ultimate Bun Paratha Recipe for Breakfast Lovers
Are you a breakfast enthusiast looking for a delightful morning treat? Look no further, because we present to you the ultimate bun paratha recipe that's sure to satisfy your taste buds. This classic Indian breakfast dish combines the fluffy and flavorful bun paratha with a scrumptious side of vellai kurma, creating a mouthwatering experience for your breakfast table.
Bun paratha is a beloved Indian flatbread known for its soft texture and inviting aroma. Made with a blend of refined flour, egg, milk, and a touch of sugar, it offers a delightful contrast of flavors and a hint of sweetness. The dough is rested to perfection, creating a delectable base for the paratha. Once rolled out and shallow-fried to a golden brown, these bun parottas are a delightful companion to the flavorful vellai kurma. This coconut-based curry is brimming with the richness of cashews, aromatic spices, and a medley of fresh vegetables. The bun paratha and vellai kurma combination is an enticing breakfast delight that showcases the culinary artistry of South Indian cuisine. So, let's embark on a culinary journey and explore the world of bun paratha and vellai kurma.
Portions serving: 5-6 pax
Preparation time: 10 mins
Cooking time: 50 mins
Ingredients 
Bun parotta 
Refined flour 1 cup
Egg 1 pc
Milk ½ cup
Sugar 1 tbsp
Salt 1 tsp
Baking soda a pinch 
Oil 1 tsp
Vellai kurma
Coconut fresh ¼ cup
Cashew 1 tbsp
Saunf 1 tbsp
Poppy seeds ½ tbsp
Cinnamon 3 inches
Green cardamom 3 pcs
Green chilli 2 pcs 
Ginger 1 inch
Garlic 8-10 pcs
Water as required 
Oil 2 tbsp
Cloves 4-5 pcs
Black pepper 6-7 pcs
Star anise 1 pc
Dagad phool 1 tbsp
Onion chopped ½ cup
Green chilli 1 pc
Curry leaves 8-10 pcs
Tomato chopped 1 cup
Potato peeled & diced ½ cup
Carrot ½ cup
Cauliflower florets ½ cup
French beans ½ cup
Method
For bun parotta:
In a bowl, add egg, sugar, milk and whisk it until sugar melts.
On a plate add refined flour, salt, baking soda, the egg mixture and knead it to a soft dough.
Once done, add oil and knead it.
Allow the dough to rest for 30 mins.
Divide the dough in portions. Take one portion and roll it to a very flat thin sheet. Use oil to avoid dough getting stuck to the surface.
Then fold it into pleats, roll it to a circle, and tug the end in the centre.
Lightly press it and set aside.
Heat a pan, add a good amount of oil, and shallow fry bun parotta until they get golden brown.
Serve hot bun parottas with vellai kurma. 
For vellai kurma:
In a mixer jar, add coconut, cashew, saunf, poppy seeds, cinnamon, green cardamom, green chilli, ginger, garlic, some water and grind it to a paste.
Heat a pan, add cinnamon, cloves, black pepper, star anise dagad phool and let them crackle.
Then add chopped onions and saute them.
Later add green chilli, curry leaves and saute.
Then add tomatoes and cook until they soften.
Add the paste mixture, some water and mix it. 
Then add carrot, cauliflower, french beans and cook them for 10-12 mins.
Vellai kurma is ready to be served.
In conclusion, the ultimate bun paratha recipe is not just a breakfast choice; it's an unforgettable culinary experience. The fluffy and flavorful bun parathas, when paired with the aromatic vellai kurma, create a breakfast feast that's hard to resist. Whether you're a fan of South Indian cuisine or simply looking to add a dash of culinary delight to your morning routine, this combination offers the perfect solution to start your day on a delicious note.
As you savor the flavors of this delightful dish, don't forget to explore more recipes and culinary insights from Chef Ajay Chopra. If you're eager to enhance your cooking skills further, be sure to check out his courses and books. Discover the joy of home-cooked meals and elevate your culinary adventures with Chef Ajay Chopra's expertise.
---
FAQ (Frequently Asked Questions)
Q1: What is bun paratha?
A1: Bun paratha is a soft and flavorful Indian flatbread made from refined flour, egg, milk, and a touch of sugar, known for its fluffy texture and delightful taste.
Q2: What is vellai kurma?
A2: Vellai kurma is a South Indian curry made with a coconut-based paste, cashews, and a variety of aromatic spices, typically served as a side dish.
Q3: Can I make bun parathas without eggs?
A3: Yes, you can prepare eggless bun parathas by omitting the egg and adjusting the recipe accordingly.
Q4: What are the essential ingredients for vellai kurma?
A4: Key ingredients for vellai kurma include coconut, cashews, saunf, poppy seeds, cinnamon, green cardamom, green chili, ginger, garlic, and a variety of fresh vegetables.
Q5: How long does it take to prepare this breakfast?
A5: The preparation time is approximately 10 minutes, and the cooking time is around 50 minutes.
Q6: Can I customize the vegetable selection in vellai kurma?
A6: Absolutely! You can choose your favorite vegetables to suit your taste and preferences.
Q7: Where can I find more recipes and culinary insights from Chef Ajay Chopra?
A7: You can explore a wide range of recipes and culinary knowledge from Chef Ajay Chopra on his platform, Cook Academy, and also check out his books for in-depth culinary expertise.
Q8: How can I enhance my cooking skills with Chef Ajay Chopra's courses?
A8: Chef Ajay Chopra offers a variety of courses designed to elevate your culinary skills. Visit his platform or website to discover the courses that best suit your cooking journey.
---