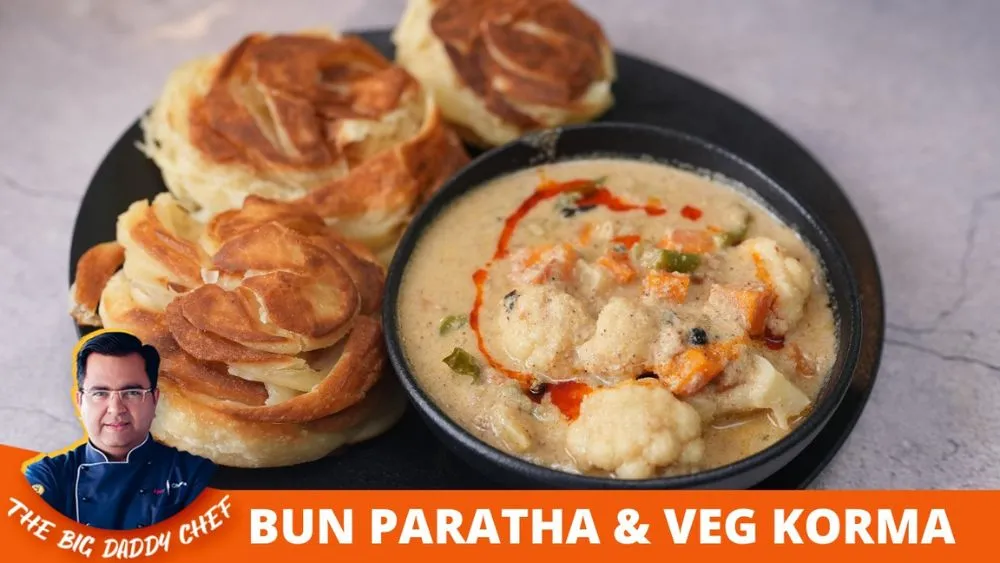 Bun Paratha Recipe

50 Mins

5-6 people

10 Mins
Bun Paratha Recipe
---
Portions serving: 5-6 pax
Preparation time: 10 mins
Cooking time: 50 mins
Ingredients 
Bun parotta 
Refined flour 1 cup
Egg 1 pc
Milk ½ cup
Sugar 1 tbsp
Salt 1 tsp
Baking soda a pinch 
Oil 1 tsp
Vellai kurma
Coconut fresh ¼ cup
Cashew 1 tbsp
Saunf 1 tbsp
Poppy seeds ½ tbsp
Cinnamon 3 inches
Green cardamom 3 pcs
Green chilli 2 pcs 
Ginger 1 inch
Garlic 8-10 pcs
Water as required 
Oil 2 tbsp
Cloves 4-5 pcs
Black pepper 6-7 pcs
Star anise 1 pc
Dagad phool 1 tbsp
Onion chopped ½ cup
Green chilli 1 pc
Curry leaves 8-10 pcs
Tomato chopped 1 cup
Potato peeled & diced ½ cup
Carrot ½ cup
Cauliflower florets ½ cup
French beans ½ cup
Method
For bun parotta:
In a bowl, add egg, sugar, milk and whisk it until sugar melts.
On a plate add refined flour, salt, baking soda, the egg mixture and knead it to a soft dough.
Once done, add oil and knead it.
Allow the dough to rest for 30 mins.
Divide the dough in portions. Take one portion and roll it to a very flat thin sheet. Use oil to avoid dough getting stuck to the surface.
Then fold it into pleats, roll it to a circle, and tug the end in the centre.
Lightly press it and set aside.
Heat a pan, add a good amount of oil, and shallow fry bun parotta until they get golden brown.
Serve hot bun parottas with vellai kurma. 
For vellai kurma:
In a mixer jar, add coconut, cashew, saunf, poppy seeds, cinnamon, green cardamom, green chilli, ginger, garlic, some water and grind it to a paste.
Heat a pan, add cinnamon, cloves, black pepper, star anise dagad phool and let them crackle.
Then add chopped onions and saute them.
Later add green chilli, curry leaves and saute.
Then add tomatoes and cook until they soften.
Add the paste mixture, some water and mix it. 
Then add carrot, cauliflower, french beans and cook them for 10-12 mins.
Vellai kurma is ready to be served.
---