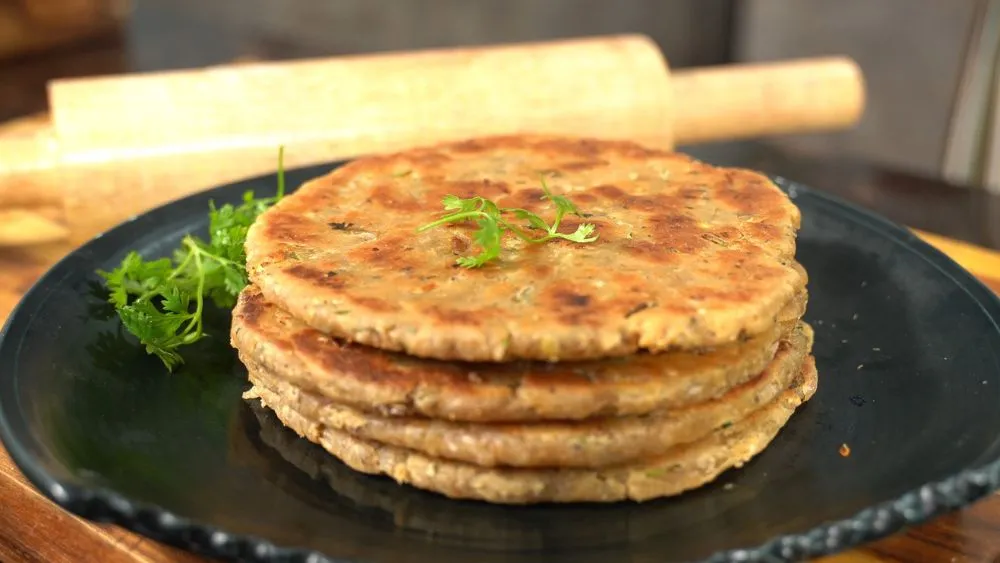 Sindhi Koki Recipe

10 mins

3-4 people

5 mins
Sindhi Koki
---
Sindhi cuisine, known for its rich flavours and unique combinations of spices, offers a plethora of mouth watering delicacies. One such gem is the delectable Sindhi Koki, a traditional flatbread that has been passed down through generations. With its crisp exterior, flavorful interior, and enticing aroma, Sindhi Koki is a treat for the senses. So, let's delve into this delightful recipe and discover the art of creating the perfect Sindhi Koki.
Serves : 3 to 4 pax
Prep time : 5 min
Cooking time : 20 min
Ingredients:
- 2 cups atta (whole wheat flour)
- 2 tbsp besan (gram flour)
- 1 tsp salt
- 4 tbsp ghee (for moin - for the dough)
- 3 tbsp ghee for cooking
- 1 tsp black pepper powder
- 1 tsp red chilli powder
- 1 tsp ajwain (carom seeds)
- 1 tsp jeera (cumin seeds)
- 1 finely chopped onion
- 1 tbsp chopped coriander leaves
- 1 tsp chopped green chillies
Method:
1. Begin by preparing the dough for Sindhi Koki. In a large parat/flat plate, sieve the atta (whole wheat flour) and add the besan (gram flour) to give the Koki a delightful crispness. 
2. To the flour mixture, add salt, moin ghee (ghee used in the dough), black pepper powder, red chilly powder, ajwain, jeera, finely chopped onion, chopped coriander leaves, and chopped green chillies. These ingredients will infuse the Koki with a burst of flavors that will leave your taste buds dancing with joy.
3. Now, rub the ingredients together, working the dough until it reaches a sand-like consistency. This step is crucial in ensuring the Koki achieves the desired texture.
4. Gradually, add a little water to the mixture and continue rubbing until a tight dough forms. The key here is to avoid kneading the dough, as that could alter the texture and make it chewy.
5. Once the dough is ready, divide it into equal portions to prepare individual Koki breads.
6. Roll each portion into a thick roti, and with the help of a knife, make shallow gashes on the surface. These gashes allow the Koki to cook evenly and impart a rustic charm to the final creation.
7. Now, it's time to cook the Koki to perfection. Heat a tawa or a flat pan on a slow flame, and add ghee for cooking. Place the rolled Koki on the tawa and cook it gently, applying ghee on both sides to achieve a beautiful golden-brown hue.
8. The aroma of the spices and ghee permeating the air will undoubtedly whet your appetite, making it hard to resist the temptation to indulge immediately.
9. Once the Sindhi Koki is cooked to perfection, serve it immediately as a delightful snack with a steaming cup of tea. Alternatively, it can also be enjoyed as a scrumptious breakfast, served with yoghurt and papad for a satisfying and wholesome meal.
Sindhi Koki is more than just a dish; it is a testament to the rich cultural heritage of the Sindhi community. Each bite of this flavorful flatbread transports you to the heart of Sindh, where food is not just nourishment but a celebration of life and togetherness.
---