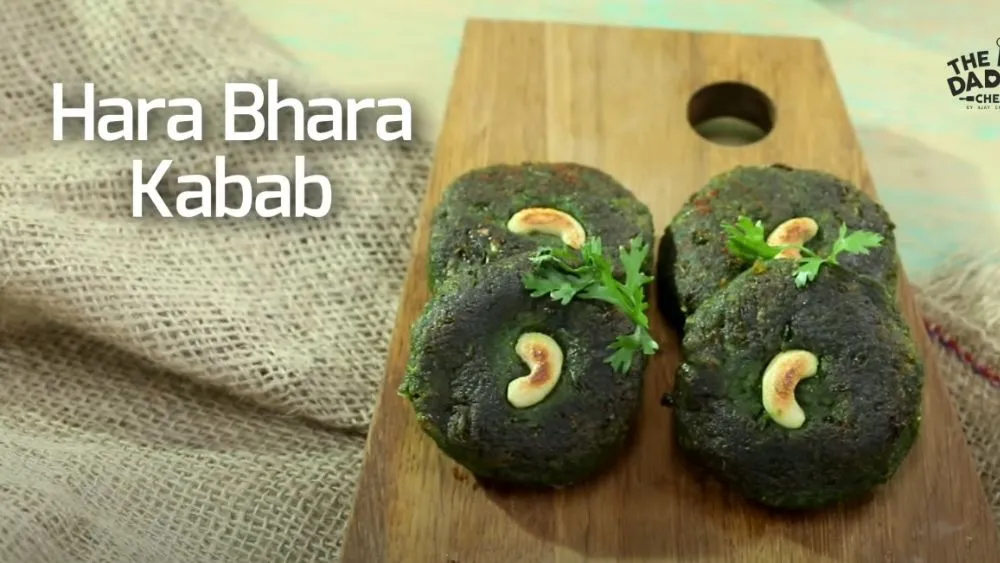 Hara Bhara Kabab Recipe

20 mins

2-3 people

15 mins
Hara Bhara Kabab
---
In the realm of tantalising vegetarian dishes, Hara Bhara Kabab with Cashew Stuffing stands out as a delightful treat for the taste buds. These succulent kebabs, prepared with an enticing blend of vegetables and spices, are sure to win hearts at any gathering or family meal.
Portions serving: 5-6 pax
Preparation time: 10 mins
Cooking time: 30 mins
Ingredients:
1 tbsp Oil
1 tbsp Ghee
1 tsp Cumin
2-3 now chopped Green Chilli.
2-3 tsp chopped Ginger.
1 no. chopped Carrot.
1 bowl of boiled mashed Peas.
1 bowl boiled pureed Spinach leaves.
1 tsp Cumin Powder.
1/2 tsp Yellow Chilli Powder.
1/2 tsp Garam Masala.
1 small bowl of boiled mashed Potatoes.
2 tsp Corn Flour.
Handful dry Fenugreek leaves Powder.
Ingredient for stuffing:
3-4 chopped Cashew nuts.
4-5 chopped Raisins.
1 pinch Garam Masala.
Salt to taste.
1 chopped Green Chilli.
Chopped Ginger.
Chopped Coriander leaves.
1 tsp Lemon juice.
Method:
To begin, heat a combination of oil and ghee in a pan.
The addition of ghee enhances the richness of the kebabs, setting the stage for a memorable culinary experience.
Once it is hot, add cumin seeds, allowing them to crackle and release their aroma.
Sauté finely chopped green chilli and ginger until their fragrance fills the air, adding a perfect touch of zest to the dish.
Incorporate the chopped carrots and peas, and let them cook over low heat until they soften, infusing the kebabs with delightful sweetness and a pop of colour.
The highlight of these kebabs is the pureed spinach, which is prepared by boiling or blanching fresh spinach leaves and blending them into a smooth, vibrant green paste.
While cooking the mixture, add a little more ghee, elevating the flavours to new heights.
For the mesmerising blend of spices, season with roasted cumin powder, yellow chilli powder, and garam masala.
The aromatic spices enhance the taste and aroma of the kebabs as the mixture dries out to a perfect consistency.
Once the mixture is cooked to perfection, transfer it to a bowl and allow it to cool, ensuring that all the flavours meld harmoniously.
Meanwhile, boil the potatoes until tender, and after they cool, grate them.
To the grated potatoes, add a dash of salt, cornflour, and dry fenugreek leaves powder, providing the binding agent needed to hold the kebabs together.
In a separate bowl, create the mouthwatering stuffing by combining chopped cashew nuts, plump raisins, garam masala, salt, finely chopped green chilies, ginger, and freshly chopped coriander.
A touch of lemon juice adds a tantalising tangy kick to this delectable mixture.
To shape the kebabs, moisten your hands with water to prevent sticking.
Take a portion of the green mixture and flatten it on your palm.
Place a spoonful of the prepared stuffing in the centre and carefully enclose it to form delightful kebab balls.
For an added element of crunch, top each kebab with a luscious cashew nut.
In a separate pan, heat a combination of ghee and oil for shallow frying the kebabs.
Carefully cook them until they turn a mesmerising golden brown and achieve a delightful crispness on both sides.
Handle the kebabs gently during frying to preserve their shape and ensure they turn out perfectly.
Serve the Hara Bhara Kebab with Cashew Stuffing hot, accompanied by a cooling yoghurt dip or a zesty chutney, to savour a burst of flavours in every bite.
These kebabs will undoubtedly become a cherished favourite for both vegetarians and meat-lovers alike, making any meal a delightful and memorable experience.
---