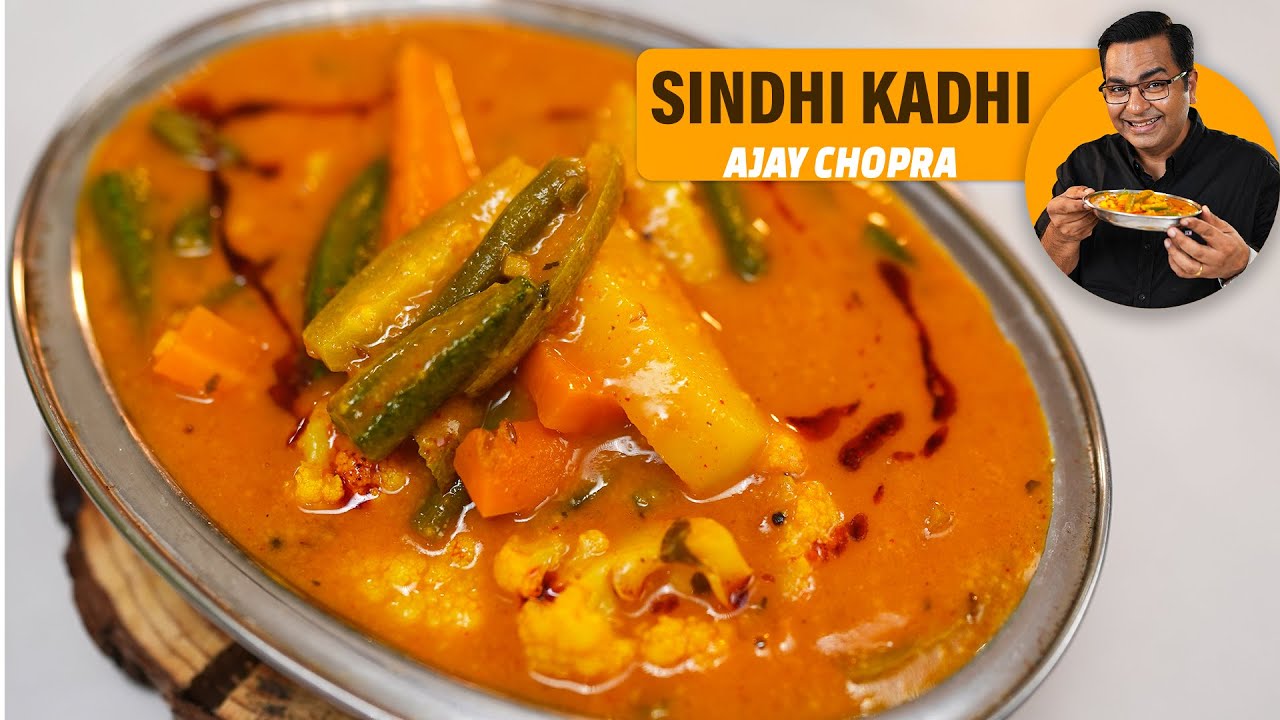 Sindhi Kadhi recipe

25 Mins

5-6 People

20 Mins
How to Make Sindhi Kadhi Recipe
Introduction:
Experience the authentic flavors of the Sindhi cuisine with our tantalizing Sindhi Kadhi recipe. This iconic dish is a melange of tangy and savory flavors, showcasing the vibrant essence of Sindhi culinary heritage. Packed with a variety of vegetables and the zesty touch of tamarind, this curry offers a delightful sweet and sour taste that's truly unique. The base of gram flour, or besan, gives this dish a smooth and velvety texture, making it a comforting choice for any meal.
Delve into the world of Sindhi cuisine as you savor the delightful combination of flavors in this traditional Sindhi Kadhi. The dish is an embodiment of the rich heritage and diverse culinary expertise of the Sindhi community. Let's unravel the secrets of preparing this beloved dish and bring the taste of Sindhi flavors to your dining table.
Ingredients:
Tomatoes: 2 pcs
Water
Oil: ¼ cup
Bhindi (Okra): ½ cup
Oil: 1 tbsp
Jeera (Cumin Seeds): 1 tsp
Mustard seeds: ½ tsp
Methi seeds (Fenugreek Seeds): ½ tsp
Curry leaves: 8-10 pcs
Besan (Gram Flour): 1 cup
Hot water as required
Turmeric powder: ½ tsp
Red chilli powder: 1 tsp
Green chilli chopped: 1 tbsp
Ginger chopped: ½ tbsp
Drumstick: ½ cup
French beans: ½ cup
Carrot: ½ cup
Cauliflower: ½ cup
Green peas: ¼ cup
Parval: ½ cup
Potato wedges: ½ cup
Tamarind water: 1 tbsp
Salt: 1 tbsp
Method:
Preparing the Tomatoes:

Pressure cook tomatoes in water for 2 whistles until tender.
Blend the cooked tomatoes into a smooth paste and set aside.

Making Tomato Paste:

Blend the cooked tomatoes into a smooth paste and set aside.

Prepping the Bhindi:

Slice bhindi horizontally into bite-sized pieces after trimming both ends.

Frying Bhindi:

Shallow fry bhindi until golden and crispy. Set aside.

Starting the Curry Base:

Heat oil in a pressure cooker, add jeera, mustard seeds, methi seeds, and curry leaves.
Roast besan until aromatic, then add hot water and cook.
Add turmeric powder, red chilli powder, green chilli, and ginger.

Creating the Vegetable Medley:

Gradually add hot water, then add vegetables and tomato paste.
Incorporate tamarind water and salt.

Pressure Cooking:

Cook the mixture for 2 whistles on medium heat.

Final Touch:

Add fried bhindi to the curry and cook for an additional minute.

Serving the Sindhi Curry:

Serve with steamed rice or roti.
In conclusion, this Sindhi Kadhi isn't just a recipe; it's a gateway to the vibrant and tangy world of Sindhi cuisine. Its blend of flavors, from the sourness of tamarind to the earthy besan base, presents a delectable solution for those craving authentic Sindhi flavors.
Explore more delightful recipes by Chef Ajay Chopra to embark on a culinary adventure through various regional Indian cuisines. Check out his courses and books to delve deeper into the intricacies of Indian cooking and enjoy the myriad flavors and aromas of this diverse cuisine in your own kitchen.
FAQs (Frequently Asked Questions)
Question 1: What makes Sindhi Kadhi unique?
Answer 1: Sindhi Kadhi stands out due to its tangy and savory taste, thanks to the combination of vegetables, tamarind, and besan.
Question 2: Can I make Sindhi Kadhi without vegetables?
Answer 2: While vegetables are a key component, you can adjust the variety or quantity based on preference, but they significantly contribute to the dish's flavor.
Question 3: Is tamarind essential in Sindhi Kadhi?
Answer 3: Yes, tamarind plays a crucial role, offering the distinctive sweet and sour taste that defines Sindhi Kadhi.
Question 4: What is the base of Sindhi Kadhi?
Answer 4: Gram flour, also known as besan, forms the base of Sindhi Kadhi, lending it a smooth and thick consistency.
Question 5: Can I alter the sweetness or sourness of the Kadhi?
Answer 5: Absolutely, you can adjust the levels of tamarind or sweetness based on personal preference to balance the flavors.
Question 6: Which vegetables are commonly used in Sindhi Kadhi?
Answer 6: Vegetables like ladyfinger (okra), drumsticks, and bhindi (okra) are frequently used in Sindhi Kadhi.
Question 7: Is this dish suitable for a no-onion, no-garlic diet?
Answer 7: Yes, you can prepare Sindhi Kadhi without onion and garlic by adjusting the recipe accordingly.
Question 8: What is the best way to serve Sindhi Kadhi?
Answer 8: Sindhi Kadhi pairs wonderfully with steamed rice, making for a wholesome and satisfying meal.