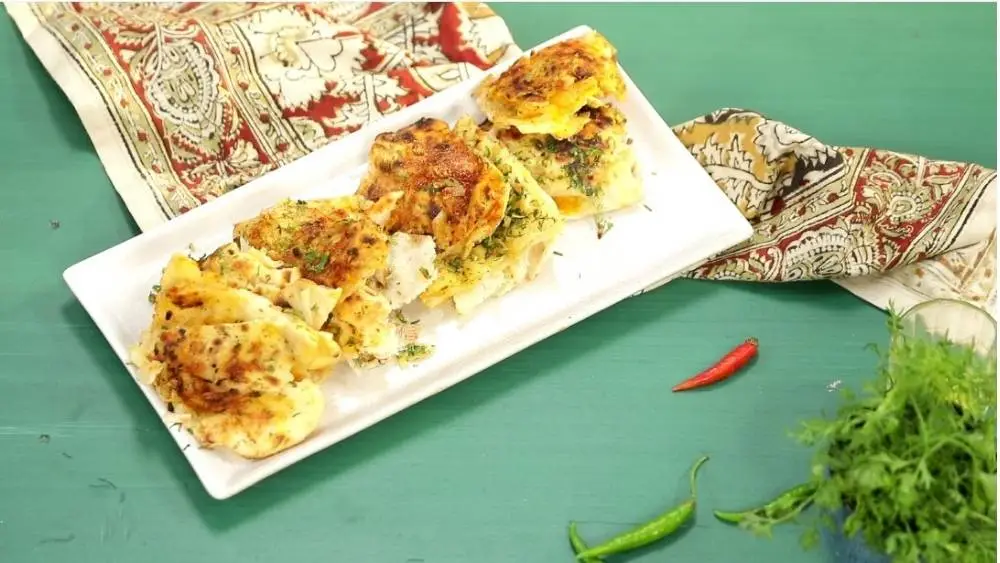 Chur Chur Naan Recipe

10 min

2-3 People

15 min
Chur chur naan by Chef Ajay Chopra
---
Ingredients:
4 tbsp. Refined flour.
1 tbsp. Curd.
1/2 tsp. Baking Soda.
1/2 tsp. Sugar.
2 nos. Green Chillies.
Handful Coriander leaves.
A pinch Carom seeds.
Red Chilli.
Chaat Masala.
Garam Masala.
Salt.
Ghee.
Method:
Take 4 tbsp. Refined flour, 1 tbsp. Curd, 1 tsp. Salt, 1/2 tsp. Baking Soda, 1/2 tsp. Sugar in a bowl and knead it with water to make a soft dough. Keep it aside and let it rest for sometime.
Very finely chop 2 nos. Green Chillies, a handful Coriander leaves.
Clean the the kitchen top nicely.
Now sprinkle some dry flour on the kitchen top and take portions of the dough and make dough balls.
Roll the dough balls flat and very thin over the kitchen top. Flip the roti with your hands to make it bigger.
Coat one side of the roti with Ghee.
Sprinkle a pinch of Carom seeds, a pinch of Salt, a pinch of Red Chilli powder over it.
Dust dry Refined flour over this and fold it to make layers.
Cut the folded dough into pieces and pile the pieces over each other.
Now stuff the top of the pile with chopped Coriander leaves and Green Chillies. Then give it a rest.
Now roll this pile very lightly.
Dilute 1 tbsp. Salt with water and splash this on the inside of the hot pressure cooker.
Now stick the "Naan" in the pressure cooker and turn it over to expose the other side of the "Naan" to the flame.
Let it cook nicely.
Take it out and cook directly over the flame.
Smear Ghee over the "Naan" and crush it.
Mix 1 tbsp. Red Chilli powder and 1tbsp. Chaat Masala powder and a pinch of Garam Masala on a dish and sprinkle over the Naan.
---