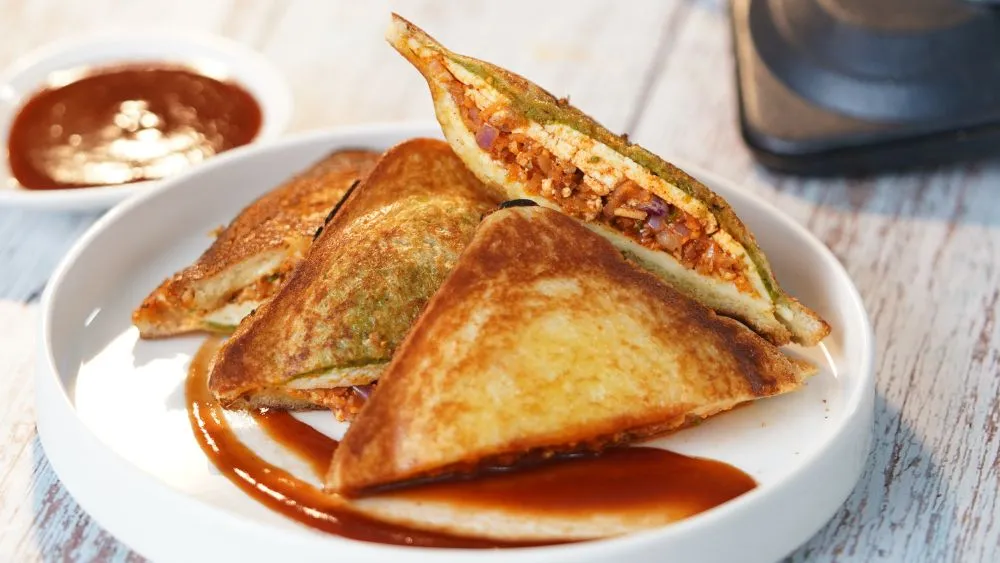 Ambala Sandwich Recipe

30 mins

2-3 people

15 mins
Ambala Sandwich
---
Ingredients
For Stuffing
1 Green Chillies Chopped
2 Inch Ginger Peeled And Chopped
1 Nos Onion Peeled And Finely Chopped
1 Pinch Salt
1 Pinch Red Chilli Powder
1 Pinch Garam Masala Powder
1 Pinch Black Pepper Powder
For Paneer
250 Gms Paneer
1 Pinch Salt
1 Pinch Red Chilli Powder
1 Pinch Garam Masala Powder
For Chutney
1 Bowl Coriander Leaves
1/2 Bowl Mint Leaves
1 Or 2 Nos Green Chillies
6 Cloves Garlic
1 Tsp Jeera
1 Tsp Salt
1 Nos Lemon Juice
For Sandwich
4 Slices Of Bread
3 Tbsp Soft Butter
Method
Lay A Bread Slice On The Chopping Board Or Clean Table Top.
Spread A Layer Of Softened Butter, And Chutney.
Place A Thin Slice Of Paneer, Add Chopped Green Chillies, Ginger, Coriander.
Sprinkle Salt And Pepper, Red Chilli Powder And Cumin Powder.
Cheese Slice And Repeat The Layer.
Close The Sandwich With Another Slice Of Bread.
Heat Butter In A Non-Stick Grilling Pan, And Grill The Sandwich On Both Sides Till Golden Brown And Crisp.
Serve Hot With Ketchup And Chutney.
---