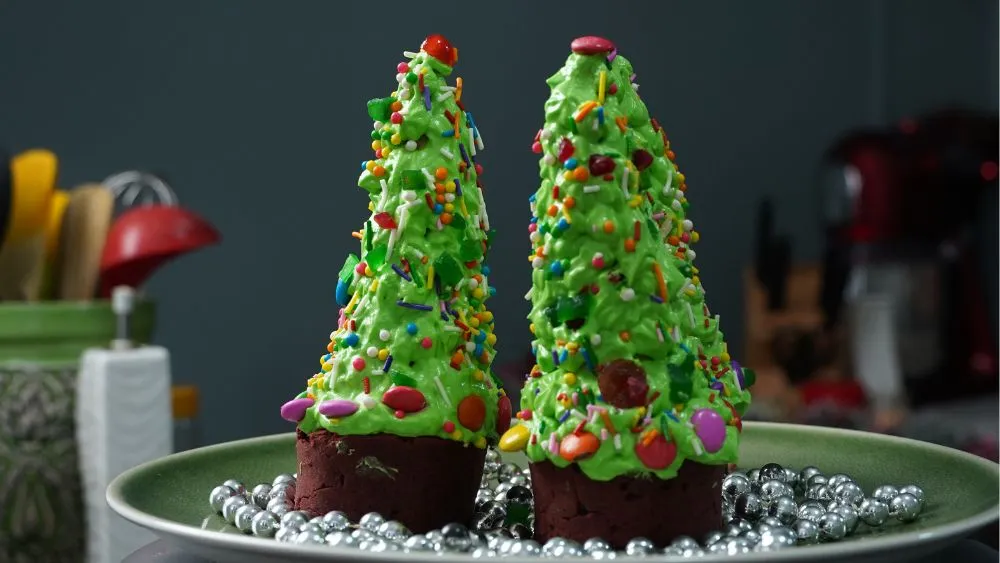 Red Velvet Cupcake Recipe

20 mins

3-4 servings

30 mins
Red Velvet Cupcake
---
INGREDIENTS
1 CUP BUTTER
1 CUP  CASTOR SUGAR
½ CUP BUTTER MILK
1 EGG
1 and ¼ CUP MAIDA
11/2 TBSP COCOA POWDER
½ TSP BAKING POWDER
¼ CUP OIL
12 DROPS VANILLA ESSENCE
¼ TSP EDIBLE RED COLOR
1/2 BAKING POWDER
½ TSP VINEGAR
For topping
⅓ CUP SUGAR
⅓ CUP BUTTER
⅓ CUP BUTTER
A FEW DROPS EDIBLE GREEN COLOR
METHOD
For Red Velvet Cupcake
In a clean and sanitized bowl cream butter and sugar together initially on medium speed and gradually on high speed to make it fluffy.
Add butter milk and incorporate slowly in the batter.
Add one egg and mix in on medium speed till it is completely blended in the batter
Add all the dry ingredients one by one and fold in the batter using the cut and fold method.
Add vanilla essence, edible red color and fold it together.
Now add baking powder and vinegar, this will make the product more fluffy
Preheat the oven at 180 degree Celsius and pour the batter in the paper cupcake molds.
And bake it in the pre heated oven for 20 min till done.
Remove the cupcakes from the oven and allow it to cool.
For cream cheese frosting
In a separate clean and sanitized bowl, cream butter and sugar together with cream cheese and pipe it into a piping bag
Pipe it over the cupcake
For Christmas tree
Place an inverted ice cream cone over muffin
Cream butter and sugar together and add edible green color.
Place the butter cream mixture in a piping bag and using a star nozzle make dots all over the cone
Decorate it with sparkles and sprinkles.
---