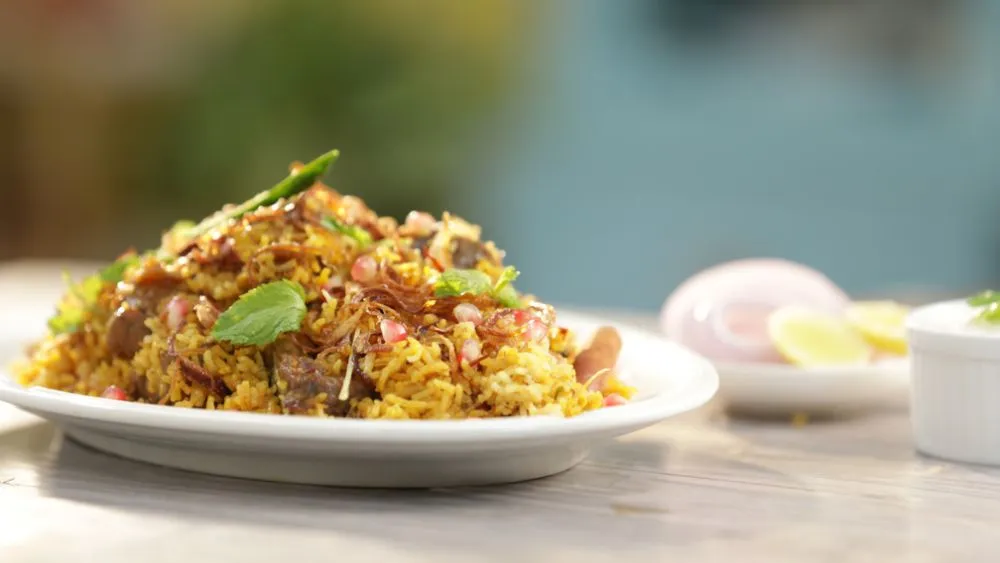 Mutton Biryani Recipe

30 mins

2-3 people

20 mins
Mutton Biryani
---
Mutton Biryani, a crown jewel of Indian cuisine, is a timeless dish that weaves together fragrant Basmati rice, succulent mutton, and an array of aromatic spices. This recipe invites you to embark on a culinary adventure, where the ingredients come together harmoniously to create a symphony of tastes and textures. From the tender mutton pieces to the delicate saffron strands, every element contributes to the richness of this majestic dish. Here is a detailed guide to crafting Mutton Biryani, a dish that stands as a testament to the culinary mastery of India.
Portions serving: 2-3 pax
Preparation time: 20 mins
Cooking time: 30 mins
Calories: 265 cal per portion
Ingredients:
500 Grams Of Mutton – Cut Into Pieces
1 Big Bowl Of Basmati Rice – Soaked In Water For 2 Hours
1 Tablespoon Of Ghee / Clarified Butter
1 Tablespoon Of Refined Oil
2 Bay Leaves
4-5 Pieces Of Cinnamon Sticks
2-3 Pieces Of Black Cardamom
5-6 Pieces Of Green Cardamom
A Few Cloves
A Few Black Peppercorns
1 Cup Of Thinly Sliced Onions
2 Pieces Of Mace
2 Tablespoons Of Ginger-Garlic Paste
1 Teaspoon Of Turmeric Powder
1 Teaspoon Of Cumin Powder
1 Teaspoon Of Coriander Powder
1 Teaspoon Of Red Chilli Powder
1 Cup Of Yogurt
1 Teaspoon Of Shahi Cumin Seeds
A Few Stalks Of Coriander Leaves
A Few Stalks Of Mint Leaves
Salt To Taste
200 Ml Of Fresh Cream
2 Tablespoons Of Biryani Masala Powder
Some Kesar / Saffron Strands
A Few Juliennes Of Green Chilli
A Few Juliennes Of Ginger
Some Kewra Water (Screw Pine Essence)
1 Teaspoon Of Lemon Juice
1 Cup Of Fried Onion
Method:
Heat ghee and refined oil in a heavy-bottomed pan. Add bay leaves, cinnamon sticks, black cardamom, green cardamom, cloves, and black peppercorns.
Add the thinly sliced onions and cook them until they turn golden brown.
Add the mutton pieces to the pan, allowing them to sear and brown.
Stir in mace, ginger-garlic paste, turmeric powder, cumin powder, coriander powder, and red chili powder. Let the spices mingle with the mutton, creating a rich foundation of flavors.
Add yogurt to the mixture, which tenderizes the mutton and introduces a creamy richness that balances the spices.
As the mutton simmers, add shahi cumin seeds, coriander leaves, and mint leaves.
Pour in the fresh cream.
add biryani masala powder.
Infuse the dish with the luxurious hues and aroma of saffron strands soaked in warm milk.
Parboil the soaked Basmati rice until it's partially cooked. Layer the rice atop the mutton mixture.
Add juliennes of green chili, ginger, and a drizzle of kewra water. These elements enhance both the presentation and the flavors of the biryani.
Seal the pan with a tight-fitting lid, allowing the biryani to cook on a low flame. The rice and mutton marry their flavors as the dish steams to perfection.
Before serving, sprinkle lemon juice to balance the richness and elevate the flavors.
Uncover the pan to reveal the masterpiece that is Mutton Biryani. The mingling aromas and colors are a testament to the culinary craftsmanship at play.
Crown the biryani with a flourish of crispy fried onions, adding a delightful crunch and a final touch of flavor.
Mutton Biryani is more than a dish; it's an experience that transports you to the heart of Indian culinary tradition. The amalgamation of fragrant spices, tender mutton, and the aroma of Basmati rice creates a symphony that resonates with every forkful. This recipe reflects the intricacies and attention to detail that define Indian cooking, where each ingredient is carefully chosen to contribute to the overall harmony of the dish.
---