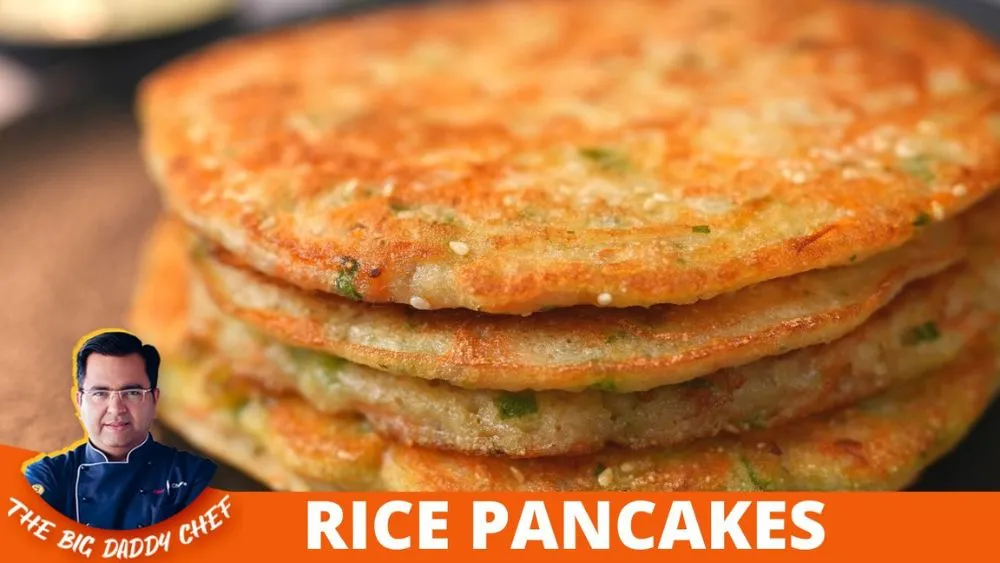 Rice Pancakes Recipe

30 Mins

4-5 people

10 Mins
Rice Pancakes Recipe
---
Portions serving: 4-5 pax
Preparation time: 10 hours for rice to soak.
Cooking time: 30 mins
Calories: 132 cal per portion
Ingredients
Rice - 1 cup
Water - as required
Salt - ½ tbsp
Ginger - ½ inch piece
Green chilli - 2 pieces
Potato (boiled) - 2 pieces
Suji (semolina) - 2 tbsp
Eno (fruit salt) - 1 tsp
Onion - ½ cup (finely chopped)
Carrot - ½ cup (grated)
Capsicum - ¼ cup (chopped)
Fresh coriander - 1 tbsp (chopped)
Oil - 2 tbsp
Sesame seeds - 1 tbsp
Method
Soaking the Rice:
Wash the rice thoroughly and soak it in water overnight (approximately 10 hours). This will allow the rice to soften and make it easier to grind into a smooth batter.
Preparing the Batter:
After the soaking time is over, strain the water from the rice and transfer the rice to a mixer jar.
Add ginger, green chilli, boiled potatoes, and a little water to the mixer jar with the rice.
Grind the mixture into a smooth batter. The ginger and green chilli will add flavour to the pancakes.
Mixing the Ingredients:
Transfer the ground rice batter to a mixing bowl.
Add suji (semolina) to the batter, which will give the pancakes a nice texture.
Adding Vegetables:
Now, add chopped onions, chopped capsicum, grated carrot, and chopped coriander to the batter.
Gently mix all the ingredients together until well combined. The vegetables will add colour, crunch, and nutrition to the pancakes.
Preparing the Pan:
Heat a flat pan on the stove and add oil to it.
Sprinkle a pinch of sesame seeds on the hot oil for added flavour.
Cooking the Pancakes:
Pour a ladleful of the prepared batter onto the hot pan to form a pancake. You can adjust the size as per your preference.
Cover the pan with a lid to cook the pancake evenly.
Cook the pancake on medium-low flame for 1-2 minutes until the bottom side becomes crispy.
Flipping and Cooking:
Once the bottom side of the pancake is crispy and golden brown, carefully flip it to cook the other side.
Cook the pancake on the other side for another 1-2 minutes until it turns golden brown as well.
Repeat the Process:
Repeat the process with the remaining batter, adding oil and sesame seeds for each pancake.
Serving the Rice Pancakes:
Once all the rice pancakes are cooked, transfer them to a serving plate.
Rice pancakes can be served hot with a variety of accompaniments such as chutney, ketchup, or yoghurt.
Rice pancakes are a delicious and nutritious dish that can be enjoyed as a breakfast or snack option. The soaked rice ground into a smooth batter, combined with a medley of vegetables, gives these pancakes a unique and delightful flavour. They are easy to make and perfect for serving a group of 4-5 people. Soaking the rice overnight is essential for achieving the right texture and taste. These rice pancakes can be a delightful addition to your menu and are sure to please your family and guests alike with their wonderful taste and aroma. Enjoy!
---