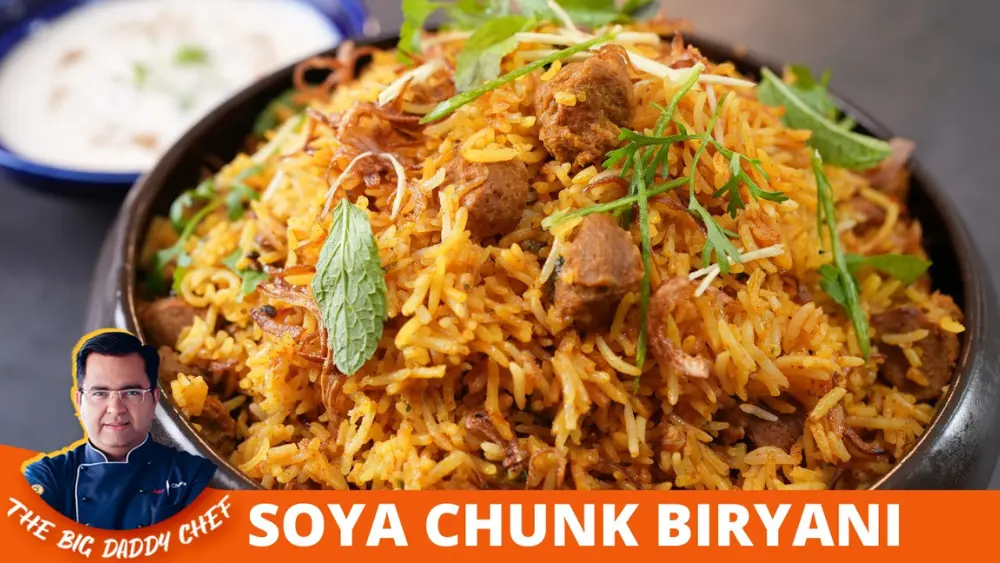 Soya Biryani Recipe

50 mins

6-7 people

15 mins
Ingredients 
| | |
| --- | --- |
| Soya chunks boiled | 2 cups |
| Oil | 2 tbsp |
| Black cardamom | 3 pcs |
| Mace | 1 pc |
| Bayleaf | 5-6 pcs |
| Green cardamom | 7 pcs  |
| Cloves | 10-12 pcs |
| Black pepper | 18-20 pcs |
| Onion sliced | 3 cups |
| Coriander stems | 15-16 pcs |
| Ghee | 3 tbsp |
| Salt | 2 tbsp |
| Ginger-garlic paste | 2 tbsp |
| Turmeric powder | ½ tbsp |
| Red chilli powder | ½ tbsp |
| Coriander powder | ½ tbsp |
| Water | as required  |
| Curd | ½ cup |
| Mint leaves | 20-22pcs  |
| Basmati rice soaked | 2 cups |
| Biryani masala | 1 ½ tbsp |
| Kevda water | 1 tbsp |
| Milk | ¼ cup |
| Saffron | 12-15 strands  |
| Fresh cream | 2 tbsp |
| Green chilli juliennes | 2-3 pcs |
| Chopped coriander | 1 tbsp |
| Ginger juliennes | 1 tbsp |
Raita 
| | |
| --- | --- |
| Curd | ½ cup |
| Salt | ½ tsp |
| Red chilli powder | ½ tsp |
| Coriander powder | ½ tsp |
| Roasted jeera powder | ½ tsp |
| Pomegranate seeds | ¼ cup |
| Fried garlic | 1 tbsp |
---
Method 
Biryani rice
Take a piece of muslin cloth, add black cardamom, green cardamom, cloves, black pepper and make a potli of it.
Heat water in a pan, add the masala potli, bayleaf, coriander stems, ghee, salt, mint leaves, kevda water and boil for 3-4 mins.
Then add soaked rice and cook it till 60%.
Once it is cooked, strain it, remove whole spices and keep aside.
Onion barista
Heat oil in a pan and deep fry onion slices until light golden brown.
Once done, remove on a flat plate and let it cool down.
Jhol
Heat a pan, add milk, ghee and cook it until it boils.
Then add saffron, cream, biryani masala and cook it for a minute.
Pomegranate raita
In a bowl, add curd, salt, roasted jeera powder, coriander powder, red chilli powder, pomegranate seed, fried garlic and mix it. 
Soya Briyani 
Heat a heavy bottom pan, add oil, bay leaf, cinnamon, mace, black cardamom, green cardamom, cloves, black pepper and let it crackle.
Then add onion slices and cook until it gets golden brown.
Then add ginger & garlic paste and saute them.
Now add red chilli powder, turmeric powder, coriander powder, jeera powder, biryani masala, salt, some water and cook all the spices well.
Then add curd and give it a mix.
Now add soya chunks, coriander stems, slit green chilli, mint leaves and mix it.
Later add some water and cook it.  
Add some rice stock, biryani masala and cook for 2-3 mins.
Remove it in a bowl and remove whole spices.
Now, in the same pan layer the biryani with all components.
In a thick bottom pan, add some gravy, some rice and spread it evenly.
Then add soya chunks, barista, mint leaves, green chilli, chopped coriander, ginger julienne, a spread of jhol and repeat this for one more time.
Now cover, seal the handi with the help of a dough and keep weight on it.
Cook it on low flame for 15-18 mins.
Once done, open the seal and keep aside for 1-2 mins.
Soya biryani is ready, serve this hot soya biryani with pomegranate raita.
---