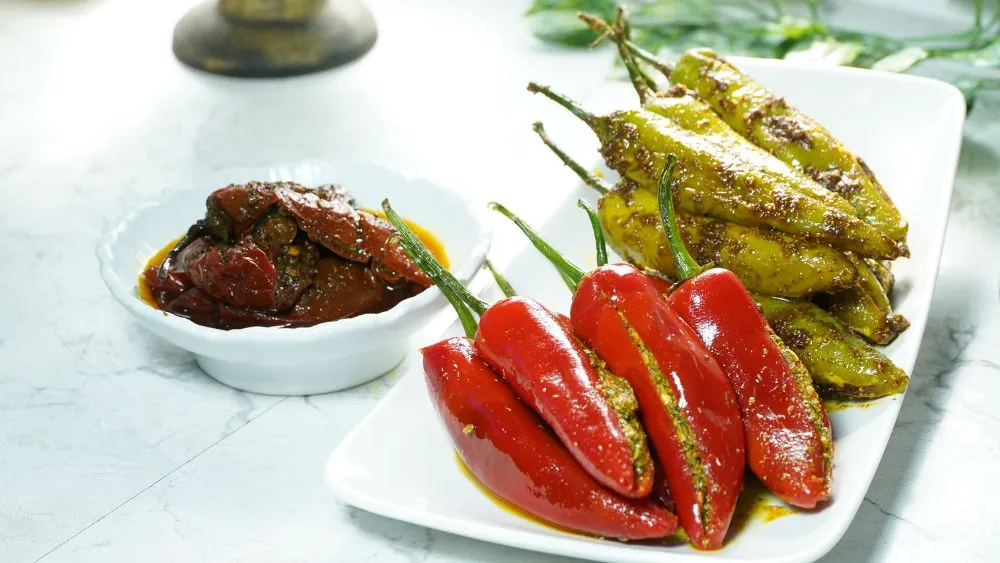 Mirchi pickle 2 ways Recipe

15 mins

6-10 people

15 mins
Mirchi pickle 2 ways
---

Ingredients
15 min achaar
7 to 10 nos Thick green chillies
2 tbsp saunf
2 tsp mustard seeds
1 tsp salt
½ tsp turmeric powder
1 tsp chilli powder
3 nos lemon juice
2 tbsp mustard oil
15 din achaar
7 to 10 nos Thick red chillies
6 tbsp saunf
2 tsp ajwain
1 tbsp black mustard
1 tbsp yellow mustard
1 tsp black salt
1 tsp salt
1 tbsp haldi
½ tsp hing
1 tbsp amchoor powder
1 tbsp mustard oil
1 cup mustard oil to preserve
Method
15 min achaar
Slit green chillies and discard the seeds
Lightly toast fennel seeds and ajwain till fragrant add mustard seeds and grind coarsely.
Mix in salt, turmeric powder, chilli powder, lemon juice and mustard oil to make it into thick paste
Stuff this into chillies
Heat mustard oil and lightly sear the chillies and finish the pickle with lemon juice.
15 din achaar
Slit chillies and remove it from the chillies cavities and reserve for later use.
Roast fennel seeds and ajwain together, add both the mustards, grind it together till it is grainy.
Mix in the powder with reserved seeds and add black salt, salt, haldi, hing, amchoor powder and mustard oil.
Fill the mixture in the chillies cavities
In a sterilised clip jar, place all the chillies vertically.
Lukewarm mustard oil in a pan and pour over chillies
Pour it over chillies
Close the clip jar and allow it to pickle for 15 days
You can store this pickle at room temperature.
---