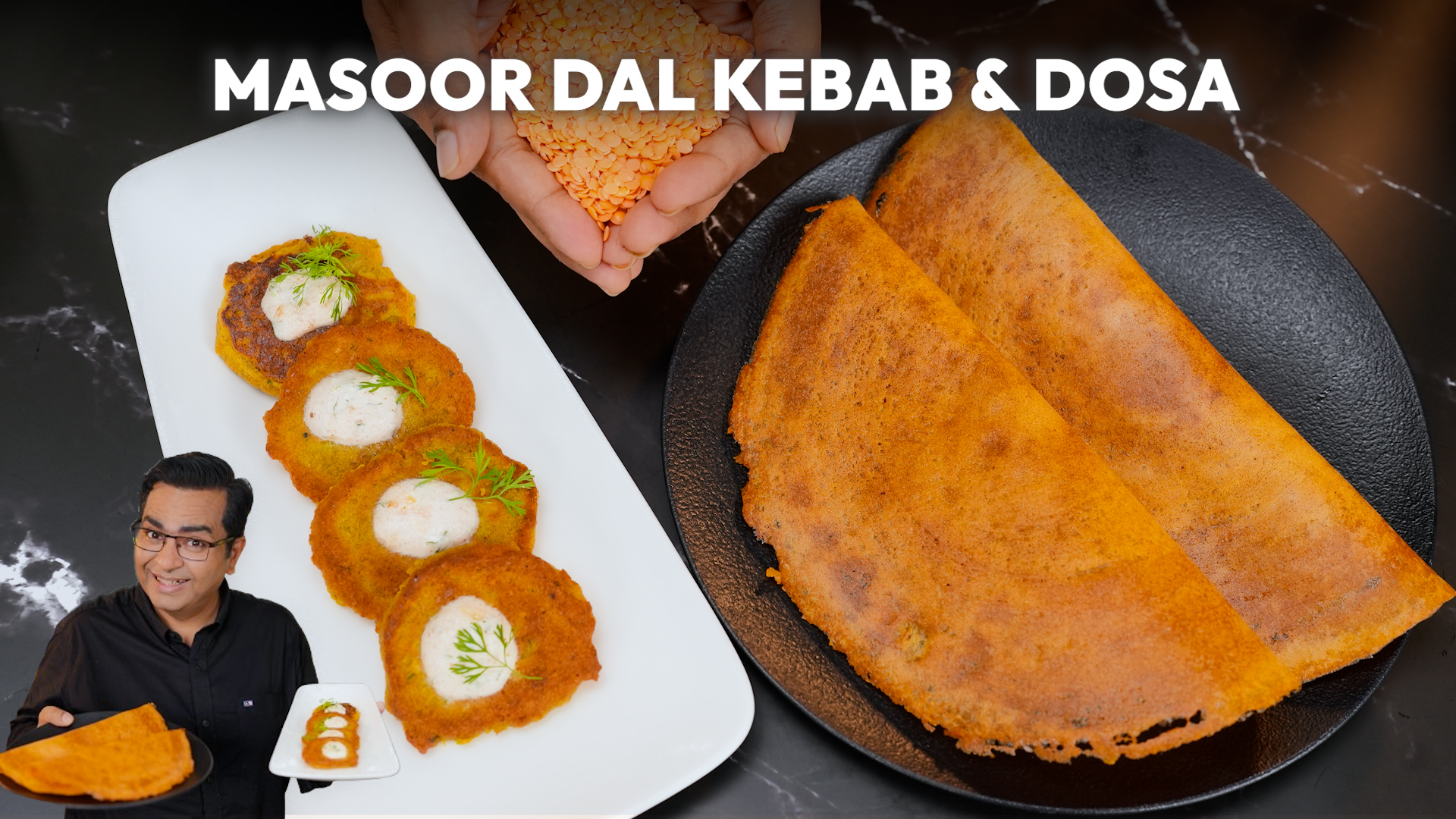 Masoor Dal ke Kebab and Dosa Recipe

30 Mins

3-4 People

30 Mins
Masoor dal ke Kebab & Dosa Recipe
Ingredients:
Masoor dal soaked 2 cups
Turmeric powder ½ tsp
Red chilli powder 1 tsp
Jeera & coriander powder 1 tsp
Garam masala ½ tsp
Salt 1 tsp
Carrot grated 1 cup
Onion chopped ½ cup
Garlic chopped 1 tbsp
Ginger chopped ½ tbsp
Green chilli chopped ½ tbsp
Coriander chopped 1 tbsp
Water as required 
Besan 2 tbsp
Ghee 1 tbsp
Oil 2 tbsp 
Burani raita 
Curd 1 cup
Garlic fried 1 tbsp
Salt ½ tsp
Red chilli powder ½ tsp
Roasted jeera powder ½ tsp
Coriander chopped ½ tbsp
Method:
Masoor Dal Kebab & Dosa:
1. Begin by taking a mixer jar and adding soaked masoor dal, a pinch of turmeric powder, red chilli powder, ground jeera (cumin) and coriander powder, a touch of garam masala, and a pinch of salt.
2. Coarsely grind these ingredients in the mixer jar. This mixture will form the base for kebabs & dosa.
3. Once the masoor dal is coarsely grinded, incorporate chopped onions, grated carrots, finely chopped ginger, chopped garlic, chopped green chillies, and freshly chopped coriander leaves into the mixture.
4. Pulse-grind the mixture again to achieve a coarse texture. Transfer half of this mixture into a separate bowl. This portion will be used to make the kebabs.
5. To the remaining mixture in the mixer jar, add some more salt, a bit of red chilli powder, and a splash of water. Grind this mixture until you obtain a thick batter-like consistency.
Making Masoor Dal Kebabs:
1. Take a portion of the mixture from the bowl and mix in some besan (gram flour).
2. Heat a flat pan and add ghee to it. Let it heat up over medium heat.
3. Wet your fingers with water, take a portion of the mixture, and place it on the pan.
4. Press and lightly spread the mixture to form a kebab shape. Cook the kebab until it turns crisp on both sides.
5. Once cooked, transfer the kebabs to a plate. These kebabs can be served with refreshing Burani Raita.
Masoor Dal Dosa:
1. Take the remaining mixture from the mixer jar and transfer it to a bowl. Adjust the consistency of the batter as needed.
2. Heat a flat non-stick pan and pour a ladleful of the mixture onto the pan.
3. Spread the mixture into a dosa shape using a flat spatula. Make sure the dosa is smooth and flat.
4. Drizzle some oil or ghee around the dosa and cook until it becomes crispy and golden brown.
5. Once the dosa is cooked to your liking, carefully remove it from the pan and place it on a serving plate. This flavorful Masoor Dal Dosa pairs wonderfully with coconut chutney.
Burani Raita:
1. In a bowl, combine curd, fried garlic, a pinch of salt, a sprinkle of red chilli powder, roasted jeera (cumin) powder, and freshly chopped coriander leaves.
2. Mix all the ingredients well to create a flavorful Burani Raita.
Breakfast/snack is now ready to be enjoyed! Serve the Masoor Dal Kebabs with the cooling Burani Raita, and savour the crispy and delicious Masoor Dal Dosa alongside coconut chutney. This combination of dishes offers a delightful array of flavours and textures.