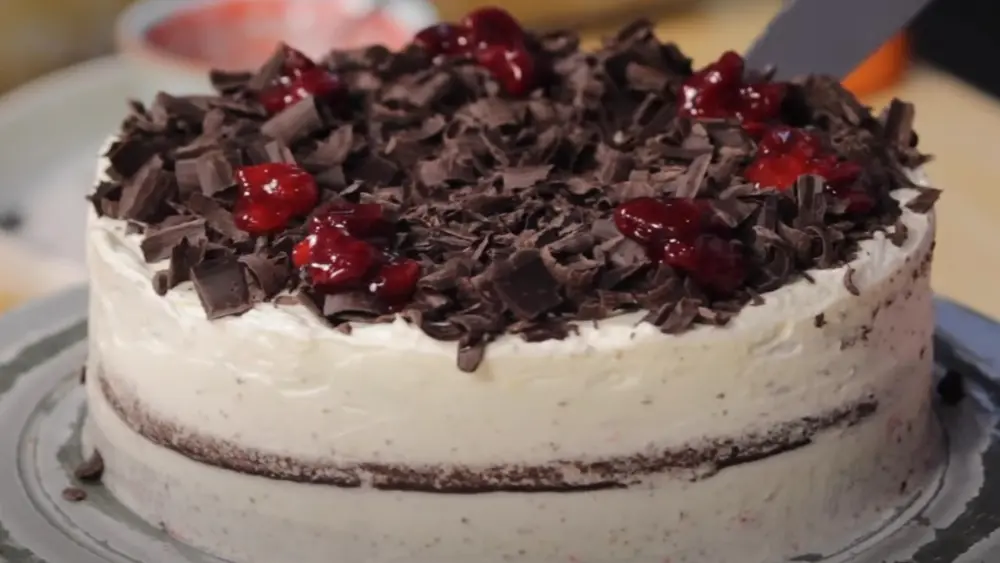 Black Forest Cake Recipe

50 min

4-5 people

20 min
Ingredients:
---
For Sponge
Dark chocolate – 170 gm
Butter – 170 gm
Flour – 170 gm
Eggs – 6 nos
Sugar – 280 gm
For Garnish
Cream whipped – 500 gm
Ganache – 150 gm
Cherries – 75 gm
Cherry liqueur – 30 ml
Sugar syrup – 100 ml
Chocolate flakes – 50 gm
Method:
Make a mix of sugar syrup & cherry liqueur.
Divide the whipped cream into 3 equal portions, mix 1 portion with ganache.
Place the ready sponge on to the cake board, Soak the sponge with the sugar syrup mix   
Make sure to keep the balance to soak the remaining 2 layer of sponge.
Layer the chocolate cream on to the soaked sponge, then place the second sponge on top & soak it with the sugar syrup mix.
Layer the plan whipped cream on the second soaked sponge scatters the cherries on to the cream, then place the 3 sponges on top
Soak it with the remaining sugar syrup mix. Layer the remaining whipped cream on top & give a smooth finish.
Cut into pastry size garnish with chocolate flakes & some cherries.
---