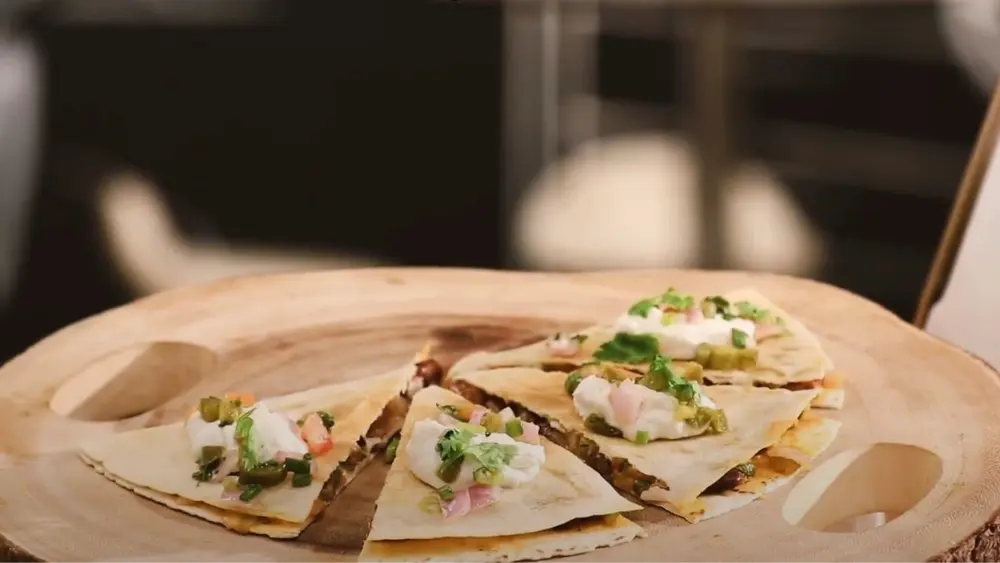 Steam Iron Quesadilla Recipe

30 min

2-3 People

30 min
Ingredients
---
FOR STUFFING:
 Boiled rajma - 100 grams
 Onion small dices - 10 grams
Tomato small dices - 30 grams
Jalapeño - 10 grams
 Spring onion chopped - 10 grams
 Cajun spice - 5 grams
Cheddar cheese - 30 grams
Salt to taste Oil or butter for basting
 TOMATO SALSA:
 Tomato - 30 grams
 Onion - 10 grams
 Green chilly - 3 grams
 Coriander fresh - 5 grams
Salt - 3 grams
Cumin powder - 2 grams
Lemon juice - 10 ml
SOUR CREAM:
 Cream - 30 grams Curd - 30 grams
Salt to taste
Lemon juice
Flour tortilla - 2 pcs
Method
First take a tortilla and using a steam iron, press the quesadilla slightly and keep it aside.
Then take a bowl and add some boiled kidneys, some salt, some red chili powder, some salsa sauce, spring onions and chopped coriander leaves in the bowl and mix everything well.
Then sprinkle some Cajun spice to the mixture and then add some cheddar cheese and mix well.
Then once again take the steam iron and heat the tortilla ad then add the stuffing we prepared earlier in one half of the tortilla and then add some more cheese to it.
Then close the quesadilla and then once again steam iron and grill the quesadilla till cheese melts and
Then finally cut the tortilla with pizza cuter and then garnish it with salsa and sour cream.
---