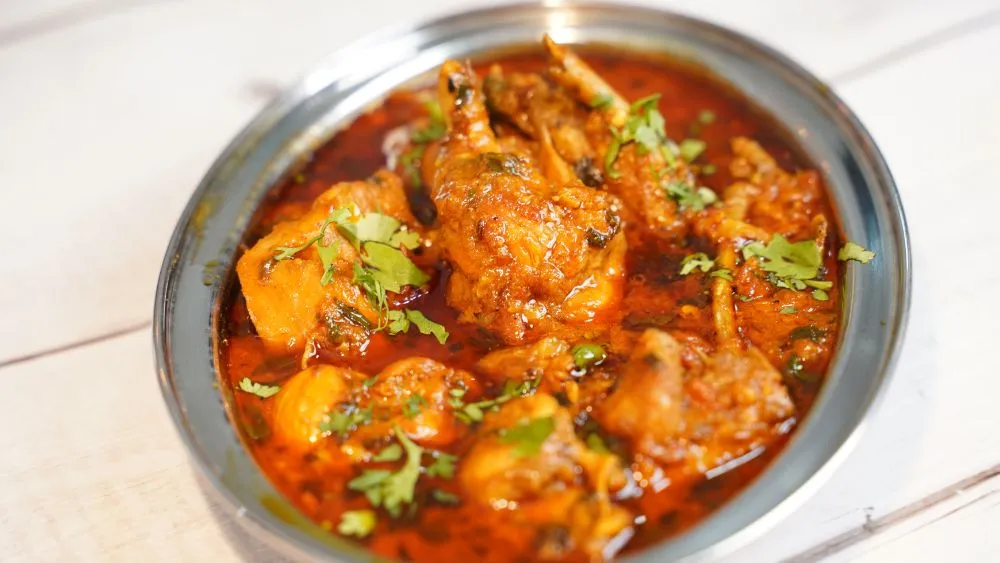 Chicken Curry for Beginners Recipe

25 mins

3-4 servings

15 mins
---
Chicken curry is a delightful and flavorful dish enjoyed by people all over the world. If you're a beginner in the kitchen and want to learn how to make a delicious chicken curry, this easy-to-follow recipe is perfect for you. With simple ingredients and straightforward steps, you'll be able to create a mouthwatering chicken curry that will impress your family and friends. Let's get started!
Portions serving:3-4pax
Preparation time: 15 mins
Cooking time: 25 mins
Calories: 227 cal per portion
Ingredients:
500g chicken, curry cut (bone-in or boneless, as per your preference)
2 medium-sized onions, finely chopped
2-3 garlic cloves, minced
1-inch piece of ginger, grated or finely chopped
2 medium-sized tomatoes, finely chopped
2-3 green chillies, slit (adjust to your spice level)
1/2 teaspoon turmeric powder
1 teaspoon red chilli powder (adjust to your spice level)
1 teaspoon cumin powder
1 teaspoon coriander powder
1/2 teaspoon garam masala (indian spice blend)
Salt to taste
2-3 tablespoons cooking oil
1 tablespoon kasoori methi - for garnish
Fresh coriander leaves for garnish
Method:
Wash the chicken pieces thoroughly and pat them dry with a paper towel. Set them aside.
In a clean and sanitised bowl, combine the minced ginger, garlic, slit green chillies, turmeric powder, red chilli powder, cumin powder, coriander powder, garam masala, and salt. Mix everything well.
Add the chicken pieces to the bowl with the spice mixture. Ensure that the chicken is evenly coated with the marinade. Let it marinate for at least 30 minutes. This will allow the flavours to penetrate the chicken, making it more delicious.
In a deep-bottomed pan or a pressure cooker, heat the cooking oil over medium heat.
Add the whole spices - 3 cloves, 2 bay leaves, and 3 cardamom pods. Let them sizzle for a few seconds to release their aroma.
Add the finely chopped onions and sauté until they turn golden brown and caramelized.
Now, add the minced garlic and grated ginger. Cook for a minute or until the raw smell disappears.
Add the chopped tomatoes and cook until they become soft and mushy.
Lower the heat and add the marinated chicken to the pan. Mix it well with the onion-tomato base.
Cook the chicken on low to medium heat until it turns white and starts to release its own juices.
If using a pressure cooker, add a little water to create some gravy. Close the lid and let the chicken cook until it becomes tender and fully cooked. If using a regular pan, you may need to add a bit more water and cook until the chicken is done.
Once the chicken is cooked, check for seasoning and adjust the salt and spices as needed.
Finally, garnish the chicken curry with kasoori methi and fresh coriander leaves.
Your delicious and aromatic chicken curry is now ready to be served! It pairs perfectly with steamed rice, naan, or roti.
Enjoy the delightful flavours of this homemade chicken curry, and don't hesitate to experiment with different spice blends and ingredients to make it your own signature dish! Happy cooking!
---