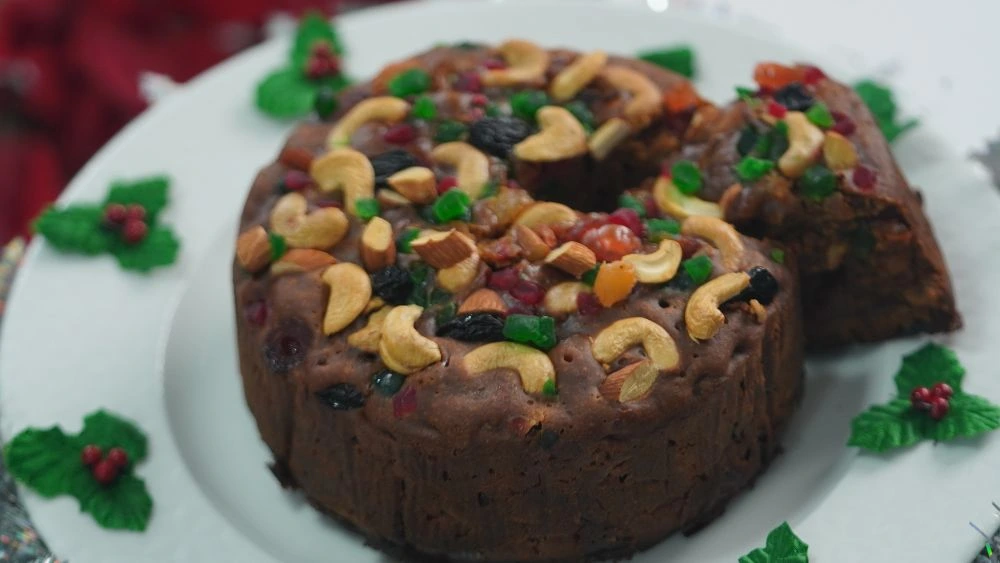 Easy Eggless Christmas Special Fruit Cake Recipe

45 mins

10-11 people

30 mins
---
INGREDIENTS
½ CUP TUTTI FRUTTI GREEN
½ CUP TUTTI FRUTTI RED
½ CUP CANDIED CHERRIES
½ CUP GOLDEN RAISINS
 ¼ CUP BLACK RAISINS
1 CUP CASHEW NUTS SLICED
1 CUP ALMOND CUT INTO TWO
1 ½ CUP ORANGE JUICE
½ CUP CASHEW NUTS CUT INTO TWO
CHRISTMAS SPICE MIX GRIND IT INTO POWDER
1 STICK CINNAMON
6 NOS CLOVES
4 NOS STAR ANISE
FOR CARAMEL
¾ CUP SUGAR
½ CUP BUTTER MELTED
1 ½ CUP REFINED FLOUR
½ CUP MILK
4 TBSP MILK POWDER
1 TSP BAKING POWDER
10 DROPS VANILLA ESSENCE
METHOD
SOAKING OF FRUITS
IN A  SAUCEPAN POUR ORANGE JUICE ADD ALL THE DRIED FRUITS AND NUTS AND RESERVE 20 PERCENT OF ALL FOR GARNISH.
BRING IT TO SOFT BOIL ON SLOW FLAME AND ADD SPICE MIX POWDER AND SWITCH OFF THE FLAME
SET ASIDE
CARAMEL
HEAT SUGAR ON A NON STICK PAN ON A LOW FLAME AND STIR GENTLY.
WHEN IT FORMS BUBBLES SWITCH GAS ON LOWEST FLAME TO SETTLE DOWN BUBBLES.
ADD EQUAL QUANTITY OF WATER IN SMALL PORTIONS AND STIR CONTINUOUSLY TO AVOID ANY LUMPS.
THE SYRUP WILL ACHIEVE MALT COLOR ALLOW IT TO REDUCE TO CONSISTENCY OF HONEY
MEANWHILE TRANSFER ONLY FRUITS INTO A BOWL AND ADD MELTED BUTTER
ADD 1 ½ CUP REFINED FLOUR
CUT AND FOLD THE MIXTURE
NOW ADD ½ CUP MILK, AND CONTINUE MIXING
ADD MILK POWDER, AND ADD CARAMEL TO ADJUST CAKE BATTER CONSISTENCY
ADD BAKING POWDER, VANILLA ESSENCE AND FEW DROPS OF WATER AND MIX WELL
PREHEAT COOKER WITH A KATORI FOR 10 MIN
LINE A CAKE TIN WITH BUTTER, GREASE PROOF PAPER ON ALL THE SIDES
POUR THE ¾  BATTER INTO MOLD, AND TAP TO RELEASE ANY AIR BUBBLES
TOP IT UP WITH RESERVED FRUITS AND NUTS.
BAKE IT IN THE PRESSURE COOKER POT FOR 35 TO 40 MIN
AFTER 20 MIN ADD MORE FRUITS AND BAKE FURTHER ON SLOW FLAME
CHECK THE CAKE, DE MOLD IT, ALLOW IT TO COOL AND ENJOY
---