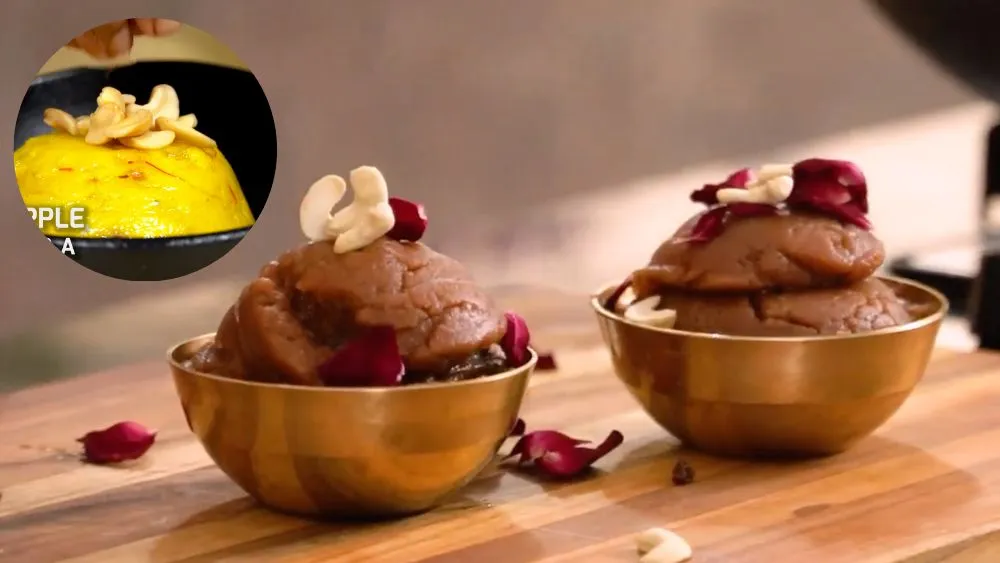 Aate ka halwa Recipe

35 mins

4-5 servings

15 mins
Aate ka halwa
---
Ingredients
1 cup wheat flour
1 cup ghee
1 cup sugar syrup
Method
1.Heat kadhai, add ghee and allow it to melt and wheat flour in the same quantity and bhuno till becomes golden brown on a slow flame
2  Add same quantity of sugar syrup and cook till syrup fully absorbed and halwa starts leaving the sides
3. Serve hot, you may garnish the halwa with nuts of your preference
For sugar syrup 
In a pan add 1 cup sugar and ½ cup water, bring it to a boil, and then simmer for 8 to 10 min  till it becomes sugar syrup.
Pineapple Sheera
Serves       2-3
Preparation Time   15 mins
Cooking Time  25 mins
Calories 210 per serving
Ingredients
3-4 tsp Ghee
1 Cup Semolina
2 -3 tsp Almonds
2-2 tsp Cashew Nuts
1 cup Sugar Syrup
1 Cup chopped Pineapple
1 cup Pineapple Puree
1/2 tsp Saffron
Method
 • Heat some ghee in a pot or pan then add some Semolina and Roast it until slightly golden brown
 • Then remove roasted Semolina in a bowl.
 •  In the same pan add 2 tsp ghee and roast some Almonds and Cashew nuts until golden brown then add the roasted Semolina to it.
 • Now add some Sugar Syrup along with it, add some chopped Pineapple as well as some Pineapple Puree and mix it well. Then add saffron to give it a nice colour and flavour and let cook.
 • Let it cook until its colour becomes Bright Yellow or Saffron.
 • Then serve it Hot or Cold according to your choice.
(pineapple sheera )
---