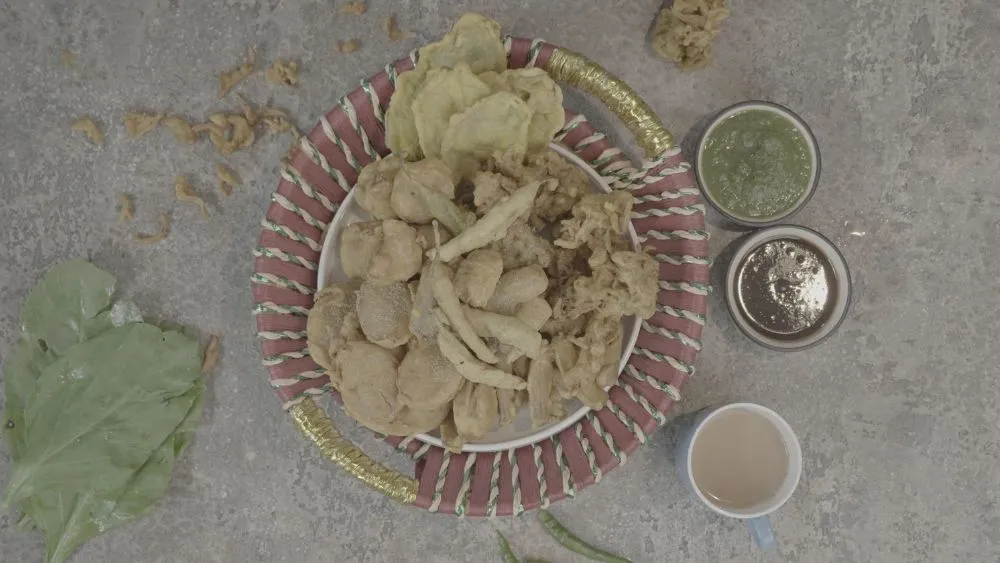 Mix Pakoda Recipe

20 mins

2-3 people

15 mins
Mix Pakoda
---
Ingredients
1 cup Sliced onion
1 TSP ajwain
1 TSP Turmeric powder
1 TSP Red chilly powder
1 TSP Salt
1 TSP Garam masala powder
1 TSP Cumin powder
1 TBSP chopped fresh coriander
3 TBSP Besan
1 CUP Cauliflower florets
1 CUP Onion cut into roundels
1 CUP potato peeled cut into roundels
1 CUP paneer cut into neat dices
1 CUP Capsicum cut into batons
1 CUP Spinach leaves
5 to 6 Nos Green Chillies
For gobhi pakora
1 TSP Turmeric powder
1 TSP Red chilly powder
1 TSP Salt
1 TSP Garam masala powder
1 TSP ginger garlic paste
For other vegetables
1 TSP Turmeric powder
1 TSP Red chilly powder
1 TSP Salt
1 TSP Garam masala powder
1 TSP Cumin powder
For batter
1 cup besan
1 tbsp Ginger garlic paste
Salt to taste
1 TSP turmeric
1 TSP Red chilly powder
1 TSP ajwain
For chutney
1/2 cup mint
1/2 cup coriander
6 cloves garlic.
3 nos green chillies
1 TSP salt
1 tsp roasted cumin powder
1 nos lemon, or star fruit or any sour fruit
Method
For onion bhaji
In a bowl add sliced onion, mix in ajwain, turmeric powder, red chilly powder, salt,garam masala powder, cumin powder, chopped coriander and besan, rub all ingredients nicely with ginger
Add few splashes of water to coat all the ingredients together. Leave it aside
For cauliflower pakora
In a bowl add cauliflower florets, mix in Turmeric powder, Red chillypowder,Salt, Garam masala powder and ginger garlic paste.
Leave it to marinate.
For other vegetables and paneer
Marinate vegetables and paneer with turmeric powder,Redchilly powder, Salt, Garam masala powder and Cumin powder
Slit chillies to avoid bursting in a pan.
Make batter of besan mixing all the ingredients using little water as required  and deep fry the vegetables one by one
Till it is crisp.
For chutney :
Mix all the ingredients of chutney grind to a paate
Serve it hot with fresh chutney.
---