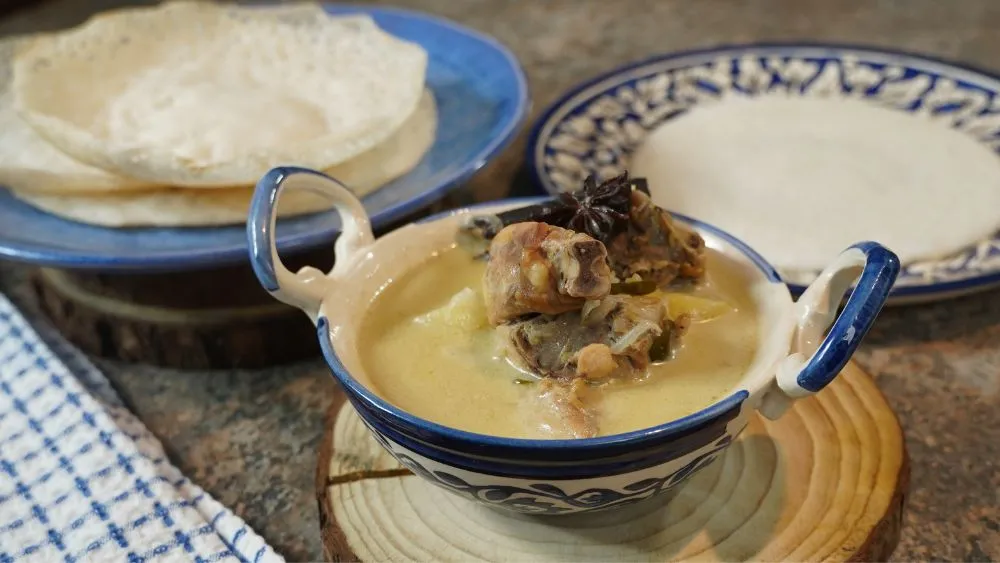 Appam Stew Recipe

20min

2-3 people

10 mins
---
Ingredients:
For Appam Batter
Raw rice – 1 cup
Idli rice – 1 cup
Grated coconut – 2 tbsp
Water – as per requirement
Powdered sugar – 2 tsp
For Chicken Stew
Coconut oil – 1 tbsp
Bay leaf – 1 number
Cinnamon stick – 1 no
Cloves – 2 nos
Black peppercorn – 4-5 nos
Star anise – 1 no
Green cardamom – 2 nos
Curry leaves – 8-9 nos
Sliced onion – 1 no
Chopped ginger – 1 tsp
Slit green chili – 2-3 nos
Chicken curry cut – 300 gms
Potato wedges – 2 nos
Water – ½ cup
Salt – 1 tsp
Coconut milk – ½ cup
Method:
For Appam Batter
Soaked raw rice and idli rice for at least 4-5 hours before using.
In a grinder jar put soaked raw rice, idli rice, grated coconut, and water, and grind it fine.
In a non-stick pan heat water and in that cook a little bit of rice batter till it gets thick and grinds the mixture to a fine paste.
Now mix cooked rice paste in batter and add powder sugar and mix it well.
Now let it ferment overnight.
For Chicken Stew
In a kadhai heat coconut oil and add bay leaf, cinnamon stick, cloves, black peppercorn, star anise, green cardamom, and once they crackle then add curry leaves.
Now add sliced onion and sauté it, then add chopped ginger and slit green chilies and sauté it again.
Add chicken curry cut and cook it for 2-3 minutes then add potato wedges, water, salt, and cover it with a lid and cook it for 5-7 minutes.
Now add coconut milk and cook it for 2-3 minutes more and it's ready to enjoy with appam.
For Finishing
Take appam pan and heat it up then pour one full ladle of appam batter and rotate round and cover the complete pan with batter and then cover with a lid and cook it for 2-3 minutes.
Make some more appam in the same method.
For plating, place appam on the plate and on bowl pour stew and enjoy your appam and stew.  
---