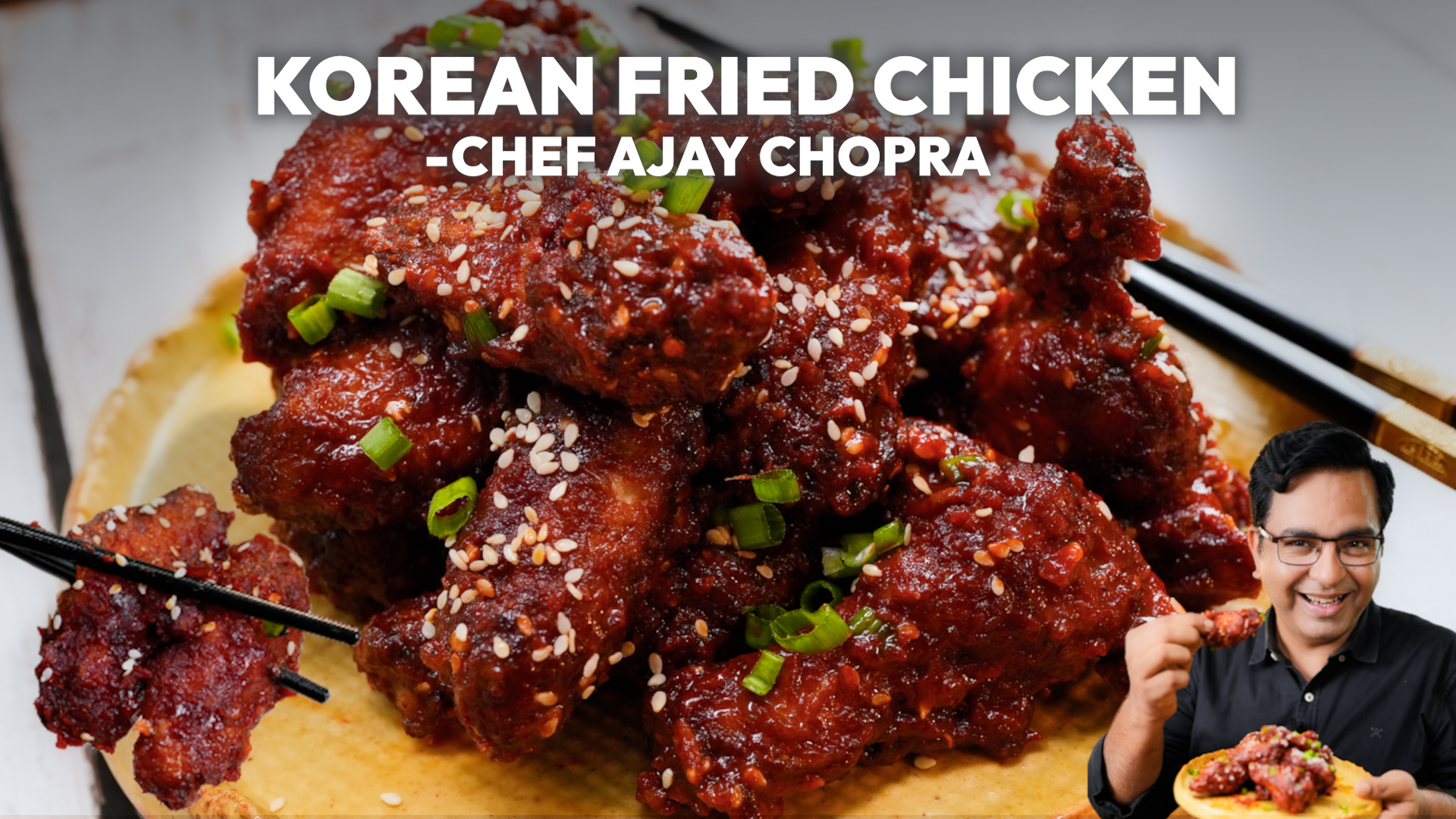 Korean Fried Chicken

30 Mins

6-7 People

20 Mins
Korean Fried Chicken
Korean fried chicken has gained immense popularity worldwide for its unique flavors and irresistibly crispy texture. This delightful dish combines the boldness of gochujang paste, the richness of various seasonings, and the tenderness of perfectly fried chicken. In this recipe, I will guide you through the process of preparing Korean fried chicken, ensuring a mouthwatering experience for your taste buds.
Ingredients:
Gochujang paste instant:
Garlic 7-8 cloves
Oil 1 tbsp
Water 1 cup
Brown sugar 1 tbsp
Sugar 1 tbsp 1 tbsp
Rice flour 2 tbsp
Boiled red chillies 10-12 pcs
Apple cider vinegar 2 tbsp
Dry yeast ½ tsp
Salt 1 tsp
Korean Fried Chicken:
Chicken wings 1 kg
Salt ½ tbsp
Deggi mirch powder 1 tsp
Soya sauce 2 tbsp
Ginger chopped 1 tbsp
Vinegar 1 tbsp
Black pepper powder 
Cornflour 1 cup
Oil for deep frying
Oil 2 tbsp
Ginger chopped 1 tbsp
Dry red chilli diced 2 pcs
Gochujang paste ½ cup
Water ¼ cup
Soya 1 tbsp
Sesame oil 1 tbsp
Salt 1 tsp
Sesame seeds for garnish 
Spring onion for garnish
Method :
To begin, let's make the gochujang paste:
Take 7-8 cloves of garlic and roughly chop them.
Heat 1 tablespoon of oil in a pan over low to medium flame, add the chopped garlic, and sauté it lightly.
Add 1 cup of water, 1 tablespoon of brown sugar, and 1 tablespoon of regular sugar to the pan. Bring it to a boil.
Incorporate 2 tablespoons of rice flour into the mixture, ensuring there are no lumps. Cook until the mixture reaches a semi-thick consistency.
Add 10-12 boiled whole red chillies (deseeded) to the pan and cook for an additional 4-5 minutes.
Transfer the mixture to a bowl and allow it to cool down.
Once cooled, transfer the mixture to a blender and process it into a smooth paste.
Place the paste back into a bowl and add 2 tablespoons of apple cider vinegar, ½ teaspoon of dry yeast, 1 teaspoon of salt, and 1 tablespoon of sugar. Mix well and let it rest for half an hour for fermentation.
Now, let's prepare the Korean fried chicken:
Take 1 kg of chicken wings and chop off the tips. Cut the wings into two pieces.
In a bowl, combine ½ tablespoon of salt, 1 teaspoon of deggi mirch powder, 2 tablespoons of soya sauce, 1 tablespoon of chopped ginger, and 1 tablespoon of vinegar. Mix well and marinate the chicken wings in this mixture for 10-15 minutes.
Place 1 cup of cornflour on a plate and individually coat each marinated chicken wing with cornflour.
Heat oil in a pan for deep frying and fry the chicken wings on high to medium flame until they turn golden and crispy.
Remove the fried wings from the oil, allow excess oil to drain on a tissue paper, and set them aside for a minute.
Re-fry the wings on high heat for an additional minute. This double-frying method ensures an extra crispy texture.
For the final touch of flavours:
In a medium-heated pan, add 2 tablespoons of oil and 1 tablespoon of chopped ginger. Sauté until aromatic.
Add 2 diced dry red chillies and sauté them well.
Incorporate ½ cup of gochujang paste into the pan, along with some water to maintain the desired consistency. Cook the mixture for 1-2 minutes.
Add 1 tablespoon of sesame oil, 1 tablespoon of soya sauce, and 1 teaspoon of salt. Stir well and cook the sauce thoroughly.
Toss the fried chicken wings in the sauce, ensuring they are evenly coated.
Transfer the Korean fried chicken to a plate and garnish with white sesame seeds and chopped spring onion greens.
---