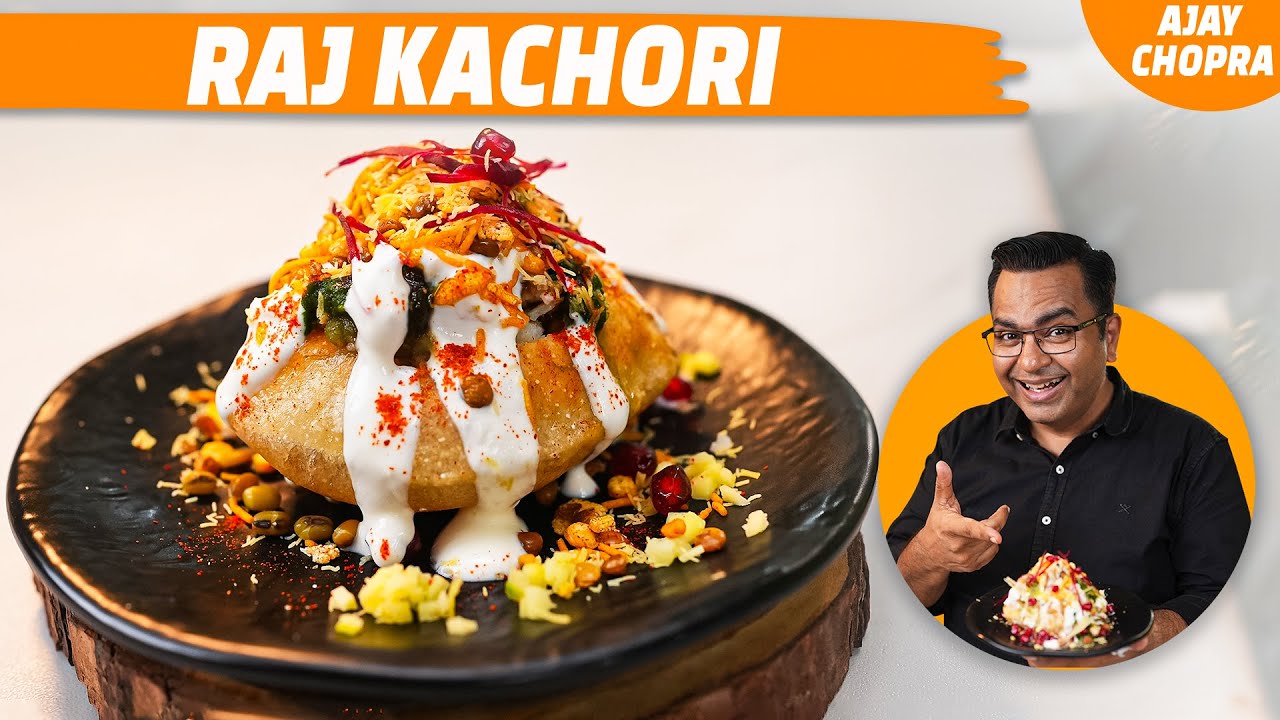 Delhi Special Raj Kachori Recipe

50 Mins

3-4 People

10 Mins
Raj Kachori Recipe
Raj Kachori Recipe is a delightful Indian street food sensation originating from the regal state of Rajasthan, India. This extraordinary dish is a true feast for the senses, renowned for its vibrant colors, diverse textures, and an explosion of flavors. Raj Kachori, often larger than regular kachoris, is essentially a stuffed, deep-fried pastry shell known for its ability to hold a plethora of delectable fillings and toppings. The name "Raj Kachori" itself reflects its royal heritage, with "Raj" signifying royal. It's a sought-after treat during festive occasions, celebrations, and a beloved street food snack in various parts of India.
This exquisite dish brings together elements of Indian cuisine in an extravagant way, with its chaat-like preparation, including a generous filling of chickpeas, brown chana, green moong, and spiced potatoes, all dressed with spiced yogurt, sweet tamarind chutney, and an array of crunchy toppings. If you're craving a unique and indulgent chaat recipe that encapsulates the essence of Indian street food, Raj Kachori is an absolute must-try. Let's explore this culinary masterpiece further, discover how it's made, and satisfy your cravings for the ultimate chaat delight.
Ingredients:
Brown chana soaked ½ cup
Chickpea soaked  ½ cup
Salt as per Taste
Baking Soda  a pinch
Green whole moong soaked 1 cup
For Kachori Dough:
All purpose flour ½ bowl
Semolina  ½ bowl
Salt 1/2 tsp
Warm water
Raj kachori stuffing:
Besan ½ cup
Salt ½ tsp
Red Chilly Powder ½ tbsp
Turmeric Powder 1 tsp
Cumin Powder  ½ tbsp
Coriander powder ½ tsp
Baking Soda a pinch 
Oil 2 tbsp
Water 2 tbsp
Topping:
Potato boiled 
Dahi bhalla 
Chaat masala
Curd sweetened 
Raw mango chopped
Dal moth namkeen
Nylon sev
Beetroot juliennes
Pomegranate seeds
Method:
For the Filling:
1. Begin by cooking soaked chickpeas and brown chana in a pressure cooker with water, salt, and a pinch of baking soda for 4-5 whistles.
2. In a separate pan, boil soaked green moong with water and a pinch of salt until they are tender.
For the Kachori Dough:
1. In a flat plate, combine refined flour, suji (semolina), salt, and warm water. Knead the mixture into a smooth dough.
2. Cover the dough with a clean cloth and let it rest for 10-15 minutes.
For the Kachori Stuffing:
1. In a bowl, mix besan (gram flour), red chilli powder, turmeric powder, salt, cumin powder, coriander powder, a pinch of baking soda, oil, and water to create a thick paste.
Assembly:
1. Take a portion of the kachori dough and create a small well in the centre.
2. Add a spoonful of the prepared stuffing and seal the kachori by pressing the edges.
3. Gently flatten it with your palm and shape it into a round disc.
Frying:
1. Heat oil in a pan and deep fry the kachori until they puff up and turn golden brown.
2. Remove them and let excess oil drain on a kitchen tissue.
Assembling the Raj Kachori:
1. Take a kachori and carefully break it open from the centre to create a cavity.
2. Fill the cavity with boiled chickpeas, brown chana, boiled green moong, salt, red chilli powder, crushed boiled potatoes, and chaat masala.
3. Add dahi bhalla, chopped raw mango, green chutney, saunth chutney, and sweetened curd on top.
4. Finish by garnishing with dal moth namkeen, nylon sev, beetroot juliennes, and pomegranate seeds.
Your delicious Raj Kachori is now ready to be served!
FAQ (Frequently Asked Questions) about Raj Kachori Recipe
1. What is Raj Kachori, and where does it originate from?
Raj Kachori is a royal Indian street food hailing from Rajasthan, known for its rich flavors and diverse textures.
2. How does Raj Kachori differ from regular kachoris?
Raj Kachori is larger and specifically designed to hold a variety of delicious fillings and toppings, making it a unique culinary experience.
3. What are the essential ingredients for making Raj Kachori?
Key ingredients include chickpeas, brown chana, green moong, a flavorful kachori dough, and a plethora of toppings like spiced yogurt and chutneys.
4. Can I prepare Raj Kachori at home, and is it difficult to make?
Yes, you can make Raj Kachori at home using the provided recipe. While it requires several steps, the result is truly worth the effort.
5. Where can I find the best Raj Kachori near me?
You can search for Raj Kachori at local Indian restaurants, street food stalls, and famous chains like Haldiram.
6. Is Raj Kachori suitable for festive occasions and celebrations?
Absolutely! Raj Kachori is often enjoyed during festive gatherings and special occasions due to its indulgent and flavorful nature.
7. Can I customize the toppings in Raj Kachori according to my preferences?
Yes, you can personalize the toppings to suit your taste, adding or omitting ingredients as desired.
8. Are there any variations of Raj Kachori available in different regions of India?
Yes, you may find regional variations that incorporate local flavors and ingredients, adding even more diversity to this beloved dish.