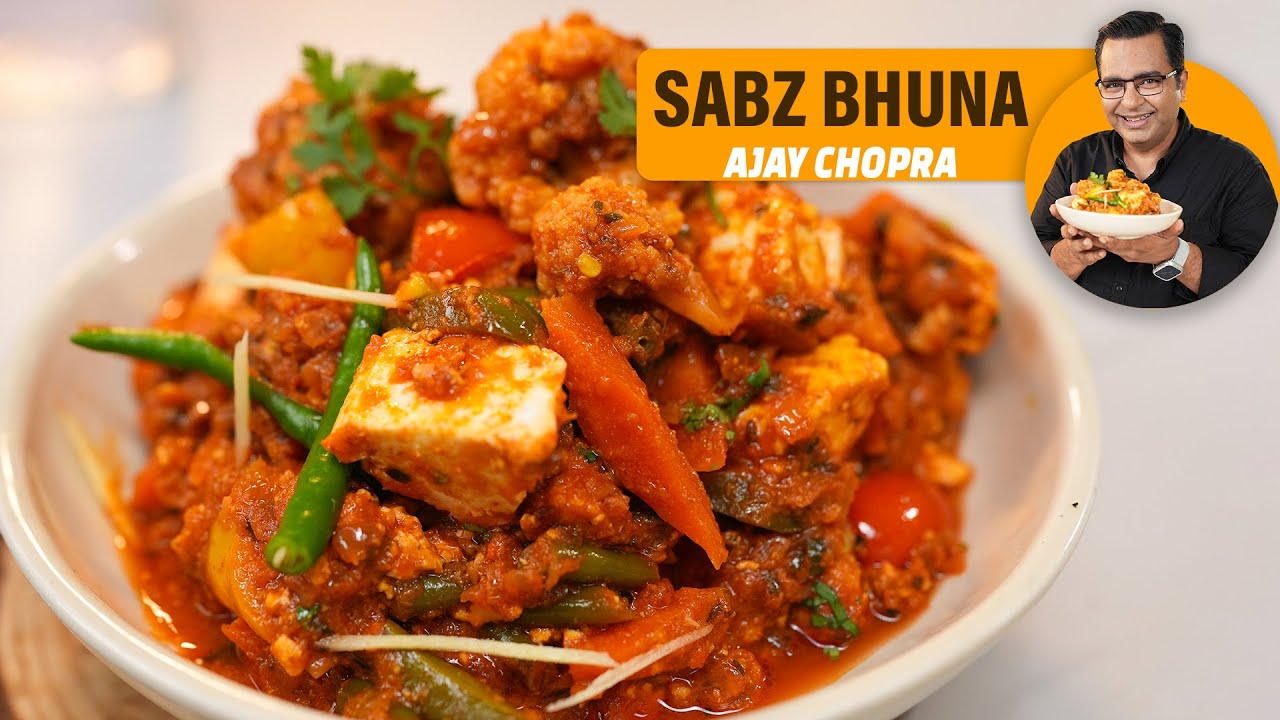 Sabz Bhuna Recipe

45 Mins

5-6 People

20 Mins
This Sabz Bhuna Recipe Will Transport You to Flavour Paradise!
Subz Bhuna is a delectable and aromatic Indian vegetable dish that brings together a medley of fresh vegetables, paneer (cottage cheese), and a symphony of spices. This dish is celebrated for its rich and savory flavors, making it a favorite among veggie lovers and a perfect accompaniment to rice or Indian bread like roti or naan.
Subz Bhuna is a celebration of mixed vegetables, where colorful and nutritious ingredients are sautéed to perfection, creating a tantalizing blend of textures and tastes. With a fragrant base of onions, ginger, and garlic, this dish is infused with the warmth of spices like turmeric, red chili, and coriander powder. The addition of creamy curd and tangy tomato puree enriches the sauce, providing a harmonious balance of flavors. Blanched vegetables such as cauliflower, carrots, French beans, baby corn, and capsicum are then lovingly sautéed to soak up the aromatic blend, while paneer adds a luxurious touch. The final tadka of jeera, garlic, ginger, and kasoori methi elevates the dish to culinary perfection.
Savor the culinary masterpiece that is Subz Bhuna, where vegetables and paneer come together in a delightful dance of flavors and textures. It's a wholesome and satisfying dish that you'll want to add to your regular menu.
Portion servings: 5-6 pax
Preparation time: 20 mins
Cooking time: 45 mins
Calories: 238 kcal per portion 
Ingredients:
Oil 2 tbsp
Jeera 1 tsp
Onion chopped 1½ cup
Ginger & garlic paste 1 tbsp
Salt 1 tsp
Turmeric powder ½ tsp
Red chilli powder ½ tsp
Coriander powder 2 tsp
Curd ½ cup
Green chilli 2-3 pc
Tomato puree 1 cup
(Blanched vegetables)
Cauliflower 1 cup
Carrot ½ cup
French beans ½ cup
Baby corn ½ cup
Capsicum R/Y/G ½ cup
Water as required
Oil 1 tbsp
Jeera ½ tsp
Garlic chopped ½ tbsp
Green chilli 2 pcs
Ginger ½ tbsp
Kasoori methi 1 tbsp
Paneer 1 cup
Method:
Heat oil in a pan, add jeera and let it splutter.
Add chopped onions and sauté them until they turn golden brown.
Add ginger & garlic paste and sauté until the raw aroma disappears.
Now, add salt, turmeric powder, red chilli powder, and coriander powder. 
Continue sautéing to blend the spices well.
Add curd and cook until it releases oil, ensuring a creamy texture.
Incorporate green chillies and tomato puree, cooking for 5-6 minutes over medium heat to create a flavorful base.
Add blanched cauliflower, carrots, French beans, baby corn, and capsicum. 
Sauté these vegetables, allowing them to absorb the delicious flavours.
Pour in some water and cook the vegetables for an additional 3-4 minutes, ensuring they are tender yet crisp.
For the Tadka (tempering):
In a separate pan, heat oil, add jeera, and let it crackle.
Add green chillies, chopped garlic, chopped ginger, and kasoori methi. 
Sauté them to release their aromatic essence.
Bringing it all together:
Transfer the sautéed vegetables to the prepared tadka and cook them together over medium-high flame. 
This step enhances the flavours and melds everything beautifully.
Add paneer to the mix and cook for an additional minute, ensuring it absorbs the flavours without becoming too soft.
Serving:
Your Subz Bhuna is now ready to serve. 
This delectable dish is a perfect blend of spices, textures, and flavours, making it a great accompaniment to rice or Indian bread like roti or naan.
Subz Bhuna is a delightful vegetarian dish that's sure to impress your family and guests with its rich and savory taste. Enjoy this flavorful recipe!
Subz Bhuna is more than just a recipe; it's a flavorful journey through the rich and diverse world of Indian cuisine. This delightful vegetarian dish is a harmonious combination of vegetables, paneer, and spices that is sure to impress your family and guests. The art of bhuna, or sautéing, allows each ingredient to shine, creating a symphony of tastes and textures that's hard to resist.
For more culinary adventures like this, explore our collection of recipes. Don't miss out on the opportunity to enhance your cooking skills with our courses and dive deeper into the world of Indian cuisine with our books. Try Subz Bhuna today and discover the joy of creating and savoring this delicious dish.
Check out our other recipes, courses, and books to elevate your culinary expertise and delight your taste buds.



 
FAQ (Frequently Asked Questions)
Q: What is Subz Bhuna?

A: Subz Bhuna is an Indian vegetable dish made with a variety of vegetables, paneer, and spices.

Q: Can I customize the choice of vegetables in Subz Bhuna?

A: Yes, you can personalize the mix of vegetables to suit your preferences.

Q: Is Subz Bhuna a spicy dish?

A: The level of spiciness can be adjusted according to your taste by varying the amount of red chili powder.

Q: What's the difference between Subz Bhuna and other vegetable curries?

A: Subz Bhuna is known for its sautéing method, which intensifies the flavors and textures of the vegetables and paneer.

Q: Can I make Subz Bhuna without paneer for a vegan option?

A: Yes, you can omit the paneer to make a vegan version of this dish.

Q: What can I serve with Subz Bhuna?

A: Subz Bhuna pairs well with rice, roti, or naan, making it a versatile and satisfying choice.

Q: How long does it take to prepare Subz Bhuna?

A: The preparation time is approximately 20 minutes, and the cooking time is around 45 minutes.

Q: Is Subz Bhuna a high-calorie dish?

A: Subz Bhuna contains about 238 calories per portion, making it a relatively healthy choice for a flavorful meal.
---