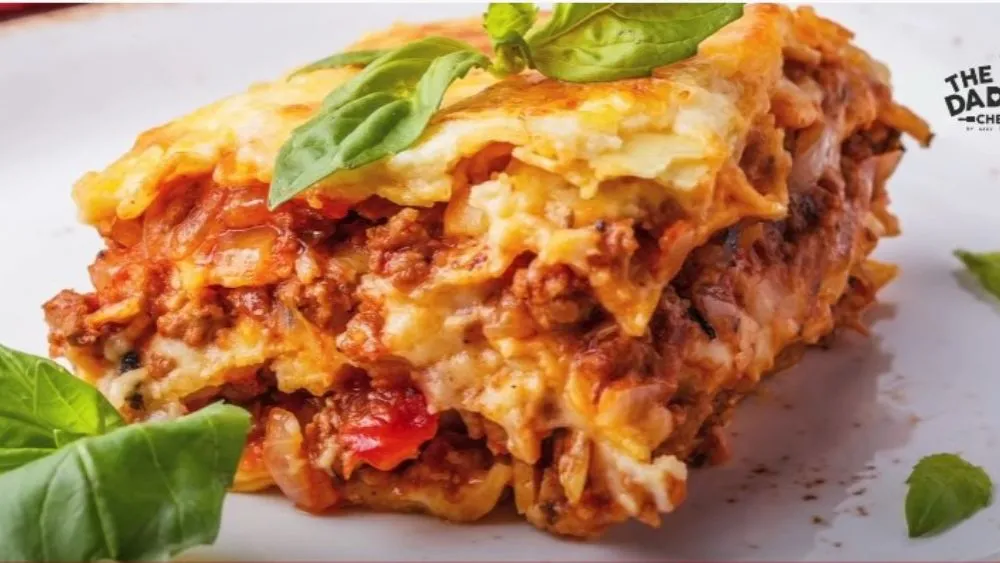 Lamb Lasagna Recipe

30 mins

2-3 people

15 mins
Lamb Lasagna
---
Ingredients:
Broccoli.
Coloured Peppers.
Onions.
Carrots.
Garlic.
Aubergine.
Balsamic Vineger.
Dried Oregano.
Dried Thyme.
Olive oil.
1 scoop Butter.
1tsp. White Flour.
1 glass Milk.
Blanched and chopped Tomatoes.
2 nos. Bayleaves.
1 cup Tomato puree.
Lasagna sheets.
Minced Mutton.
1 cup Red wine.
Fresh twigs of Purple and Green Basil.
Mozzarella Cheese.
Parmesan Cheese.
Salt to taste.
Crushed Pepper.
Method:
Take chopped Broccoli, diced coloured Peppers, Onion slices, peeled Carrots, 8-9 Garlic cloves, and thin slices of Brinjal/Aubergine. Add Salt, Pepper, Balsamic Vinegar, dried Oregano, dried Thyme and drizzle some Olive oil on it. Mix it up. Now roast these vegetables on a pan.
In a fresh pan take 1 scoop Butter, 1tsp. White Flour and cook. Then add 1 glass warn Milk to this and whisk it nicely and cook till it gets thick.
 Cook finely chopped Onion, Garlic and Carrot in another pan. Add finely chopped and blanched Tomatoes to this. Add 2nos. Bayleaves, Salt, crushed Pepper and cook it. When it is half cooked add 1cup Tomato puree into this and cook.
Boil water in a pan, add Salt and Olive Oil to it. Boil the Lasagna sheet in this for about 5 minutes and put them in cold water.
Take a fresh pan and heat up some Olive Oil in it. Add chopped Garlic, chopped Onions, chopped Carrots and minced Mutton and cook it. Add a dash of water. Add 1 cup Red wine and cook it on a slow flame for about 15 minutes. Now add the Tomato sauce to this and add 3-4 twigs of Purple and Green Basil.
Brush Olive Oil on a baking tray. Put a layer of Lasgna sheets one on top of the other. The second layer of Bolognese sauce over it. Splash some White sauce over it. Then layer with the roasted vegetables, some more splashes of White sauce and Bolognese sauce. A layer of Mozzarella cheese. Then the second layer of lasagna sheets, roasted vegetables, Parmesan cheese more White sauce, Bolognese sauce. Another layer of Lasgna sheets and final layer of White sauce, Bolognese sauce more Mozzarella chesse and Parmesan cheese. Cook it in pre-heated oven at 180 degrees for about 12-13 minutes. Cut it and serve it hot with a garnish of fresh Basil.
---