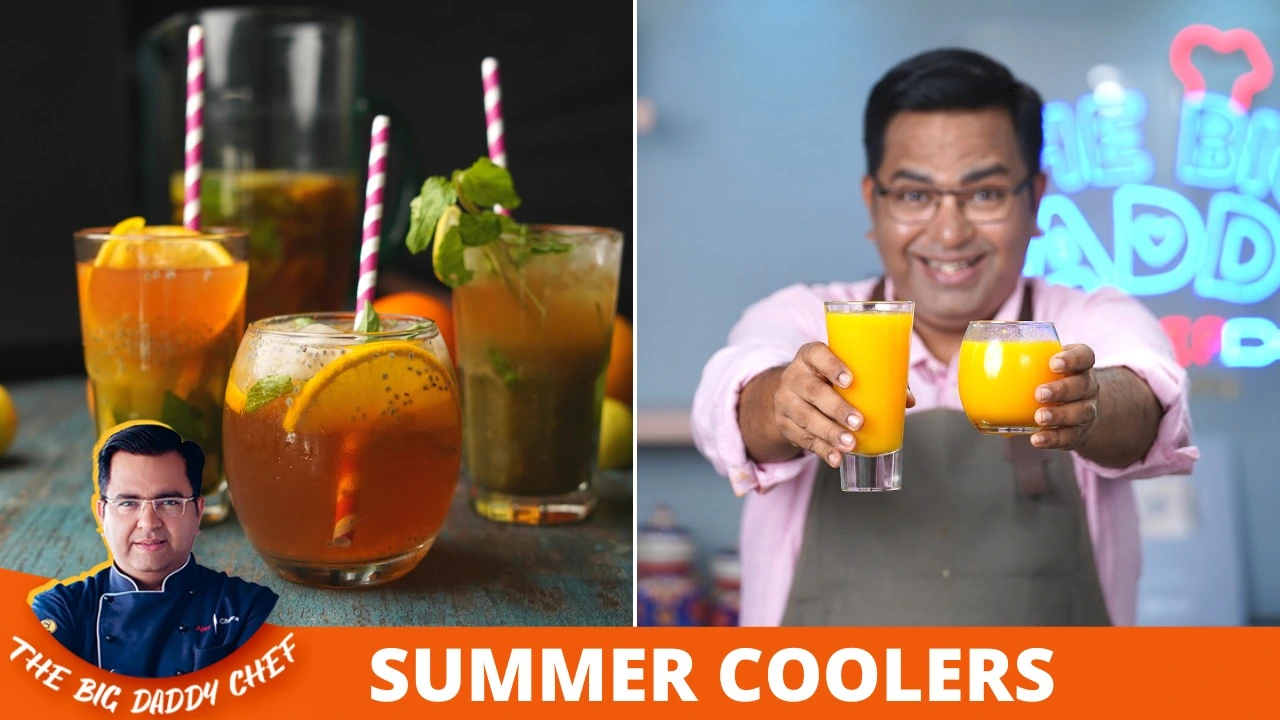 Summer drinks listicle recipe

20 mins

2-3 People

15 mins
Summer drinks listicle recipe
---

Aam Panna Iced Tea
Green tea back 1 pc
Raw mango or raw mango syrup 1 pc
Chaat masala 1 tsp
Cumin powder 1 tsp 
Salt ¼ tsp
Fresh mint leaves ½ cup
Sugar syrup 4 tbsp
Cubes ice 10 pcs
Method
Steep green tea in warm water for 15 minutes, discard the tea bags and store the tea in chiller.
Boil the raw mango for 20 min, allow it to cool, peel the raw mango and take out pulp from the raw mango, grind it together with chaat masala, cumin powder, salt, fresh mint (reserve few for muddling) and sugar syrup to a smooth paste.
This pulp can be made in bulk and stores for couple of days.
In a serving glass muddle few mint leaves, add 2 tbsp of prepared pulp.
Fill the glass with ice, pour green tea to top up the glass, stir the drink well to mix all the ingredients.
Serve chilled garnished with fresh mint leaves
Mango Frooti Ingredients
Alphonso Mango     1 no.
Safeda Mango         1 no.
Raw Mango             1 no.
Sugar                       1 cup
Vinegar                    1 tsp
Wash and peel the mangoes.
Separate the pulp and transfer it to a mixer jar.
Add some water and make a puree out of it.
Heat a pan, strain and add the pulp. Add some sugar and cook it for a while.
Add some vinegar as a preservative.
Remove it in a container and refrigerate it.
Serve chilled.
Aam Panna Mojito
Ingredients
Mango boiled 1 pc
Sugar 200 gms
Roasted Cumin Powder 1 tbsp
Black Salt to Taste
Red Chilli Powder ½ tsp
Water as required 
Ginger ½ inch
Lemon 1 pc
Fresh Mint
Ice Cubes As required
Method
First, in a pan add some cumin seeds and let them crackle, then remove them and add them to a bowl.
Then boil a mango and peel off the skin and slice it into medium size pieces and add it to the bowl of roasted cumin seeds.
Then add this to a blender and add some water and blend it well into a paste.
Then take a mixing glass and add some chopped ginger, some lemon, fresh mint, some brown sugar, and some more lemon juice.
Finally, add the blended paste to the mixing bowl with the rest of the ingredients, and then add it to your serving glass.
For serving you can cover the rim of your serving glass with some red chili powder and salt and top it with a piece of raw mango.
---