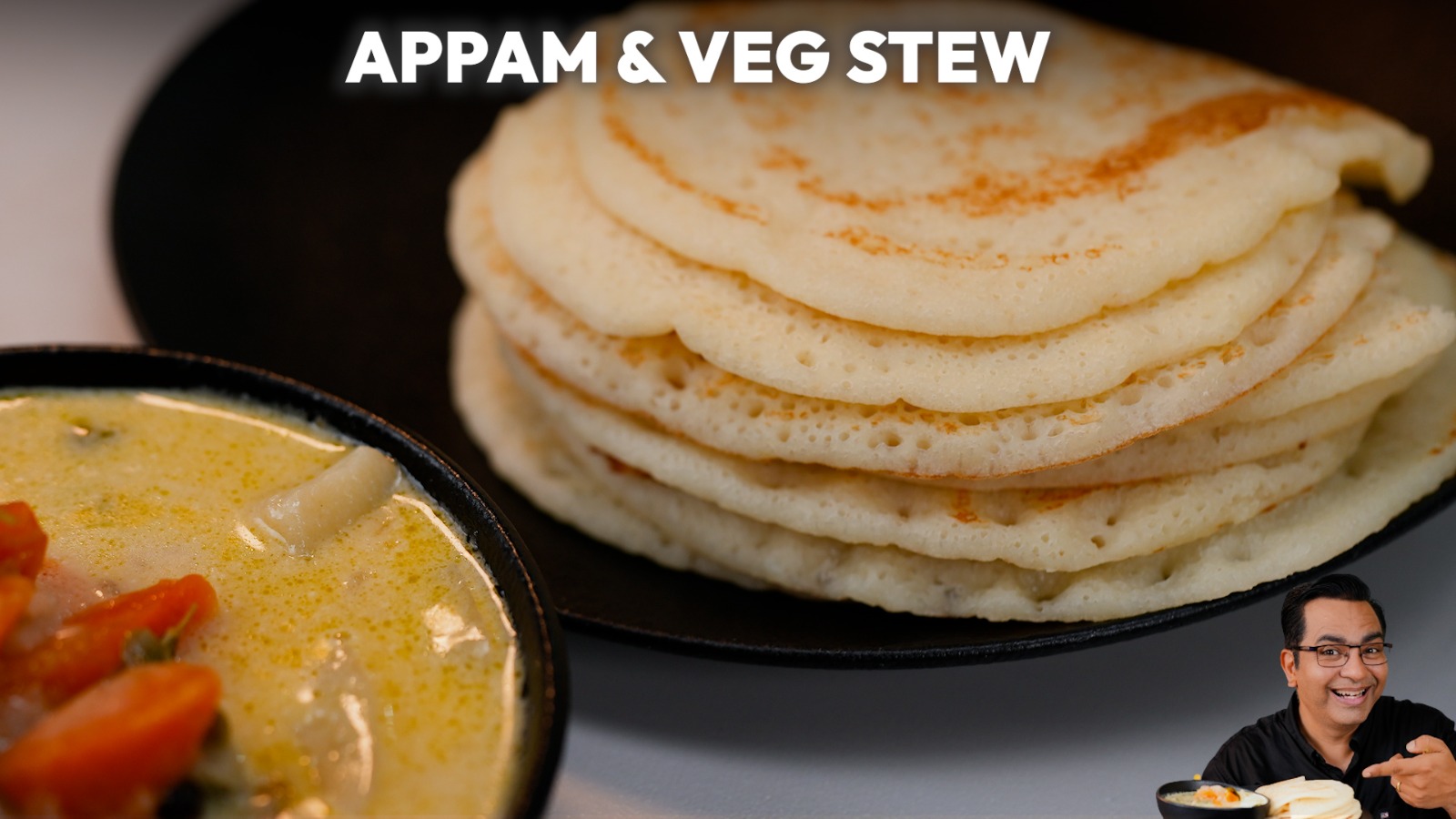 Appam and Vegetable Stew Recipe

20 Mins

5-6 People

10 Mins
APPAM AND VEGETABLE STEW
For Appam:
Suji 1 cup
Salt 1 tsp
Sugar 1 tsp
Water ¾ cup
Curd ¾ cup
Coconut milk 3 tbsp
Fruit salt 1 tsp
For Stew:
French beans ½ cup
Potato peeled & diced ½ cup
Carrot diamond cut ½ cup
Coconut oil 1 tbsp
Star anise 3 pcs
Cinnamon 1 inch
Green cardamom 2-3 pcs
Cloves 2-3 pcs
Black pepper 8-10 pcs
Onion sliced 1 cup
Ginger chopped ½ tbsp
Green chilli slit
Curry leaves 10-12 pcs
Salt 1 tsp
Water as required 
Coconut milk 1 cup
Method
Appam Recipe:
Appam is a delicious South Indian dish made from fermented rice and coconut batter. It's usually served with coconut milk or vegetable stew. To make Appam, follow these steps:
1. Take a mixer jar and add suji, a pinch of salt, sugar, and water. Grind the mixture until it forms a smooth paste.
2. Add curd to the paste and blend it again until well combined.
3. Transfer the batter to a bowl and add coconut milk. Mix thoroughly to achieve a consistent batter.
4. Sprinkle fruit salt or eno over the batter and gently fold it in.
5. Heat a flat pan and grease it lightly. Pour a ladleful of appam batter onto the pan and use the back of the ladle to spread it into a thick circle.
6. Cook the appam on low to medium heat until the edges turn golden brown and crispy.
7. Carefully flip the appam and cook the other side until it's cooked through.
8. Once both sides are cooked, remove the appam from the pan and place it on a plate.
9. Repeat the process with the remaining batter, making more appams.
Vegetable Stew Recipe:
Vegetable stew is a flavorful and comforting dish that pairs perfectly with appam. Here's how you can prepare it:
1. Heat oil in a pressure cooker over medium heat. Add star anise, cinnamon, green cardamom, cloves, and black pepper. Allow them to crackle and release their aromas.
2. Add sliced onions to the spices and sauté until they turn translucent and slightly golden.
3. Add chopped ginger, chopped green chili, and curry leaves. Sauté them for a minute until their flavors are infused.
4. Toss in a variety of chopped vegetables like carrots, potatoes, beans, and peas. Sauté them for a minute or two.
5. Pour in enough water to cover the vegetables and add salt to taste.
6. Close the lid of the pressure cooker and cook the vegetables for 2-3 whistles, or until they're tender.
7. Once the pressure has released, open the cooker and stir in coconut milk. Adjust the consistency by adding more water if needed.
8. Allow the stew to simmer on low heat for about 8-10 minutes, allowing the flavors to meld together.
9. Taste and adjust the seasoning if necessary.
10. Serve the vegetable stew alongside the appam for a wholesome and satisfying meal.
Enjoy the delectable combination of soft appams and fragrant vegetable stew that brings the flavors of South India to your plate!