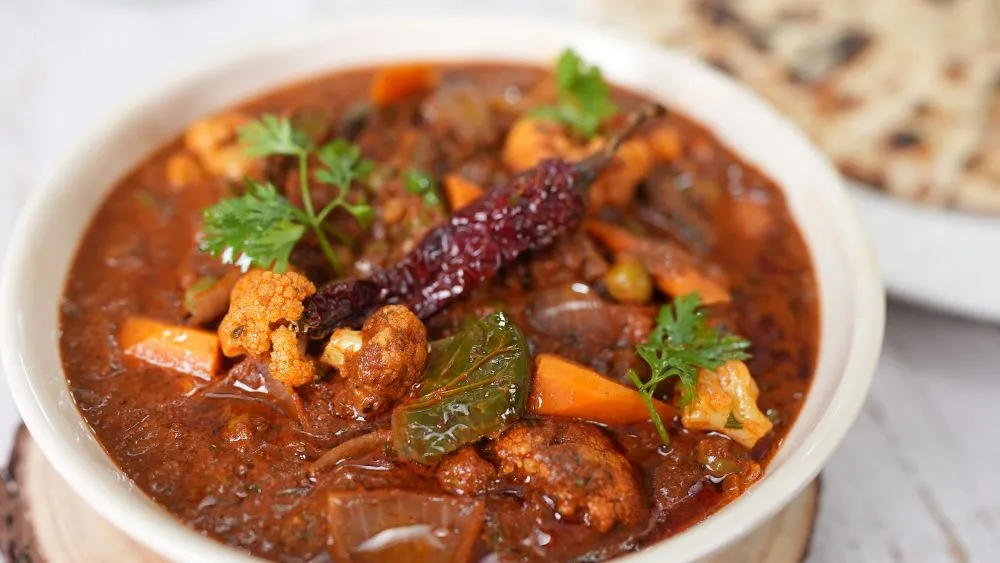 Veg kolhapuri recipe

40 mins

4-5 servings

20 mins
Veg kolhapuri
---
Oil                                             4-5 tbsp
Coriander seeds                        2 tbsp
Jeera                                          1 tbsp 
Bayleaf                                       3 pcs
Dry red chillies                            4 pcs
Stone flower                               1 tbsp
Cinnamon                                   ½ inch
Star anise                                   1 pc
Black pepper                               10-12 pcs
Cloves                                         6 pcs
Sesame seeds                            1 tbsp
Poppy seeds                               ½ tbsp
Saunf                                           ½ tbsp
Desiccated coconut                     2 tbsp
Soaked red chilli paste                ½ cup
Capsicum dices                          ½ cup
Carrots                                        ½ cup
Cauliflower                                  ½ cup
French beans                              ½ cup
Green peas                                 ⅓ cup
Onion diced                                 ½ cup
Onion chopped                            ½ cup
Ginger-garlic paste                      1 tbsp
Green chilli chopped                    ½ tbsp
Salt                                               1 tbsp
Turmeric powder                           1 tsp
Tomatoes                                      2-3 pcs
Coriander chopped                       1 tbsp

Kolhapuri masala 
Heat a pan, add oil, coriander seeds, jeera, bayleaf, dry red chillies, stone flower, cinnamon star anise black pepper cloves, sesame seeds, poppy seeds, desiccated coconut and roast them to light golden brown colour.
Turn off the flame and add boiled red chilli paste.
Transfer it to a mixer jar and blend it to a fine paste.
Veg kolhapuri
Heat a pan, add oil, diced capsicum, carrots, cauliflower, salt and saute them.
Then add french beans, green peas and cook for 1-2 mins.
Remove all the vegetables aside.
In the same pan and oil, add chopped onion and saute until it is golden brown.
Then add ginger-garlic paste, chopped green chillies and saute.
Add the blended paste and cook it.
Later add salt, turmeric powder and cook until it releases oil.
Then add tomato puree and cook for 4-5 mins on medium heat.
Then add onion dices, fried vegetables and stit.
Add chopped coriander and cook for a few mins.
Veg kolhapuri is ready to serve.
---