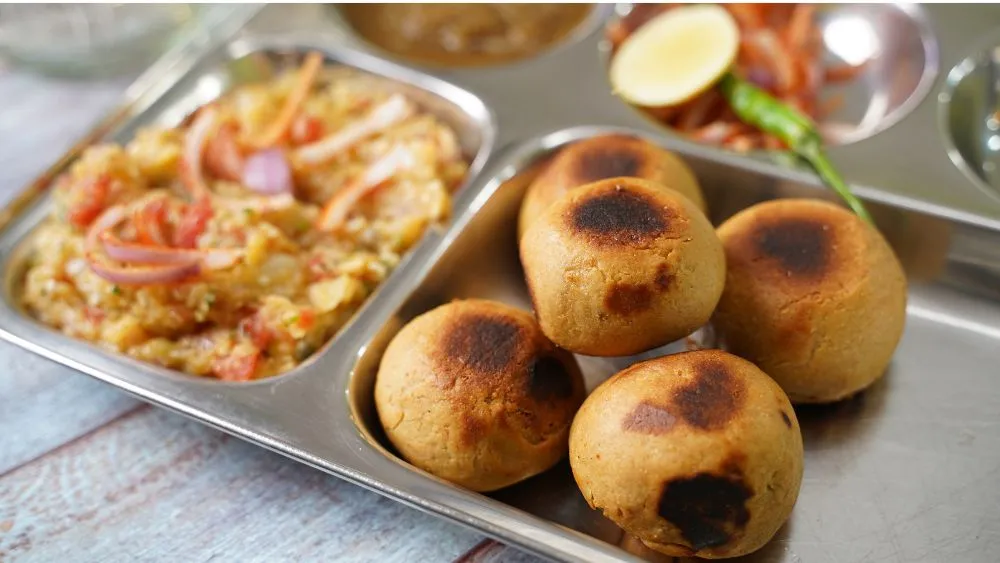 Bihari style litti chokha Recipe

20min

3-4 servings

15 mins
---
Ingredients:
For Litti-
Dough:
Wheat flour - 2 cups
Ghee - 2 tsp
Salt -1/2 tsp
Water 
Sattu                                  1 cup
Onion chopped
Ginger chopped
Garlic chopped 
Green chilli chopped
Coriander chopped
Ajwain 
Kalonji 
Mustard oil      ½ 
Amchoor powder
Salt to taste
Pickle masala      
Brinjal                          1 pc
Tomatoes                     2
Garlic cloves                3
Green chilli chopped     1 tbsp
Ginger chopped            ½ tbsp
Garlic chopped             1 tbsp
Salt                                as per taste
Mustard oil                    1 tbsp
Coriander chopped       2 tbsp
Green chutney:
Coriander leaves - 1/4 cup
Mint leaves -1/4 cup 
Tomato -1 
Green chilli -2
Ginger - 1 inch
Garlic cloves - 4
Salt to taste
Lemon juice -1 tsp
Salt to taste
For chokha
Apply insertions on brinjal and insert garlic cloves.
Roast brinjal, green chillies and tomatoes on direct heat.
Once the skin gets charred, transfer it to water and peel off the skin.
Take it in a bowl, mash them properly.
Add chopped onion, salt, mustard oil, chopped ginger-garlic and mix it.
Choka is ready to serve.
For stuffing
Take a bowl, add sattu flour, ginger chopped, chopped garlic, chopped green chilli, chopped onion, amchur powder, ajwain, mustard oil, pickle masala, salt, chopped coriander and mix them well.
For litti
Take flour in a bowl, add salt, ghee and rub them.
Then add water and knead it into a hard dough and divide it into portions.
Take one portion and shape it like a bowl, add the stuffing and seal the dough by pressing the edges.
Heat a pressure cooker. ( remove the whistle)
Apply oil in the cooker and place the littis in it.
Cook them for 25-30 mins on medium-low flame.
Stir them at intervals.
Littis are ready to serve
---