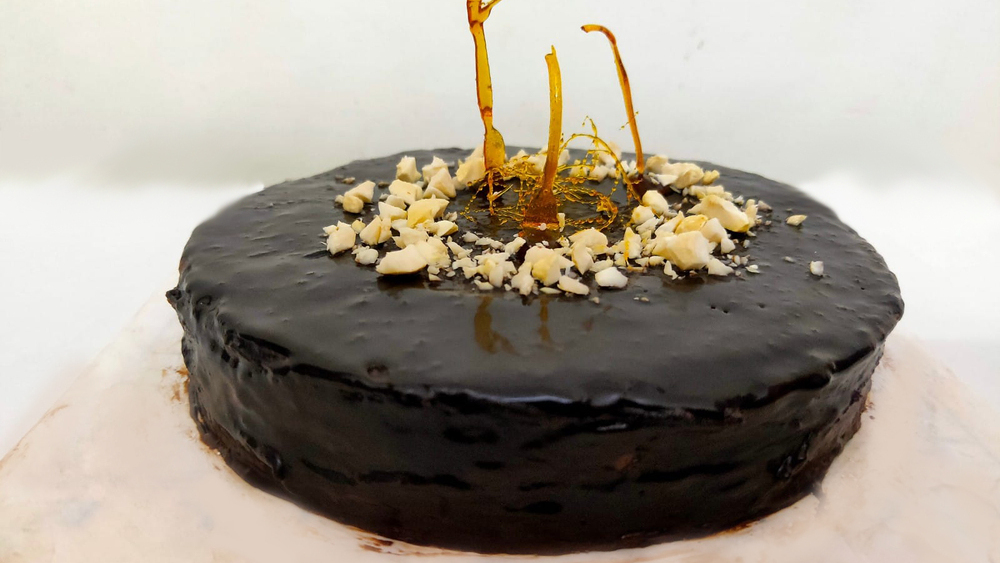 Chocolate Truffle Cake

40 mins

4

20 mins
Chocolate Truffle Cake 
---
Sponge Cake:
Refined Flour                   - 90 gm
Grain Sugar                      - 90gm
Egg                                   - 3 nos
Baking Powder                 - ½ tsp
Vanilla essence                - 1 tsp
Melted Fat                        - 60 gm
Hot Water                         - 2 tbsp
Truffle ganache:
Compound chocolate      -1 cup
Cream                             -1 cup
Toasted crushed walnut    -2 tbsp
METHOD:
Cake:
Prepare cake tin by greasing and dusting, sieve flour and baking powder together.
Beat eggs and sugar over double boiler till soft peak consistency & add vanilla.
Remove from the double boiler and gently fold in flour in 3 parts.
Add melted fat and fold in.
Add 2tbsp hot water & pour the mixture on the prepared tin.
Bake it at 180C temperature and for 20 mins.
Chocolate Truffle:
Heat a pan, add fresh cream and heat on low flame.
Once cream has become hot, off the flame and chopped chocolate.
Mix it with the help of whisk.
Chocolate truffle ganache is ready.
 
Assemble:
Cut sponge cake into 2 layers.
Sprinkle some sugar water and spread ganache.
Place the second layer on it and repeat the same process.
Pour ganache on the top layer, spread it evenly.
Decorate it with some toasted crushed walnuts.

---