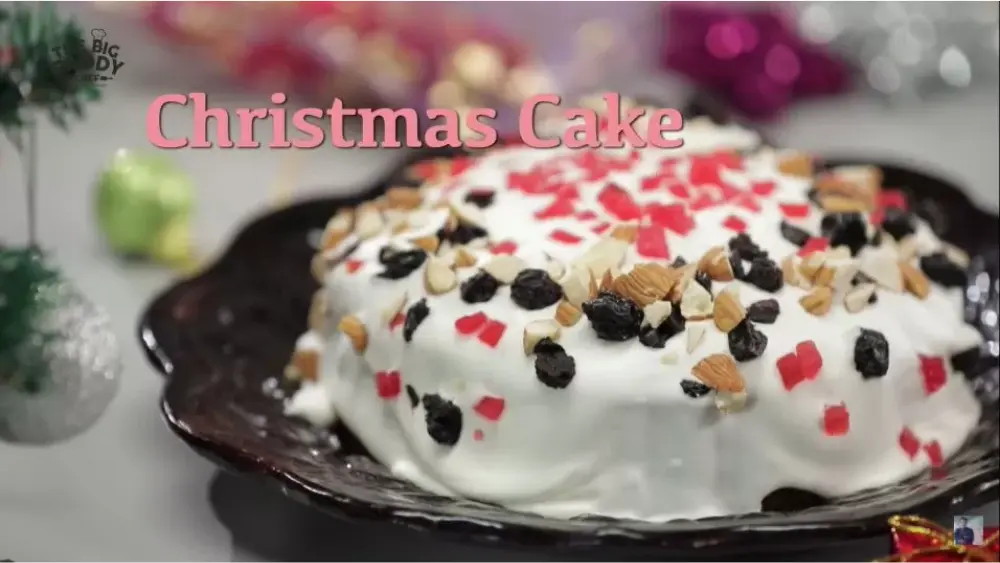 Christmas Cake Recipe

50 min

2-3 People

15 min
Christmas Cake
---
Ingredients
For Dark Caramel: –
½ cup Sugar
Water as required
For Cake Batter: –
1 cup Butter
1 cup Castor Sugar
2 Eggs
1 cup Maida
1 tbsp Spice Powder
1 tsp Baking Powder
2 tbsp Almonds chopped
2 tbsp Petha Chopped
2 tbsp Orange Rind Chopped
2 tbsp Black Raisins Chopped
2 tbsp Black Currants Chopped
4 tbsp of Dark Caramel
For Cake Garnishing :-
1 cup Royal Icing ( egg whites + icing sugar)
Mix Nuts and Berries
Method
In a bowl Add Butter and Sugar and using a hand blender blend the butter and sugar, until the sugar melts 
2.Meanwhile in a pan for dark caramel add in some sugar and let it melt by itself and change color, to stop it from over coloring add in a little bit of water.
Then in the butter mixture add in eggs and beat it and then add all the dry ingredients like some flour, some spice powder, some baking powder together and blend it well. 
In the Cake Batter add in all the chopped nuts like cashews, chopped petha, chopped almonds and black raisins and then, add in the dark caramel and mix it lightly using a cut and fold method.
In a lined cake mold pour the batter till the tin is filled 3/4th and bake the cake at 180 degrees for 40 -45 mins.
7.Transfer the baked cake onto a wire rack and let it cool, after its cooled, for garnishing and decorating, pour some royal icing, (egg whites and sugar melted) on the cake and using a palette knife spread it neatly, add in mix nuts and berries of your choice & serve it
---