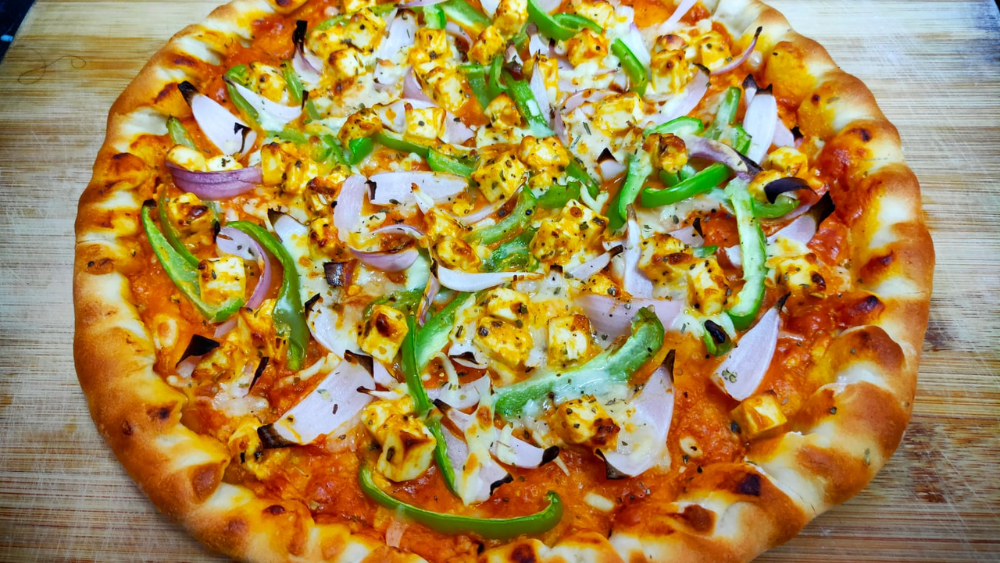 Farmhouse Pizza

15 mins

2

40 mins
Ingredients:
---
Refined flour                   1 ½ cup
Salt                                   ½ tbsp
Sugar                               1 tsp
Yeast                                1 tsp
Water                               ¾   cup
Pizza sauce                    3 tbsp
Mayonnaise                   1 tbsp
Cheese                           ¼ cup
Sliced onion                  ½ cup               
Capsicum juliennes     ½ cup
Paneer                          100 gms        
Oregano                       1 tbsp
Chilli flakes                   ½ tbsp
Pizza dough:
In a bowl, add refined flour, yeast, sugar, salt, water and make a smooth-soft dough.
Keep it for fermentation covering up with a damp cloth.
Frement it for about 40 mins.
After fermentation we can use dough for making pizza.
Pizza: 
Cut paneer into small cubes and marinate it with some pizza sauce, mayonnaise, oregano and chilli flakes.
Roll out the fermented pizza dough in a circular shape. Keep its edges a little thick.
Apply pizza sauce on it, place capsicum juliennes, onion slices, marinated paneer cubes, grated cheese and some oregano.
Transfer it to a pre-heated oven, and bake it at 200C for 8-10 mins.
Our farmhouse pizza is ready to serve.
---