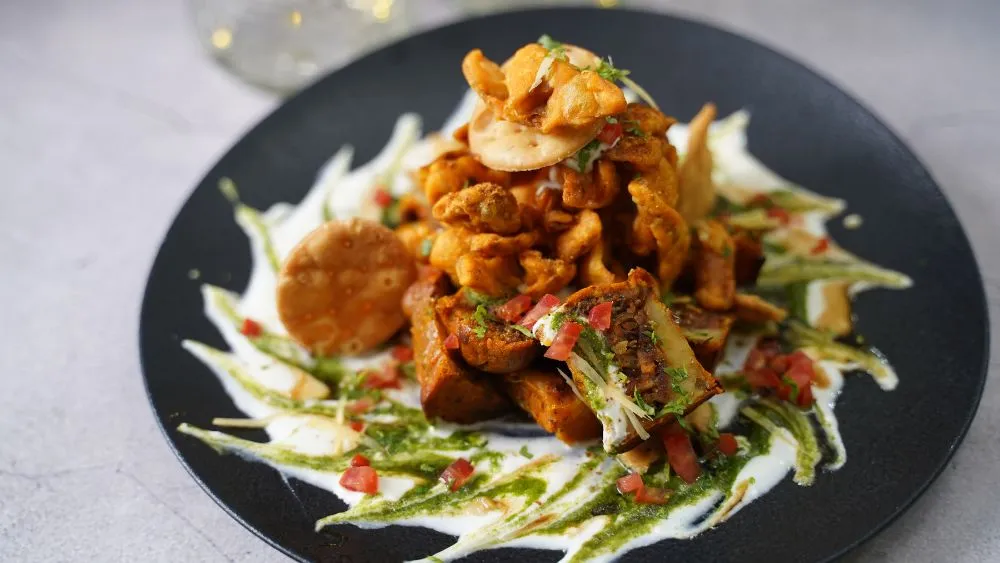 Bharwan Tandoori Aloo Recipe

30 min

3-4 people

20 min
Tandoori Potato Bharva Chaat
---
Portion size: 3-4 servings
Preparation time: 20 mins
Cooking time: 30 mins
Potatoes                      4-5 pcs
Mustard oil                   1 tbsp
Turmeric powder          1 tsp
Red chilli powder          ½ tsp
Salt                               1 tsp
Ajwain                           ½ tsp
Rice flour                       1 tbsp
Besan                            1 tbsp
Oil                                 for frying 
Walnuts chopped           1 tbsp
Pomegranate dried         1 tbsp
Onion chopped               2 tbsp
Ginger chopped              1 tbsp
Green chilli chopped       ½ tbsp
Chaat masala                  ½ tbsp
Coriander chopped          1 tbsp
Lemon juice                      ½ tbsp 
Papdi                                6-7 pcs
Marination 
Mustard oil                   1 tbsp
Curd                             3 tbsp
Salt                              ½ tbsp
Red chilli powder         1 tsp
Garam masala             1 tsp
Turmeric powder          1 tsp
Jeera powder               1 tsp
Coriander powder        1 tsp
Ajwain                          ½ tsp
Kasoori methi               ½ tbsp
Besan roasted              1 tbsp
Green chutney
Coriander                              handful
Mint leaves                           15-16 pcs
Ginger                                  1 tsp
Garlic                                   7-8 cloves
Lemon                                  ½ tbsp
Jeera powder roasted          ½ tbsp
Water                                   as required 
Chaat masala
Coriander seeds          1 tbsp 
Jeera                            ½ tbsp
Black pepper                8-6 pcs
Cloves                          4-5 pcs
Dry red chillies             1 pc
Pipla                             2 pcs
Black salt                      ½ tbsp
Citric acid                      1 tsp 
Peel the potatoes, keep all the trimmings and skin peels aside.
Shape the potatoes into barrel shape, hollow from one side with the help of serrated peeler.
Blanch the potatoes, cook for 4-5 mins and remove it on a plate.
Brush potatoes with mustard oil, and put it in an air fryer at 180C for 15 mins.
Now take potato barrels peels, mix some turmeric powder, red chilli powder, salt, ajwain, rice flour, besan and some water.
Heat oil for deep frying, add potato peels and cook until it comes crisp.
Later fry potato trimming until crisp.
Take a bowl, add crispy fried potato trimmings, chopped walnut, dried pomegranate, chopped onion, chopped ginger, chopped green chillies, chaat masala, chopped coriander, salt, red chilli powder, lemon juice and mix them well. 
Fill this stuffing in the potato barrels and keep aside.
In a bowl make a marination, add mustard oil, curd, salt, red chilli powder, garam masala, turmeric powder, jeera powder, coriander powder, ajwain, kasoori methi, roasted besan and mix it.
Apply this marination on the stuffed potato barrels, and air fry it for 4-5 mins at 200C.
Green chutney
In a mixer jar, add coriander leaves, mint, green chillies, garlic, ginger, lemon, salt, roasted jeera powder, some water and blend it to a fine paste.
Chaat masala 
Heat a pan, add coriander seed, jeera, pipla, cloves, black pepper, dry red chilli and roast it.
Transfer into a mixer jar, add black salt, citric acid and make a fine powder of it.
Chaat masala is ready.
Assemble it by using tandoori aloo, crushed papdi, sweetened curd, green chutney, mithi chutney, chopped tomatoes, chopped onions, ginger juliennes and chopped coriander. 
---