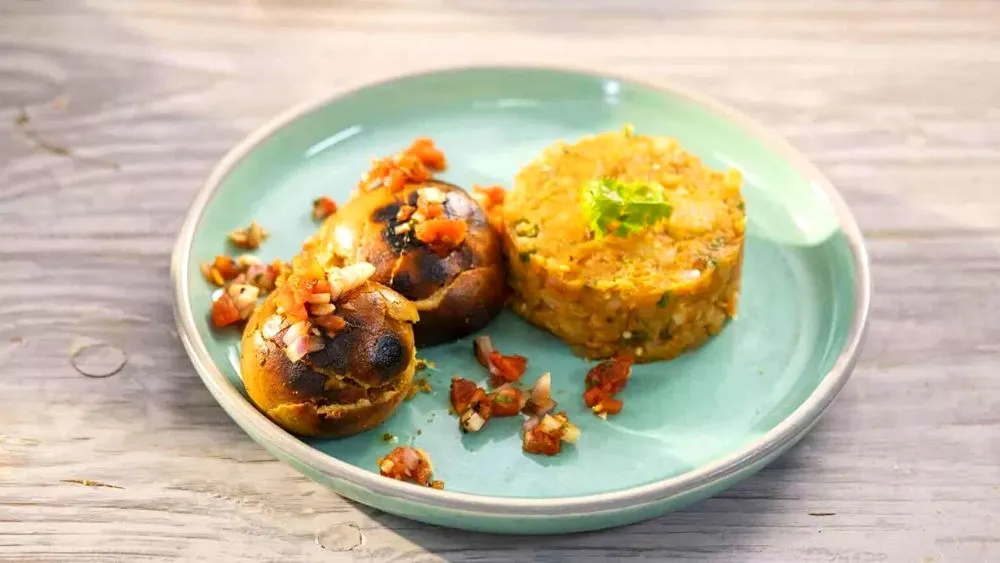 Litti Chokha Recipe

15 min

2-3 People

30 min
Litti Chokha
---
Ingredients
For Chokha:
1 big Eggplant
1 full Garlic
1 Big Onion
1 tbsp Mustard Oil
3 Green Chillies chopped
Handful chopped coriander leaves
1 tsp Roasted Cumin Powder
1 boiled potato
½ cup raw chopped onions
1 tsp Red Chilli Powder
½ Lemon Juice
For Stuffing:
1 cup Sattu Flour
1 tbsp Pickle Masala
Salt to taste
1 tsp Roasted Cumin Powder
1 tsp Red Chilli Powder
1 tbsp Mustard Oil
For Chutney:
2 big roasted Tomatoes
Few roasted Garlic Cloves
1 tbsp chopped green Chillies
1 tbsp chopped Coriander Leaves
Salt to taste
½ Lemon juice
1 tsp Red Chilli powder
2 tbsp chopped Raw Onions
Method
Take a bowl and add some wheat flour, salt and ghee to it to shorten to make it crispy or kurkuri and then add some water and make a nice tight dough.
 Oncet the tight dough is ready add a little bit of ghee on the dough to keep it moist and keep aside for few minutes.
After some time take the dough and make small round balls and flatten it .
Remember to keep the middle portion of the flat dough thick and then add the prepared mixture and close the ends of the dough to make it a round ball again.
Then put all of it in a baking disha and add some ghee on top of it and put it in an oven for 8 to 10 minutes to cook.
After the chokha is baked in an oven it becomes nice and firm and now roast the litti on the gas to give it a nice roasted look , then remove it in a bowl add some good amount of ghee on top of the roasted Litti.
To prepare chokha, first apply some oil on the eggplant and put it up on the gas to roast it,along with it add some tomatoes, onion, and garlic and onces it's all raosted and it's skin stars peeling out, it means it's ready to prepare the chokha.
Now for chokha take some smashed eggplant,some roasted garlic and onions along with it add some chopped chilies and coriander leaves and keep it aside.
Now in a bowl add a boiled potato and smash it and then add all the roated vegetablesto it also some raw onioms to give it a nice crunch.
Now add some salt to taste, roasted cumin powder, some red chilies powder and lemon juice and mix all of it well.
Then add some mustard oil to the mixture to complete the chokha.
Note :Once you cook the chokha mixture make sure you eat it then or else it will get spolit.After it's cooked it cannot be stored.
Add 1 cup of Sattu flour alsong with it some pickle msala, some salt oto taste, some roasted cumin powder, some red red chilie powder and some mustartd oil and finally mix this mixture so that  the sattu flour and the pickle get's mixed nicely.
Take the roasted tomatoes and chopp them into fine pieces add some chopped garlic, chopped green chillies and chopped coriander leaves and add them in a bowl.
Then add some salt ,some lemon juice, some red chilie powder and some raw onions.
And finally mix all of it well and your chutney is ready .
For Garnishing
Take a plate and on it take a cake ring and add the chokha mixture inside the ring, then add another small cake ring and place it in between the chokha mixture and then pour the tomato chutney in it.
Now remove both the cake rings and take the litti break it into halfs place it on top of the mixture and garnish it with some more tomato chutney.
And your Litti Chokha is ready to be served.

---