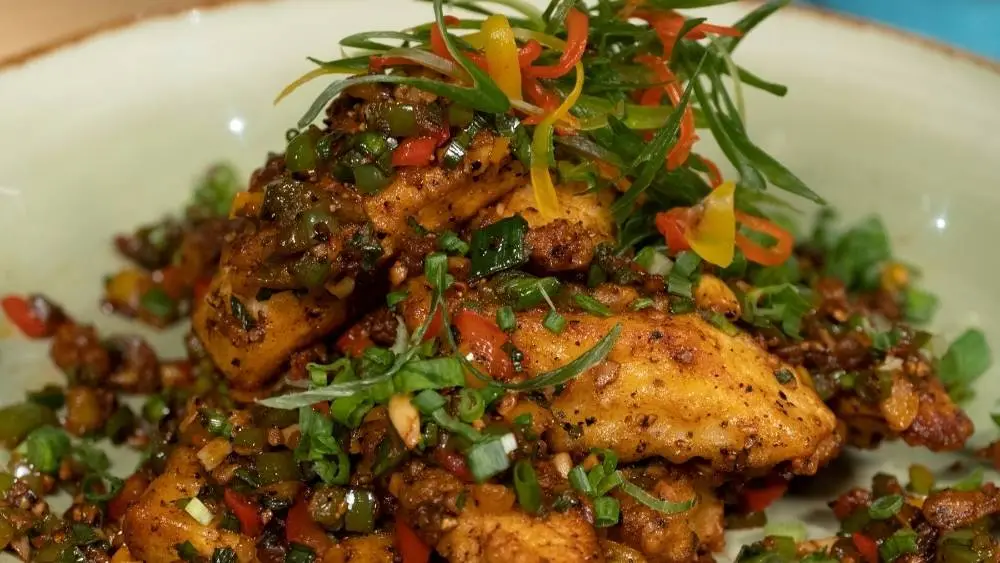 Crispy Paneer Salt & Pepper Recipe

10 min

2-3 People

15 min
Crispy Paneer Salt & Pepper by Chef Ajay Chopra
---
Ingredients
Tempura Batter
1 bowl Flour
3 tbsp Corn Flour
2 tbsp Rice Flour
Salt to taste
Chilled water
1 tsp Pepper
Oil for frying
Paneer
1/2 tsp Salt
For Sauce
2 tsp Oil
3-4 tsp Chopped Garlic
1 cup Chopped Bell Pepper
1 tsp Chopped Green Chili
2 tsp Salt & Pepper.
1 tsp Lite Soya Sauce
1 tsp Vinegar
3-4 tsp Chopped Spring Onion
Method
1.Take a Bowl and add some rice flour, corn flour, salt, pepper and then add chilled water to make a thick batter and mix it so that the lumps are gone then add some more water and make the batter not very thick or thin.
2. Now cut some Paneer into batons and marinate it with salt, pepper and corn flour.
3. Then add the paneer dipped in corn flour and the tempura batter in a frying pan and fry it.
4. Take another pan, heat oil on high flame and immediately add chopped ginger and garlic and as the garlic turns brown add some bell pepper, salt, some red chili paste, light soy sauce, vinegar and fried paneer, add some spring onions and give it a quick toss.
5. Garnish with spring onion and it's ready to serve.
---